Editor's note: Gorsich is a fake person and will be nominated, a tool of Wall Street and organized crime.  Scalia was a monster and this guy, who we know nothing about other than his soulless life, is going to be a revelation.  Why do we continually end up with GOP nominees that belong to satanic pedophile cults?
The case took seven years and went before seven judges but in the end, Detroit native Alphonse Maddin celebrated victory against the delivery firm that had fired him for seeking warmth after his truck broke down on a dangerously cold winter night.
Of the seven judges, six sided with Maddin but one found in favor of the company and wrote a scathing dissent.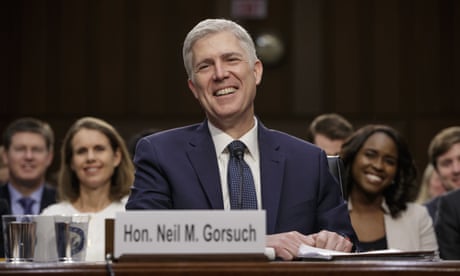 That lone judge was Neil Gorsuch, who shortly afterwards made Donald Trump's shortlist for the supreme court, to fill the seat left by the late Antonin Scalia. Gorsuch is now appearing on Capitol Hill at his confirmation hearings.
"In my heart of hearts I felt like he willfully tried to negate the human element of my case," Alphonse Maddin, 48, told the Guardian .
"You learn in life to roll with the punches, but I'm concerned because the supreme court has the final say in this country's affairs, and he's shown a propensity toward the corporate sector in egregious cases like mine," he said.
Maddin's case is often brought up by critics seeking to expose Gorsuch as biased in favor of big business.
It has become known as "the case of the frozen trucker".
Related Posts:
The views expressed herein are the views of the author exclusively and not necessarily the views of VT, VT authors, affiliates, advertisers, sponsors, partners, technicians, or the Veterans Today Network and its assigns. LEGAL NOTICE - COMMENT POLICY
Posted by
Gordon Duff, Senior Editor
on March 23, 2017, With 1687 Reads Filed under
Government & Politics
. You can follow any responses to this entry through the
RSS 2.0
. Both comments and pings are currently closed.
Comments Closed