The Royal British Legion is urging the UK government to fund more research into Gulf War Syndrome, a condition reported to have affected thousands of British and US veterans. But why has no one ever properly explained it?
"I had terrible sweats and fevers," says Sean Rusling. "I was a bit of a mess."
The former Royal Army Medical Corps sergeant blames his illness on a series of vaccinations ahead of the outbreak of fighting in the 1991 Gulf War. His health declined rapidly, including temporary paralysis of one leg and what he describes as a "total physical and mental breakdown" after he returned to the UK. Within four years he was out of the Army and he hasn't worked since. He was diagnosed with osteoporosis at the age of 37.
"It's an insult that the Ministry of Defence doesn't recognise the condition suffered by me and so many others," says Rusling, now 56.
The term Gulf War Syndrome first hit the headlines after US and British soldiers reported unusual symptoms on their return home. The two governments set up disease registers, with more than 100,000 veterans being assessed, but these failed to find a pattern to symptoms which could indicate a new condition.
In the mid-1990s, scientists at King's College London (KCL) conducted X-rays and blood tests on British Gulf War veterans suffering ill health. However, they couldn't find any physical differences between them and a control group.
Yet the suffering was undeniable. A further KCL study in 2009 found Gulf veterans were two to three times more likely to report 53 different symptoms, including chronic fatigue and nerve pain, compared with soldiers deployed to Bosnia. None of the symptoms were unique to the Gulf War, but they were experienced in far higher numbers.
"They're known as medically unexplained physical symptoms," says Neil Greenberg, a professor of defence mental health at KCL. "The symptoms are very real, but like with irritable bowel syndrome, there is no obvious physical problem causing it."
One popular theory was that soldiers had become ill after exposure to depleted uranium in tank shells. However, troops not exposed to this were just as likely to suffer chronic health problems later on. The same was true of those exposed to fumes from burning oil wells. In fact, no link could be found between veteran ill health and specific jobs or tasks. Pesticides have also been suggested as a cause, perhaps affecting the nervous system. But detailed studies found no evidence of damage that could explain this.
Greenberg believes mental strain has played an important role. "When we're stressed we have a tendency to turn psychological distress into physical symptoms," he says. "And there's no doubt going to war is very stressful. We've seen medically unexplained physical symptoms in all other conflicts, just not to the same extent."
So why did the Gulf War have a much greater impact on military personnel than later conflicts?
"If you are feeling unwell and you can attribute it to something plausible, then you can become convinced the two are linked," says Greenberg. He points out there was a five-year gap between veterans first complaining of illnesses and the first research into the topic. This gap had the potential to cause fear and uncertainty.
"Veterans were feeling physically unwell at a time when there wasn't enough research showing the links between psychological distress and physical ill health, and they didn't see the government as providing reliable data to reassure them that their condition was not connected to a war-related toxic substance," Greenberg says.
"So when the government said: 'There is no syndrome', they didn't believe it. Even though several studies have found no proof of a physical cause for Gulf War-related illness, it's likely to be too late. In the minds of those suffering they know there is a physical cause even when scientific evidence suggests otherwise."
However, not all experts are convinced that the reasons are psychological. The US Congress set up its Research Advisory Committee in the late 1990s because it judged that the Department of Defense was concentrating too much on psychological causes. The committee has repeatedly accused the US Department of Veteran Affairs of not taking the illness seriously.
In 2008, the committee produced a report stating that Gulf War illness was a distinct disorder tied to chemical exposures. It has been disputed by the US Institute of Medicine, which said there wasn't enough human evidence to make such a claim.
But the committee's scientific director, Roberta White, continued to stand behind the theory. She wrote: "Many studies of the brain and central nervous system, using imaging, EEG and other objective measures of brain structure and function, add to the existing evidence that central nervous system dysfunction is a critical element in the disorder. Evidence also continues to point to immunological effects of Gulf War illness."
Health problems persist and anger has built among veterans at what they say is a lack of adequate research, a "cover-up" even.
Shaun Cole served in the Grenadier Guards during the Gulf War, leaving the British Army in 1992. Twelve years later he started experiencing fatigue, joint and jaw aches and developed a rash across his body. His condition was initially diagnosed as chicken pox and, when it worsened, as shingles.
But he passed out at his child's christening and was placed in a hospital isolation unit. He eventually stopped working, but no doctor could explain his condition, with one describing it as psychosomatic.
Troop numbers in the region during the war reached 700,000. By 2003, the European Molecular Biology Organization reported that "nearly half" had sought treatment for symptoms "that many suspect were linked to exposure to depleted uranium, pesticides, vaccines, particulate matter and gases from burning oil wells, biological and chemical weapons, and the anti-nerve-gas drug pyridostigmine bromide (PB)".
It added that about 29% of soldiers deployed were now considered to be disabled because of their wartime service. Some 23% were receiving disability benefits, but tens of thousands more were "still plagued by illness, but do not fall into these categories because of the lack of a clear-cut diagnosis".
The British Legion has criticised the failure to continue an MoD-commissioned study at Cardiff University, which examined potential interventions to rehabilitate ill Gulf War veterans. The first phase had started in January 2009 but "for reasons unknown to us, the MoD chose not to fund the second phase of research, and the results of phase one were never published".
"We are indebted to all those who served our country in the 1990-91 Gulf conflict," says a Ministry of Defence spokeswoman, adding that financial help is available to veterans and their dependants, "where an illness or death is due to service", through pension schemes. "We are clear that veterans should receive fair treatment following service and we are absolutely committed to supporting them and the wider armed forces community," she adds.
Rusling, who lives in Hull and receives a forces disability pension, is in no doubt that his vaccinations caused his condition.
"They told me I'd suffered because my attitude had been to carry on regardless after I'd first felt ill," he says. "My health simply broke down from then. It's been a gradual descent since."
Rusling says his body has stopped producing human growth hormone and testosterone. He has injections and takes 24 tablets every day. He was diagnosed with narcolepsy last September.
"The MoD has a fear of litigation, so it has no interest in full research into what's caused it. It's not post-traumatic stress syndrome. If it was, why wouldn't we have the same type of ill health levels after other wars, like the Falklands or after serving in Northern Ireland?
"By denying that something's going on, the government's behaving in a way that's morally wrong. They're not respecting the people who went to war for this country and continue to suffer."
__________
Operation Desert Storm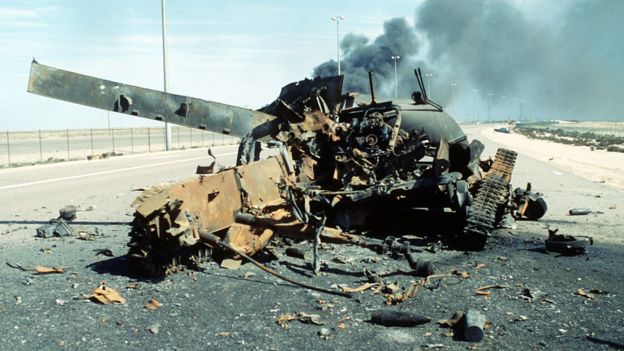 A UN Security Council resolution authorised the use of force if the Iraqi army failed to withdraw from southern neighbour Kuwait by 15 January 1991
At 23:30 GMT on 16 January, an intense and sustained aerial bombardment began involving cruise missiles launched from US warships and US, British and Saudi Arabian fighter planes, bombers and helicopters
In the first 24 hours, more than 1,000 sorties were flown
The main targets were military, but capital Baghdad was heavily hit and there were many civilian casualties
By the end of February, the Iraqi army had made a desperate retreat from Kuwait
On 27 February, the land campaign ended when US President George Bush declared victory
__________
ATTENTION READERS
We See The World From All Sides and Want YOU To Be Fully Informed
In fact, intentional disinformation is a disgraceful scourge in media today. So to assuage any possible errant incorrect information posted herein, we strongly encourage you to seek corroboration from other non-VT sources before forming educated opinion. In addition, to get a clear comprehension of VT's independent non-censored media, please read our
Policies and Disclosures
.
Due to the nature of uncensored content posted by VT's fully independent international writers, VT cannot guarantee absolute validity. All content is owned by the author exclusively. Expressed opinions are NOT necessarily the views of VT, other authors, affiliates, advertisers, sponsors, partners, or technicians. Some content may be satirical in nature. All images are the full responsibility of the article author and NOT VT.
About VT
-
Comment Policy