… from Russia Today,  Moscow
[ Editor's Note: US corporate media is devoid of any Russian comparisons to the usual technical problems and cost overruns which are all too common with US generation weapons systems.
We have more than a few sources that say such flaws are designed into the early programs to create those overruns, for which the manufacturers appear to have "manufacturer immunity" incorporated in to the "cost plus" factor of their contracts.
The other popular scam is incorporating "evolving or future technologies" into this new systems, which can trigger another five or ten years of funding trying to fix them like with the F-35, or the F-22 whose skin does not like rain at high speeds.
The Russians have studied all of the US weapons fiascoes and accepted that their people cannot afford such cost gouging so they are being very careful with the testing despite their need for the next generation fighter ASAP. We see they went ahead with the test plane productions without the new engine being ready to get all of the air frame and avionics testing out of the way.
I will bet you that the new engines will fit fine into the current air frame as we see modular construction in every new Russian weapons system possible to reduce the costs of future upgrades. Suggesting such a thing inside the US weapons design complex would have you fired immediately.
We prefer ground up new design construction at the highest cost possible with the golden carrot that it will be superior for a generation, a huckster's promise. We are getting a taste of this "superiority" with the two Littoral class Navy ships in port now with propulsion system issues, one of those due to oil fillings in the engine oil filters.
It is critical for the Russians to bring their weapons on line at a reasonable cost to afford the number they need for their armed forces, and to also help keep the profit margins higher on exports to keep funding the R&D upgrades and the manufacturing ability to increase production during dangerous times... Jim W. Dean ]
____________
– First published  …  January 24, 2016 –
The final primary batch of PAK-FA fighter jets is almost complete and tests will be finished in 2016, top military officials told the media. The Russian Air Force hopes to start regular production of the new 5G jets soon, with the first planes coming in 2017.
The PAK-FA (Perspective Air Complex of Frontline Aviation) fighter jets are being manufactured by the KnAAPO (Komsomolsk-on-Amur Aircraft Production Association) in the Russian Far East. Part of Russia's United Aircraft Corporation, the KnAAPO is the country's largest aircraft-manufacturing company, producing both military aircrafts and civilian planes like the Sukhoi Super Jet.
Air Force Commander-in-Chief Viktor Bondarev, who recently visited the KnAAPO production facility, has told RIA Novosti he is extremely pleased with the pace of the PAK-FA's (also known as the T-50) development.
"The eleventh T-50 aircraft is on berth and is 60-70 percent ready. This aircraft is going to be the final one in the test series," Bondarev said, adding he is 100 percent sure the jets will pass government testing by the end of 2016. "Next year the aircraft goes into serial production," he told RIA.
Bondarev said that the PAK-FA's operational engine will be ready for testing next year and is likely to go into production in 2018. At the moment, the PAK-FA is powered with two AL-41F1 engines which enable it to fly at a supersonic cruise speed, have a 2,600 km/h top speed, and a range of 5,500 kilometers (with two drop tanks).
The next-stage engine, currently dubbed 'Type 30,' is expected to have better speed and fuel economy characteristics.
The Air Force commander recalled the incident in which a PAK-FA #5 caught fire at Zhukovsky Airfield near Moscow, where the 5G (fifth generation) fighters are being tested.
"The aircraft has been restored and it is flying. This serves as proof the aircraft is highly maintainable, we do need such machines," Bondarev said.
The PAK-FA, the first Russian military aircraft developed from scratch since the fall of the Soviet Union, performed its maiden flight in January 29, 2010.
In 2016 Russian aerospace forces expect to make operational over 140 aircraft and helicopters, and receive supplies of 200,000 units of air-delivered ordnance. In 2015 aerospace forces gained over 190 aircraft and helicopters, and some 30,000 air-launched weapons, Bondarev reported.
The commander also revealed that Russia's future bomber PAK-DA (Perspective Air Complex of Long-range Aviation) could make it into the air earlier than previously expected.
"Design works for the PAK-DA are underway and we're satisfied with the pace. The task is to make a test machine fly in 2021, but if the work continues the way it is now, this could happen earlier," Bondarev noted.
__________
Stealth squared: PAK-FA's new angular missiles' images pop up online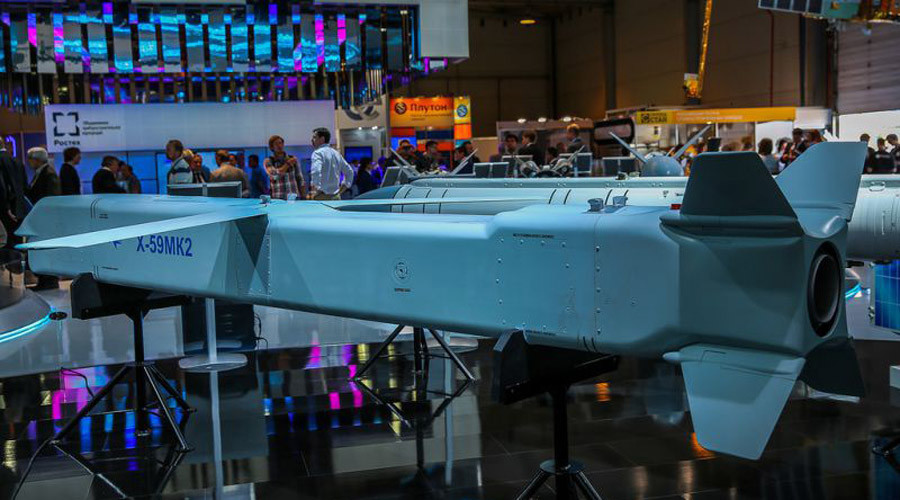 Modernization project of precision-guided operational-tactical air launched cruise missile KH-59МК2, Tactical Missile Munitions Corporation
Special stealth versions of existing cruise missiles designed specifically for deployment from inner weapon bays of the 5G PAK-FA stealth fighter jet have appeared on the internet following the MAKS-2015 international air show.
Developed by the Raduga (Rainbow) State Engineering Development Laboratory, an integral part of Russia's Tactical Missile Munitions Corporation, these unusual-looking square section air-to-surface and antiradar cruise missiles are specifically designated for the PAK-FA 5G fighter jet and possibly for the future long-distance PAK-DA bomber. The images were posted online by sdelanounas.ru website.
The KH-59МК2 cruise missile and KH-58USHKA anti-radar missile are compact versions of existing missiles, redesigned and deeply modernized to satisfy the needs of next-generation stealth aircraft.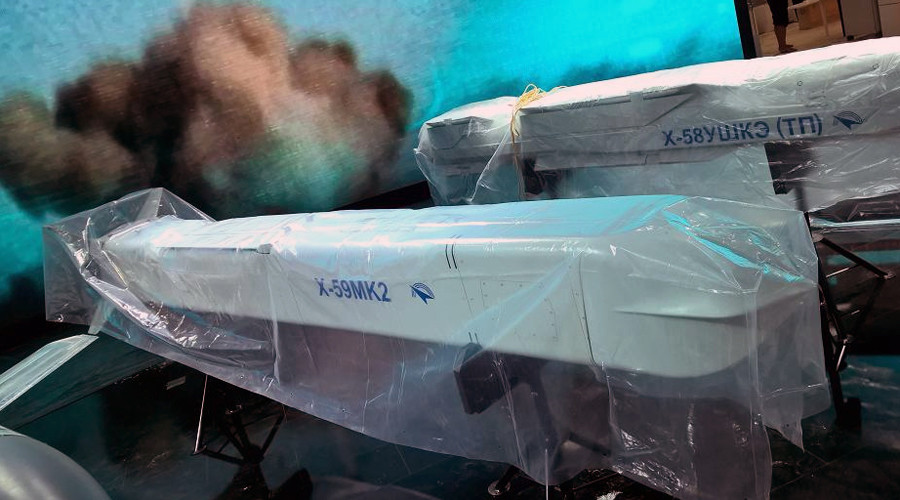 Precision-guided operational-tactical air launched cruise missile KH-59МК2 and antiradar missile KH-58USHKA, Tactical Missile Munitions Corporation © sdelanounas.ru
The KH-59МК2 measures 0.4 meters by 0.4 meters in section and is only 4.2 meters long. When mounted into an inside weapon bay of a PAK-FA, it will not interfere with an aircraft's stealth capabilities.
Yet this 770kg missile is also designed using stealth technology. It can be launched from any altitude from 200 meters to 11km, delivering its 310kg warhead to a target at a speed of up to 1,000kph.
For large-area targets, the KH-59МК2 missile has a cluster-munitions dispenser type of warhead.
Unlike its predecessor KH-59, which had its engine positioned under the missile's body, thus making it possible to mount under the wing of the aircraft only, the new missiles have their engines hidden within the main body of the projectile.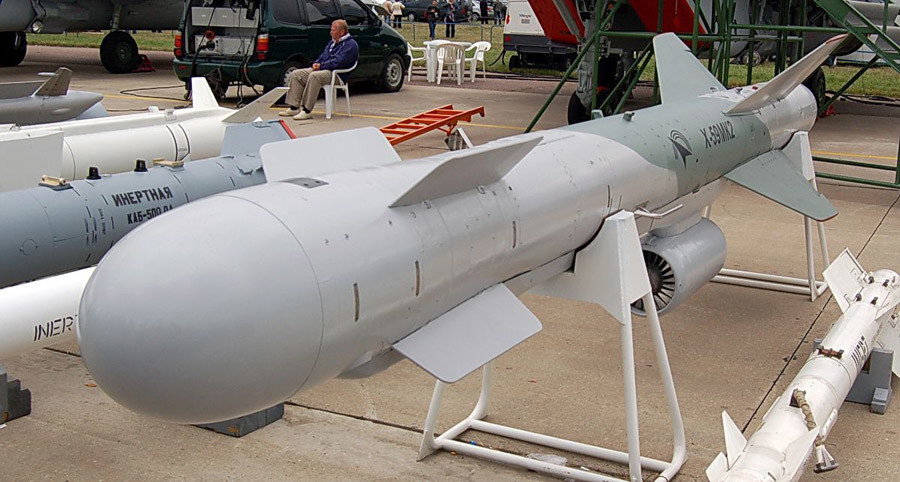 Standard KH-59МК precision-guided operational-tactical air launched cruise missile © Rbase.new-factoria.ru
With a miss distance of a mere 3 meters, the missile promises to hit the bull's eye.
The range of the export version, allegedly being presented for the Indian version of PAK-FA, the FGFA aircraft, is limited to 290km, while the range of the home version remains a secret and could be much longer.
The new missiles can also be mounted on all new types of Russian tactical aircraft, such as the Sukhoi Su-30 fighter jet, the Su-34 bomber, the Su-35 super-maneuverable multirole fighter and the Mikoyan MiG-29K carrier-based multirole fighter.
________
'Better than US-made 5G': PAK-FA fighter to engage sea, air & ground targets
Sukhoi PAK-FA fifth-generation fighter jet is finalizing tests of its versatile arsenal before deployment next year. Russia's Air Force chief says there will be no such target on the scene of operations that the fighter would not be able to engage.
When compared to American F-22 or F-35 5G fighter jets, Sukhoi PAK-FA (T-50) is going to "outperform them in all technical aspects," the commander of the Russian Air Forces, Lieutenant General Viktor Bondarev said on Thursday.
The PAK-FA fighter jet is going to be truly multirole, being able to equally engage targets "on the ground, in the air and on the sea," he said, confirming that in 2016 the Air Force will first get the aircraft, then in 2017 the PAK-FA will go into serial production.
With the cutting-edge equipment installed on already manufactured machines, there are more features in development to be integrated into the fighter's systems on later stages, said Bondarev, mentioning "practical stealth" program being applied in the PAK-FA's development.
Earlier this week Vladimir Mikheev, an advisor to the deputy head of the Radioelectronic Technologies Concern [KRET], said that the Sukhoi PAK-FA fighter jet is "already to some degree a flying robot," where "the reaction of the aviator is a part of the control loop."
He also said that PAK-FA is going to be less observable on radars than generally recognized American stealth trendsetter, the F-22 fighter jet.
"The T-50 is now ahead of not only all other fighters of the Russian Army, but also foreign models. For example, the visibility of the American fifth-generation F-22 fighter is 0.3-0.4 square meters," the developer stressed.
The Sukhoi PAK FA's visibility stands at between 0.1 and 1 square meters, KRET added.
"Performance-wise it certainly looks to compete with the Raptor," The National Interest cited senior US military official comparing the F-22 and PAK-FA.
Last year, former US Air Force intelligence chief Lt. Gen. Dave Deptula commented to the National Interest that PAK-FA has"pretty sophisticated design that is at least equal to, and some have said even superior to US fifth-generation aircraft."
READ MORE: India ready to spend $25bn on Russian 5G fighter jets
The National Interest named PAK-FA "an air superiority fighter, rather than a multi-role aircraft like the F-35," putting the capability to cruise supersonically ahead other features.
According to Bondarev, which mentioned that PAK-FA's top speed exceeds Mach 2.0, other features are decisive for modern fighter jet, which are "low-signature, [wide variety of] armament and [super]maneuverability."
The Russian Air Force plans to purchase 55 T-50 fighter jets between 2016 and 2020, was reported in December.
________
Tu-160 strategic bomber back into production, PAK-DA in design
Russia's commander-in chief, President Vladimir Putin, and Defense Minister Sergey Shoigu have approved return to production of the Soviet strategic bomber Tupolev Tu-160, the world's largest combat aircraft.
The aircraft is going to be produced in modernized version and in order to repay expenditures, "no less that 50 machines will eventually be produced," Bondarev said.
There are 16 Tu-160 strategic bombers currently operable in Russia, that's all that is left of 60+ planes produced in the USSR. After the fall of the Soviet Union most Tu-160s were left in Ukraine, where they were destroyed under a US-financed program.
Bondarev stressed that production of modernized Tu-160M aircraft would not interfere with development of PAK-DA (Perspective Air Complex of Long-Range Aviation) strategic bomber.
In August 2014, the general confirmed that the Air Forces expect the Tupolev Corporation to produce first prototypes of PAK-DA by the end of the decade and launch series production in 2021-2022.
The US military officials have expressed a certain concern in regards of the upcoming Russian 5G fighter jet.
__________
VT Editors is a General Posting account managed by Jim W. Dean and Gordon Duff. All content herein is owned and copyrighted by Jim W. Dean and Gordon Duff
ATTENTION READERS
Due to the nature of independent content, VT cannot guarantee content validity.
We ask you to
Read Our Content Policy
so a clear comprehension of VT's independent non-censored media is understood and given its proper place in the world of news, opinion and media.
All content is owned by author exclusively. Expressed opinions are NOT necessarily the views of VT, other authors, affiliates, advertisers, sponsors, partners or technicians. Some content may be satirical in nature. All images within are full responsibility of author and NOT VT.
About VT
-
Read Full Policy Notice
-
Comment Policy