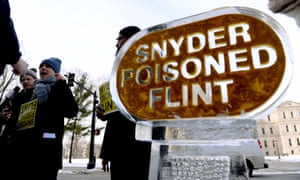 Snyder has said that he didn't know about lead leaching into the water in the months before he conceded in an 8 October announcement that the city was consumed by a public health emergency. Under the oversight of Michigan's environmental department, the river water wasn't treated properly to prevent lead from leaching off water pipes and flowing into households.
But a review by the Guardian of the more than 38,000 emails shows that nearly every person in the governor's inner circle was aware of alarming concerns about the city's water.
Among the major concerns being raised were the possible link to a deadly outbreak of legionnaire's disease, to the potential of lead contamination, or simply that having Flint use the local river was "downright scary".
"I wish I would have asked more questions," Snyder said last month. "I wish I hadn't accepted the answers."
Here are five takeaways from the Flint files and what the governor's staff knew.
When Flint made the fateful switch from Lake Huron water to the Flint river in April 2014, residents immediately began to complain of discolored and pungent water flowing through their taps. At that time, the problems were traced to an entirely different issue with the water: the city issued multiple boil advisories because of an outbreak E coli and total coliform in the water supply.
Officials weren't yet aware then of the Michigan department of environmental quality's (MDEQ) enormous mistake with its oversight of Flint's water system – a point that wasn't revealed until the following summer: it had failed to require Flint to treat the river water with anti-corrosion agents, which allowed lead to leach off pipes and into residents' water supply.
Nevertheless, by October 2014, Snyder's top legal counsel, Michael Gadola, was alarmed at what had already transpired in his hometown. In an email to the governor's chief of staff, Dennis Muchmore, he proposed reconnecting Flint with Detroit's water utility. Gadola wrote that the use of the Flint river as a water supply was "downright scary".
In a prescient warning, he wrote: "They should try to get back on the Detroit system as a stopgap ASAP before this thing gets too far out of control."
Flint residents were calling for the city to return to Detroit's water system by February 2015, after tests revealed high levels of a harmful contaminant called total trihalomethanes. In response, state officials prepared to give Flint $2m in grants.
In preparation for the announcement of the grants, Snyder was briefed on Flint's water supply in a 1 February background memo that struck a dismissive tone.
In the memo, made public in one of several email dumps, Snyder's spokesperson relayed that it was "clear that folks in Flint are concerned about other aspects of their water – taste, smell and color being among the top complaint" – but added that federal law "does not regulate aesthetic values of water", with the words "does not" underlined.
The memo discussed corrosion inside of cast-iron pipes, which should have been a red flag for possible lead contamination. But the pipes were only cited as the cause of "brown water that angry residents were holding up in jugs for media cameras last week".
The memo concluded on a note that suggested Flint's problems would soon be a thing of the past.
"Another key thing to remember is that once the city connects to the new [water] system in 2016, this issue will fade in the rearview", the memo said.
Separately, a major health concern was brimming, and some officials pointed to the Flint river as the possible source of trouble.
On 13 March, Harvey Hollins, director of Snyder's urban affairs office, received an email with reports of more than 40 cases of legionnaires' disease in Genesee County, where Flint is located, since April 2014.
Brad Wurfel, then-spokesperson for the state's environmental agency, told Hollins that a county health official was "putting up the flare" that the uptick in the severe and potentially fatal form of pneumonia is "directly attributable" to the use of the Flint river as a drinking water source.
"(T)his is beyond irresponsible, given that it is his department that has failed to do the necessary traceback work to provide any conclusive evidence of where the outbreak is sourced," Wurfel wrote, "and it also flies in the face of the very thing a drinking water system is designed to do."
Hollins was criticized last month for not disclosing to the governor his knowledge of the surge in legionnaires' disease in and around Flint, during a timeframe that corresponds with the city's switch to the Flint river.
Hollins has said he didn't receive enough information on the spike to bring it to the attention of Snyder. Wurfel was directed to dig deeper and have the MDEQ chief report to Snyder on the issue, officials said.
"I don't feel any responsibility for grown-ups who don't do their jobs," Hollinstold the Detroit Free Press last month.
Additional emails showed Snyder's then-communications director, Jarrod Agen, was told of the increase in legionnaires' disease around the Flint area as early as March 2015.
Agen, Snyder's current chief of staff, said to the Detroit News that he never saw the email, "nor did I open it" – and that it was a "disservice" to not tell Snyder about the legionnaires' increase sooner.
"I look at all this and say I'm mad there wasn't urgency," he told the News. "Personally, I'm mad I didn't open up that legionnaires' email and do something about it. I'm mad that the communications shop didn't do something about it."
April 2015: Hollins asked to debrief Snyder about Flint's water
Hollins had a chance to disclose the potential link to Snyder in a memo specifically pertaining to Flint issues.
On 29 April 2015, Hollins wrote Snyder a memo in which he discussed Flint's water quality – including discoloration and a reported increase in the level of total trihalomethanes. Hollins disclosed that some advisers had argued Flint should reconnect to Detroit's water system.
"Given water quality concerns, suggestions have been made that the City of Flint should return to using water purchased through the Detroit Water and Sewerage Department," Hollins wrote.
But the briefing doesn't include an explicit mention of legionnaires' disease.
Ari Adler, a spokesperson for Snyder, said Hollins "remembers seeing this information" and assumed the "department directors for these areas, who have more regular contact with the Governor than he does, had been briefing the governor".
"I assure you that everyone now around the governor's office is making much fewer assumptions about everything now," he said.
The governor publicly disclosed the spike in legionnaires' about nine months later, on 13 January, saying at a news conference that he learned about it only a couple days prior. At least 87 cases – including nine deaths – were reported in and around Flint between June 2014 and November 2015, a time frame that coincides with Flint's switch to the Flint river as its main drinking water source. State officials have yet to conclusively link the river to the outbreak.
Snyder has criticized the Michigan environmental department and its employees for not raising the issues of Flint's water crisis sooner, saying at his state of the state speech in January: "let me be perfectly clear to all of state government, in situations like this, they must come to my desk immediately, no delays, no excuses, period."
Asked when Hollins was made aware of lead contamination concerns being raised to MDEQ around that time, Adler said: "Harvey doesn't remember an exact date of when he became aware of the discussions around lead in the water, but that initially, and obviously for some time after, all of the questions raised about the water quality in Flint were met with answers from the DEQ that the department was looking into the condition of the water but that it was safe to drink."
July 2015: ACLU publishes investigation and EPA memo outlining lead concerns
By 9 July, the American Civil Liberties Union of Michigan had revealed that Flint wasn't using anti-corrosion agents to mitigate lead levels in drinking water.
An Environmental Protection Agency (EPA) memo published by the ACLU highlighted dangerously high levels of lead found at Flint resident Lee-Anne Walters' home.
Hollins crossed paths with Walters at a meeting in August, according to the emails. Walters, whose son was diagnosed with lead poisoning following the switch to the Flint River, asked officials at the meeting for information about why her lead tests weren't included in the calculation for Flint's average lead levels, emails show.
Whatever transpired, it got under the skin of Muchmore, who also attended, and Hollins.
"I didn't think that meeting was as useful as others," Muchmore wrote to Hollins on 5 August. "If people won't accept the factual information, I'm not sure there is much we can do about it.
Two weeks later, on 17 August, MDEQ notified Flint its average level of lead in water had, in fact, doubled from six parts per billion to 11 parts per billion. The EPA's statutory limit is 15 parts per billion, yet officials say no amount of lead is considered safe.
Nevertheless, Flint's sharp increase in lead detected by MDEQ was brushed off by then-spokesperson Wurfel in a 17 August email to Muchmore and Hollins.
"Next news (there's no bad news here): They still need to provide a plan to optimize their treatment," Wurfel wrote.
Snyder has said his office asked questions about lead in the summer, but was reassured that Flint's water met federal standards. The governor didn't become aware of the "severity of the problem with lead until October 1," a spokespersontold the Guardian last month," and that he responded "aggressively the next day".
But it was clear in July to state environmental officials that Flint wasn't using corrosion control – to potentially disastrous consequences. At Walters' home, for example, tests for lead revealed levels nearly double the threshold that's considered hazardous waste.
In a subsequent investigation by the ACLU, Virginia Tech researcher Marc Edwards, an expert on lead in drinking water, offered a forecast of the looming crisis ahead: "I do not see any reason why there would not be serious problems occurring in at least some other Flint homes."
This article was amended on 4 March 2016 to correct the EPA's statutory limit on lead levels in drinking water.
ATTENTION READERS
We See The World From All Sides and Want YOU To Be Fully Informed
In fact, intentional disinformation is a disgraceful scourge in media today. So to assuage any possible errant incorrect information posted herein, we strongly encourage you to seek corroboration from other non-VT sources before forming an educated opinion.
About VT
-
Policies & Disclosures
-
Comment Policy
Due to the nature of uncensored content posted by VT's fully independent international writers, VT cannot guarantee absolute validity. All content is owned by the author exclusively. Expressed opinions are NOT necessarily the views of VT, other authors, affiliates, advertisers, sponsors, partners, or technicians. Some content may be satirical in nature. All images are the full responsibility of the article author and NOT VT.