Effort to Silence CIA Assets Begins with Tarkhan Batirashvili
by Seth Ferris,  … with New Eastern Outlook,  Moscow
[ Editor's Note: Brother Ferris takes us into the belly of the beast once again, where a former US-sponsored terrorist training operation targeted toward Russia created an army of taxpayer-funded killers just waiting for opportunities to avail of their talents and experiences.
The giant red beard, currently using the name Tarkhan Batirashvili, is one of these people, now of almost mythical status for holding the record on how many times he has been killed by bombings or drone strikes, only to pop up once again.
Seth Ferris has been all over this story for years from his reporting on the Pankisi Gorge area, where Batirashvili grew up with the Georgian name of Omar al-Shishani.
Seth uses him as an example of how the CIA creates and uses these people over long periods of time and in multiple roles, depending on what is needed at that time; and all hidden from us under national security classifications, which would never stand up if they were put under the light of day — so they are not.
Cutting the political class in for a share of the drug trade money every year, eliminating any problem from them, while the innocent and unfortunate general population gets to experience what the bitter fruit of freedom and democracy really tastes like… Jim W. Dean ]
____________
– First published  ….  March 14,  2016 –
Most Chechen commanders have shelf lives, not necessarily in terms of effectiveness on the battlefield but in terms of political usefulness. It seems that another one is about to find out the hard way that Chechens are only there to further objectives they don't actually hold themselves, not become glorious martyrs able to pass unimaginable wealth on to their families.
There are few secrets about the history of Tarkhan Batirashvili, a former Georgian army soldier who was deemed unfit for service for health reasons, including TB, and booted out. However we know a lot about him because we are supposed to swallow the versions given.
Invariably, these revelations are presented as some sort of mysterious knowledge which only experts would have, which others cannot therefore contradict. There is a very obvious reason why we should be encouraged to think that any "non-official" information must be wrong.
__________
From medically unfit to monster
Here is a recent profile of Batirashvili: Omar al-Shishani aka Tarkhan Batirashvili (Islamic State / ISIS)
Abu Omar al-Shishani or Omar al-Shishani is the most senior military commander of the Islamic State's (IS) Military Wing in Syria. His leadership position within the IS follows the death of the former commander of IS forces, Abu Abdul-Rahman al-Bilawi al-Anbari, who was killed in Mosul in early June 2014.
Al-Shishani is an extremist and fanatical Islamist, uncompromising in his support of the IS which is complemented by experience in warfare (due to his involvement in the wars with Russia in the Caucasus region) [American trained and equipped] which [apparently] has added to the respect and support he had among IS fighters.
Batirashvili is effectively the Minister of Defense for the Islamic State. According to prison records, and sources in Georgia who know him personally, he is also a CIA asset. Analyst William Engdahl has described in detail how ISIS militants have been trained by the CIA in Jordan, and its funding provided by Gulf countries.
As a result of this relationship with the US, Batirashvili has enjoyed the proverbial nine lives, having frequently been reported dead, mostly by Russian media sources, but reappearing alive and well like clockwork. On 4th March he was, yet again, reported dead as the result of an airstrike.
However, just as this article was going to press the Syrian Observatory for Human Rights, which claims to have a network of observers within Syria where the air strikes occurred, told news media that he had merely been "seriously injured" by strike, and is now in hospital in Raqqa.
__________
Unfriendly friendly fire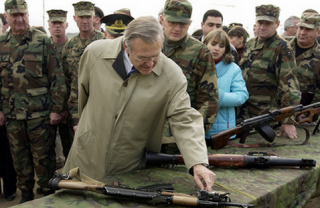 There are many people who want to see Batirashvili dead, as the number of previous false reports of his death suggests. However the significant thing here is that it was not a government associated with his victims which did this. The US itself conducted this airstrike, sending "several waves of manned and unmanned aircraft" to specifically target Batirashvili, the man it has trained, armed and funded for so long.
Why is the US trying to kill its own agents, who might expect protection? Apparently it is all the fault of journalists. Recent reactions to a spate of stories about the Pankisi Gorge, where Batirashvili was trained, have got the authorities scrambling to cover themselves with photo opportunities and the like.
Batirashvili knows as much as anyone about what has been going on there for a long time, having established the terrorist recruitment process which has seen dozens of young men mysteriously disappear, without passports, and end in fighting for ISIS, according to public records and sources in the Gorge itself.
Russia has also conducted airstrikes against ISIS, despite US opposition. If the Russians get to Batirashvili first they will capture him and get confirmation of all they have been saying for years.
The US has to stop that happening, and is more interested in doing this than saving the lives their inserted terrorist commander has taken.
If Batirashvili is dead, the testimony of possible future captures can be rubbished as that of lower level operatives who cannot know the facts. Just like the stories about Batirashvili by those who contradict the official line. It seems being the only superpower has finally convinced the US that everyone who isn't part of its military-industrial complex really is as stupid as it thinks we are.
__________
What we do know
Tarkhan Batirashvili was born and raised in Pankisi and is a Georgian national. The U.S. Department of State officially describes him as a terrorist, and has offered a 5 million USD reward for catching him. It is never going to pay that sum to a Russian, or someone who sympathises with Russia.
Nor will it pay one of its own supporters for catching someone whose movements the US already know, as this targeted airstrike confirms, as the cover story of how Batirashvili had been caught would never be credible.
Last year Tass reported that the U.S. army had arrested the Ginger Giant and some other field commanders in Kirkuk province in Iraq. This report was confirmed to be true, but he then mysteriously escaped his captors before they could get their 5 million dollars. There was no subsequent report of the incompetent jailers being court-martialled, and the CIA programme in Syria continued unabated.
Nor did Batirashvili have to rely on the CIA alone. We know from sources in the Georgian military and intelligence community that he was connected with former Georgian President Mikheil Saakashvili. This man has also had nine lives until now, mysteriously escaping justice and being set up nicely in Poroshenko's Ukraine for exactly the same reason: he knows what he knows about US operations in Pankisi, and the rest of Georgia.
It has frequently been asked: why should Georgians, even Muslim ones, be interested in the conflict in Syria? Or why should people who were shooting in Maidan Square be so interested that they immediately leave Ukraine on fake Georgian passports (we have copies) and fight in Syria? The only connection between the conflicts in Georgia, Ukraine and Syria is the overt US positioning within them.
They are part of an overall plan which can only be executed if directed from the top.
Batirashvili's handlers are not rogue CIA operatives on the ground but those at the highest levels of the US administration: exactly the friends anyone who's in trouble might be presumed to want, until they don't want you anymore.
__________
How it is done
Of course such a plan needs funds. These have long been provided through a "development funding" mechanism called ACDI/VOCA, in other words, directly by the US government. This is a tried and trusted mechanism, which has funded terrorists in Afghanistan as well as Georgia and provided the initial funding for the operations in Syria.
In Afghanistan, it established the ARIES programme. One of the ARIES projects was to "give 80 million USD in microfinance and SME lending to shift people away from opium cultivation". This succeeded in establishing better protected smuggling routes, and more secure supplies, from an area near Tajik border, an area east of Kabul centred near Jalalabad, the southern war region of Kandahar and Helmand and an area round Herat. The drugs from this region were sold to pay for operations in Georgia and Syria.
In Georgia the same mechanism funded an NGO called Jvari, which was set up by the Georgian National Security Council, unusually for an aid organisation. Batirashvili was trained with funds provided to Jvari. Other graduates of the programme include a number of other Chechens who have documented connections with US-aligned NGOs, such as Umar Idigov, head of the NGO "Foundation of Caucasus Integration" and Imram Akhmadov, who is now living in Turkey under the name Kavtarashvili, using a fake passport purchased with US government money.
There are many similar mechanisms the US uses to fund terrorists. An organisation called WOCCU has been granted about 15 million USD to create about 20 credit unions in Afghanistan. It was established by a former Green Beret Special Operations man, Randall Spears, who has already funded terrorist operations in several countries.
ACDI/VOCA itself has directly funded the creation of a number of other "credit cooperatives", to the tune of 12 million USD. This operation is run by former USDA representative Rusty Shultz, in collaboration with Gerry Anderson, a former CIA point man in Georgia working under the cover of USAID.
An organisation called MISFA has been given about 30 million to make SME loans through banks, a process managed by ShoreBank as its official advisor, and microfinance loans. ShoreBank was once a genuine financial institution, but was bailed out by the US government in 2010 on unknown terms and allowed to operate independently despite being officially part of another bank – under new management appointed by the government, naturally.
So there is an awful lot Batirashvili could be paid a small fortune by other countries to spill the beans about from the inside. Even if he knows only a portion of the things journalists have been able to uncover, inside proof of the rest would soon emerge. He has done his job by making a Kurdish state inevitable. His protectors no longer need someone who knows how they achieved this walking around.
__________
Too many faces to trust
According to a November, 2013 report in The Wall Street Journal, it was Batirashvili who turned the wars in Syria and Iraq "into a geopolitical struggle between the US and Russia" rather than civil conflicts. That was the objective of the leading neo-conservatives in the CIA, Pentagon and State Department all along.
In the early 1990s, the CIA transported hundreds of foreign veterans of the 1980s Afghan war into Chechnya to try to sabotage the Russian oil pipeline from Baku. Now more than 8,000 foreign Jihadist mercenaries are reportedly fighting for ISIS, including at least 1,000 Chechens, Saudis, Kuwaitis, Egyptians and even Chinese Uyghur from Xinjiang Province.
But on top of all this, another factor may well be involved. ISIS has recently suffered a setback. It was reported in January that is has cut many of its combatants' wages by half. So some of its combatants will now be earning the same as they could earn at home, without the risk.
Obviously some educated ISIS folks are thinking about leaving, or setting up an alternative force free of "infidel contamination" if that contamination isn't giving them what they once expected.
Who better than the foreigner Batirashvili, described by his fellow US trainees as the "immediate and obvious star soldier", to lead such a rebel force and start recruiting for it in the place he was headed for when the latest attempt was made on his life?
Maybe Batirashvili was about to do this when the US sent the planes in, maybe not. But when someone so important is involved, who you have invested millions in and sprung from capture by your own forces, would you take the risk?
Seth Ferris, investigative journalist and political scientist, expert on Middle Eastern affairs, exclusively for the online magazine "New Eastern Outlook".
___________

Jim W. Dean is VT Editor Emeritus.  He was an active editor on VT from 2010-2022.  He was involved in operations, development, and writing, plus an active schedule of TV and radio interviews.  He now writes and posts periodically for VT.
ATTENTION READERS
We See The World From All Sides and Want YOU To Be Fully Informed
In fact, intentional disinformation is a disgraceful scourge in media today. So to assuage any possible errant incorrect information posted herein, we strongly encourage you to seek corroboration from other non-VT sources before forming an educated opinion.
About VT
-
Policies & Disclosures
-
Comment Policy
Due to the nature of uncensored content posted by VT's fully independent international writers, VT cannot guarantee absolute validity. All content is owned by the author exclusively. Expressed opinions are NOT necessarily the views of VT, other authors, affiliates, advertisers, sponsors, partners, or technicians. Some content may be satirical in nature. All images are the full responsibility of the article author and NOT VT.