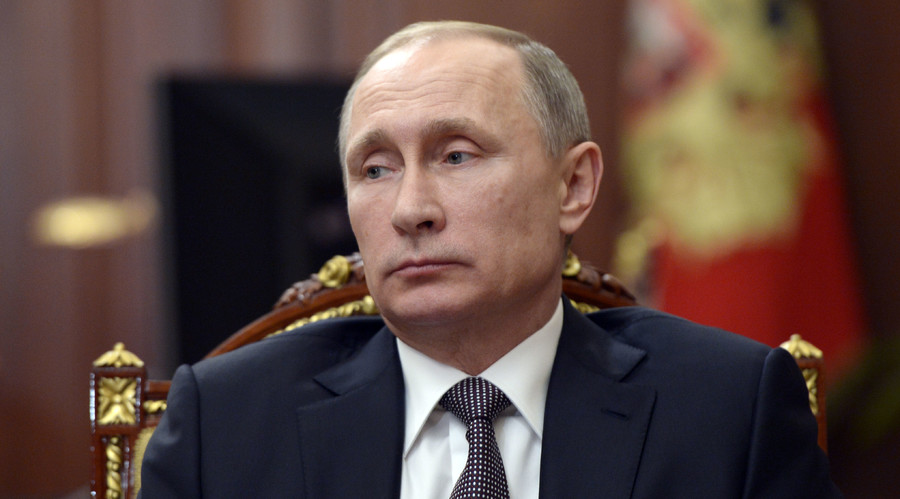 Vladimir Putin has praised the Russian cruise missiles fired against terrorists in Syria from the sea. He expressed hope that these weapons would not have to be armed with nuclear warheads.
Vladimir Putin has praised the Russian cruise missiles fired against terrorists in Syria from the sea. He expressed hope that these weapons would not have to be armed with nuclear warheads.
Meeting in the Kremlin with Defense Minister Sergey Shoigu, who reported the latest results of the anti-Islamic State (IS, formerly ISIS/ISIL) ops in Syria, the Russian president made a notable remark.
"We must analyze everything happening on the battlefield, how the weapons operate. The Kalibrs (sea based cruise missiles) and KH-101 (airborne cruise missile) have proved to be modern and highly effective, and now we know it for sure – precision weapons that can be equipped with both conventional and special warheads, which are nuclear," Putin said.
"Naturally, this is not necessary when fighting terrorists and, I hope, will never be needed," the president added.
On Tuesday, a Russian Kilo-class submarine, the Rostov-on-Don, fired Kalibr-PL cruise missiles against an IS installation near the terrorists' stronghold in Raqqa. Water-to-surface cruise missiles were launched from a submerged sub in the Mediterranean Sea, according to the Russian defense minister.
"We've been registering the missiles launches, flights and, of course, their hitting the targets," Shoigu said. "We warned our Israeli and American colleagues about these launches."
Kalibr and KH-101 cruise missiles have been deployed for the first time this year in Russia's counter-terrorist operation in Syria.
Russian airstrikes kill over 100 ISIS militants as Syrian army advances inside Palmyra
Syrian pro-governement forces gesture next to the Palmyra citadel on March 26, 2016, during a military operation to retake the ancient city from the jihadist Islamic State (IS) group.
Syrian government forces aided by allied militia units have advanced further into the ancient city of Palmyra with heavy support from Russian airstrikes that killed 100 Islamic State militants over the past 24 hours.
Russian warplanes continued providing crucial support to Syrian forces in their offensive to recapture the Syrian city of Palmyra, a UNESCO Heritage Site, as they carried out 158 airstrikes hitting terrorist targets in and around the city. According to the Russian Defense Ministry, more than 100 extremists were killed in the bombardment, along with several pieces of heavy equipment.
"Russian Aerospace Forces have carried out 40 sorties in the Palmyra region," a statement published on the Defense Ministry's official website read, adding that "as a result … four tanks, three artillery pieces, four ammunition depots, and five vehicles were destroyed."
In recent days, the Syrian army and allied militias have been advancing into Palmyra in an effort to retake it from the jihadists. They have already taken full control over several of the city's districts, breaching Islamic State's (IS, former ISIS/ISIL) last line of defense. Fierce clashes are still taking place throughout the city, however, according to Syrian state news agency SANA.
The army also launched intensive military operations in the area's southern orchards, and is nearing Palmyra's airport in the eastern part of the city.
Syrian governmental forces seized medieval Palmyra Castle on Thursday, taking control of the high point overlooking the city.
"Our heroic forces are continuing to advance until we liberate every inch of this pure land," a soldier told state-run television in a broadcast from the slopes of the citadel, as quoted by Reuters.
Earlier on Friday, an army unit in cooperation with popular defense groups dislodged Islamic State from the Syriatel hill near Palmyra Castle, a military source told SANA.
Kamal Alam, a fellow at the Royal United Service Institute (RUSI), who advises the British Army on Syrian affairs, told RT that the battle for Palmyra has a "very significant," "strategic and symbolic" meaning, as the city lies "in the middle [of the country] and connects the east and the central [Syrian regions]," adding that its liberation will give the Syrian army control over "the main highway that goes towards eastern Syria as well as Raqqa."
At the same time, he expected the international reaction to be "skeptical" because "international bodies and organizations [are] basically against the Syrian government and the Syrian army, and this is actually a [rebuke] for them."
The Syrian army's "strategic victory against [Islamic State] goes against what Americans are talking about, which is that IS can only be removed by the rebels backed by the West," Alam said. However, he added that there is a possibility that the Western countries could "change their stance and finally recognize that the Syrian government and the Syrian army are the only [force] capable of fighting IS, [as] they are proving it on the ground."
On March 14, Russia announced that it was withdrawing the majority of its forces from Syria, as the five-month operation nears its goals. At the same time, Deputy Defense Minister Nikolay Pankov stressed that Russia's remaining air contingent is still tasked with hitting terrorist targets, as it is "early to talk about victory over terrorism."
Palmyra is a UNESCO World Heritage Site, formerly known as home to some of the best-preserved monuments of antiquity anywhere in the world. Giovanni Boccardi from the UNESCO Emergency Preparedness and Response Unit told RT that Palmyra "is not just an archeological site, it is a symbol of Syria."
After capturing the historical landmark, the jihadists blew up the 2,000-year-old Temple of Bel and the Arch of Triumph, while also using Palmyra's Roman-era amphitheater for filmed public executions.
Regaining control over Palmyra will allow Syrian governmental forces to advance into the eastern part of the country to liberate the city of Deir ez-Zohr, which has been besieged by Islamic State terrorists since May of 2015, as well as to launch an offensive against the group's self-proclaimed capital of Raqqa.
VT Editors is a General Posting account managed by Jim W. Dean and Gordon Duff. All content herein is owned and copyrighted by Jim W. Dean and Gordon Duff
ATTENTION READERS
Due to the nature of independent content, VT cannot guarantee content validity.
We ask you to
Read Our Content Policy
so a clear comprehension of VT's independent non-censored media is understood and given its proper place in the world of news, opinion and media.
All content is owned by author exclusively. Expressed opinions are NOT necessarily the views of VT, other authors, affiliates, advertisers, sponsors, partners or technicians. Some content may be satirical in nature. All images within are full responsibility of author and NOT VT.
About VT
-
Read Full Policy Notice
-
Comment Policy