Will Worley at UK Independent (a newspaper that also publishes Patrick Cockburn…long suspected by VT as being Mossad, a friend of Franklin Lamb's for those who know what that means)
Bob Campbell, from Middlesbrough, said on Facebook just one day after the Brussels attacks that "Isis is run by Israel".   A day later, Mr Campbell posted a picture which claimed Isis has not attacked
Israel
 "because the dog doesn't bite its own tail".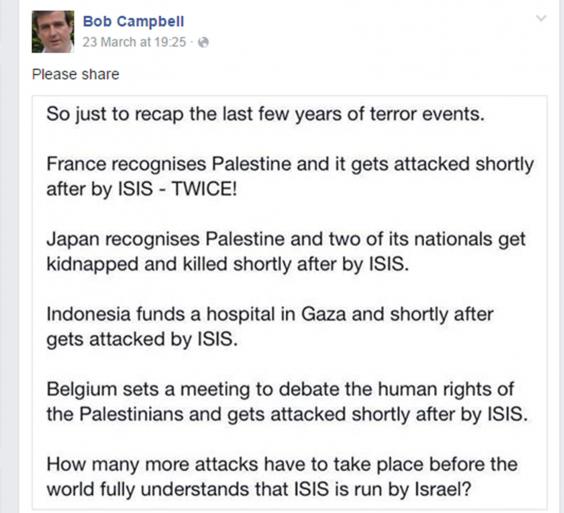 The Sunday Times reported that Mr Campbell was suspended after local MP Tom Blenkinsop found the comments and demanded an investigation.
However, Mr Campbell, who denies being anti-Semitic, told The Independent that he has not been suspended.
In addition to the two recent Facebook posts, Mr Campbell has also posted pictures comparing the Holocaust to the situation in Gaza, captioned "Holocaust the sequel…Please stop Israel".
He has also posted pictures depicting the Israeli Prime Minister Benjamin Netanyahu being hung from a tree and an Israeli flag adapted with an image of a rat featuring the words: "The real plague".
Mr Campbell has since denied posting the image of the rat.
"I post lots of pro-Jewish posts but I [also] post anti-Zionist posts," he said.
Mr Campbell is the latest person in a series of Labour Party members accused of anti-Semitism.
Earlier in March, member Vicki Kirby was also suspendedpending investigation for allegedly posting anti-Semitic comments to Facebook.
She had previously been suspended in 2014 for making aggressive anti-Israel comments on social media.
The Labour Mayor of Bradford, Khadim Hussain, was suspended for similar reasons.
Shadow Chancellor John McDonnell told The Independent that Labour Party members with anti-Semitic views should be banned for life.
"I'm not having it. People might say 'I've changed my views' – well, do something in another organisation," said Mr McDonnell.
"Anti-Semitism is in our society, it will rear its head as a result of that in any part of society and we've got to be eternally vigilant."
No one at the Labour Party was available to speak at the time of publishing.
Related Posts:
All content herein is owned by author exclusively. Some content may be satirical in nature. Expressed opinions are NOT necessarily the views of VT, VT authors, affiliates, advertisers, sponsors, partners, technicians or Veterans Today Network and its assigns. In addition, all images within are full responsibility of author and NOT Veterans Today Network.
Legal Notice
-
Comment Policy
Posted by
GPD
on March 29, 2016, With 5775 Reads Filed under
Government & Politics
. You can follow any responses to this entry through the
RSS 2.0
. Both comments and pings are currently closed.
Comments Closed