[

Editor's Note

: 

The intentional poisoning of an entire city constitutes the greatest act of terrorism in history and makes Rick Snyder as the most dangerous terrorist on Earth

…Gordon Duff ]
 ___________
Michigan Governor Rick Snyder, other state officials and the City of Flint have been targeted by hundreds of Flint residents in a new federal racketeering lawsuit stemming from the city's water crisis.
–
The 17-count complaint filed in US District Court charges that Snyder, state departments and the city "conspired to, and for approximately two years did, intentionally and knowingly misrepresent the suitability and safety of the Flint River to Flint's residents on a repeated basis."
Numerous lawsuits have already been filed over the situation, including a class-action suit over violations of the federal Safe Drinking Water Act, but this is the first one to claim, under federal anti-racketeering law, that officials in Michigan hatched an "intentional scheme" to service residents with toxic water.
"This couldn't have been done without coordination throughout the state of Michigan. Somebody thought this through beforehand," attorney Chet Kern of the New York-based law firm Bern Ripka, who is helping represent Flint residents, said at a press conference.
"He wants to run the state like a business," he added, referring to the Republican governor's past statements on governing practice. "Well, the citizens of Flint, as shareholders in the corporation of the state of Michigan, I don't think they were treated in an appropriate way."
In April 2014, Flint stopped purchasing treated water from Detroit, which it had been doing for some 50 years, and began tapping the corrosive Flint River as its drinking source. However, the state did not require the water to be treated with anti-corrosives, as mandated under federal law, and the water became contaminated when it leached lead off city pipes as it traveled to homes, exposing babies, children and other residents to poisoning.
The lawsuit accuses state officials of directing the switch from Detroit despite knowing that the Flint River's corrosive nature made it more likely to be contaminated without treatment and that the local treatment plant was not yet capable of providing safe drinking water. It further claims that officials used the river, a free source of water, to charge exorbitantly high water service rates in order to balance the financially strapped city's budget.
Kern said that Flint residents were charged an average of $900 a year for the poisoned water, while the average bill across the US was under $300. By the end of June 2015, Flint's nearly $13 million deficit was turned into a $3.3 million surplus.
"What a catastrophe," Kern said. "They balanced the budget – they did a great job, they balanced the budget – but they had an intentional scheme. And they coordinated systematic misrepresentations … to deny, deny, deny that the water was toxic."
At the same time as the state and its appointed emergency managers pushed for balancing the budget by saving money on water, the lawsuit claims that officials bypassed "time tested, well-honed federal bankruptcy protections" that could have addressed Flint's financial problems without endangering the health and safety of its residents.
The Snyder administration has yet to comment on the lawsuit.
The lawsuit is seeking a jury trial and damages, as well as an order declaring the actions of the defendants unconstitutional. It did not put a price on the damages sought, but since it was filed under anti-racketeering laws, awarded damages could be three times as high as normal if the plaintiffs can prove there was a systemic, coordinated enterprise behind the poisoning.
The crisis in Flint has received national attention ever since Flint Mayor Karen Weaver declared a state of emergency over the situation. That followed findings by researchers and local doctors that not only was the water contaminated with unsafe levels of lead, but also that at least some children had elevated levels of lead in their blood. Lead is a neurotoxin that can cause permanent brain damage, learning disabilities and more.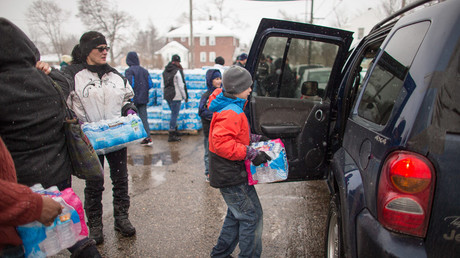 Although residents complained about dirty, smelly water immediately after the switch to the Flint River was made, city and state officials, including environmental regulators and the health department, continued to insist that the water was safe for consumption.
Only after children were found to have high lead levels in their blood did Snyder's administration acknowledge the situation.
Flint officially switched back to the Detroit water system in October 2015, though many fear the damage to city pipes is so bad that the water may still be contaminated. Filters handed out by the state have been found to be inadequate for the amount of lead in the water, while pregnant women and children have been warned not to drink from the tap unless it has been tested.
Representing Flint residents in the latest lawsuit are some of the same attorneys who worked for first responders who suffered from various medical problems linked to the aftermath of the September 11, 2001 terrorist attacks. Marc Bern, a senior partner at Bern Ripka, said the situation facing 9/11 responders pales in comparison to the Flint crisis.
"We haven't been attacked by foreign people," he said. "We've been attacked by those who are here in Michigan."
____________
VT Editors is a General Posting account managed by Jim W. Dean and Gordon Duff. All content herein is owned and copyrighted by Jim W. Dean and Gordon Duff
ATTENTION READERS
Due to the nature of independent content, VT cannot guarantee content validity.
We ask you to
Read Our Content Policy
so a clear comprehension of VT's independent non-censored media is understood and given its proper place in the world of news, opinion and media.
All content is owned by author exclusively. Expressed opinions are NOT necessarily the views of VT, other authors, affiliates, advertisers, sponsors, partners or technicians. Some content may be satirical in nature. All images within are full responsibility of author and NOT VT.
About VT
-
Read Full Policy Notice
-
Comment Policy