The union and consumer groups Common Cause and Citizen Action of New York filed a complaint with the FCC on Tuesday alleging that Verizon, the third-largest telecommunications company by market capitalization in the world, has used "institutional deception" to compel customers to buy-in to the company's fiber-optic upgrades.
The groups accuse Verizon of "systematically deceiving customers, refusing to fix the phone lines of customers on its traditional copper network, and forcing them to switch to the company's fiber network or lose all service."
The complaint says Verizon workers are sent to customers' homes with no intention of fixing older copper telephone wires, with customers told "fiber is the only fix," as the company is trying to expand its fiber network. If customers decide not to switch, they are often told by Verizon workers that their phone service could be disconnected in a matter of days, according to the complaint.
Communications Workers of America (CWA) and the supporting groups are calling on the FCC to investigate Verizon's policies and require the company to halt and redress any deceptive actions taken against customers.
 CWA represents many of the 40,000 or so Verizon employees to have been on strike since April 13 amid failed contract negotiations. The FCC complaint pertains to seven US states, which match up with the East Coast states in which CWA members are striking.
Verizon called the complaint "completely ridiculous" and a "publicity stunt" by the unions involved in the strike.
"There is no deception whatsoever and we take great exception to this accusation," the company said in a statement, according to Broadcasting & Cable. "When a copper customer with chronic service issues calls for a repair, we create two tickets in parallel – a repair ticket, and the ghost service order. When the technician is dispatched, if he finds there's a simple fix for the copper, we fix the copper. If not and we determine fiber is the only fix, we already have the parallel service order in place. The technician then explains to the customer why we need to upgrade them to fiber and no work is performed without the customer's consent."
The ghost service order is cited in the complaint as evidence of Verizon's deception.
"Customers are purposefully being put in a situation where they have to make a quick decision — under duress — to either switch service to fiber or lose service altogether," the complaint reads.
Tom Maguire, Verizon's senior vice president for national operations support, told the New York Times that the company is"not trying to deceive folks," and that when customers "get on fiber, there's no issue."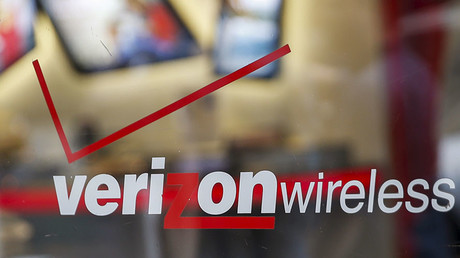 The complaint adds to the rising tension between union workers and Verizon amid the 10-month strike of CWA and International Brotherhood of Electrical Workers employees, one of the largest US strikes in recent years.
On April 28, Verizon offered what it called its "last, best and final offer"to union leaders. The deal included a 7.5 percent wage increase over the term of the contract, retirement benefits, and job security and health care provisions.
"We're putting our last, best final offer on the table, one that provides the foundation for quality jobs now and in the future," said Marc Reed, Verizon's chief administrative officer. "From the beginning, our goal has been to reach an agreement that's fair to our employees, good for our customers and helps our company better compete in the digital world. This offer meets those objectives. A better offer would be hard to find."
 CWA called the offer the "same old bullshit."
"Here's what they offered that was new: an additional 1% in wages, one year of corporate profit-sharing, and at last, they backed off at least part of their demand to be able to transfer workers for two months anywhere in the footprint. (They are however, still insisting on the right to transfer workers out of state for two months if the worker can commute home in the evening)," CWA wrote.
CWA added that the offer dismissed the union's concerns over subcontracting and "offshoring of our work" while reducing disability benefits, freezing pension accruals, and the ignoring conditions of employment for Verizon Wireless retail store employees, among other issues.
On April 29
, Verizon announced it was
"deploying thousands of additional employees and contractors to serve its customers during the strike."
"It's unfortunate that union leaders have denounced our proposal," said Verizon's Marc Reed. "We've given the unions a great offer. Their reaction to our offer does nothing to benefit our employees who are not where they should be – back at work and serving our customers."
On April 30, healthcare benefits for striking workers expired. "They think that this is going to be used as a wedge to break this strike. I assure you it will not," Ed Mooney, vice president of CWA District 2-13, told Reuters.
On Thursday, May 5, CWA will hold a National Day of Action in alliance with Jobs with Justice and the AFL-CIO to expand picketing of Verizon stores across the US. The day of action coincides with Verizon's annual shareholder's meeting. CWA said it will "challenge the company" at the meeting in Albuquerque, New Mexico.
Democratic presidential nominee Bernie Sanders has endorsed the union's demands, saying last month that "Verizon has made billions of dollars in profit, but in a given year has not paid a nickel in taxes," to which Verizon responded by saying that Sanders was "dead wrong on this issue."
Verizon was one of 26 top US corporations that paid no federal income tax from 2008 to 2012, according to a 2014 report by the public advocacy group Citizens for Tax Justice. In 2013, Verizon was among seven of the 30 largest US corporations to pay its chief executive officer more in renumeration than they paid in US federal income taxes, according to another analysis.
ATTENTION READERS
We See The World From All Sides and Want YOU To Be Fully Informed
In fact, intentional disinformation is a disgraceful scourge in media today. So to assuage any possible errant incorrect information posted herein, we strongly encourage you to seek corroboration from other non-VT sources before forming an educated opinion.
About VT
-
Policies & Disclosures
-
Comment Policy
Due to the nature of uncensored content posted by VT's fully independent international writers, VT cannot guarantee absolute validity. All content is owned by the author exclusively. Expressed opinions are NOT necessarily the views of VT, other authors, affiliates, advertisers, sponsors, partners, or technicians. Some content may be satirical in nature. All images are the full responsibility of the article author and NOT VT.