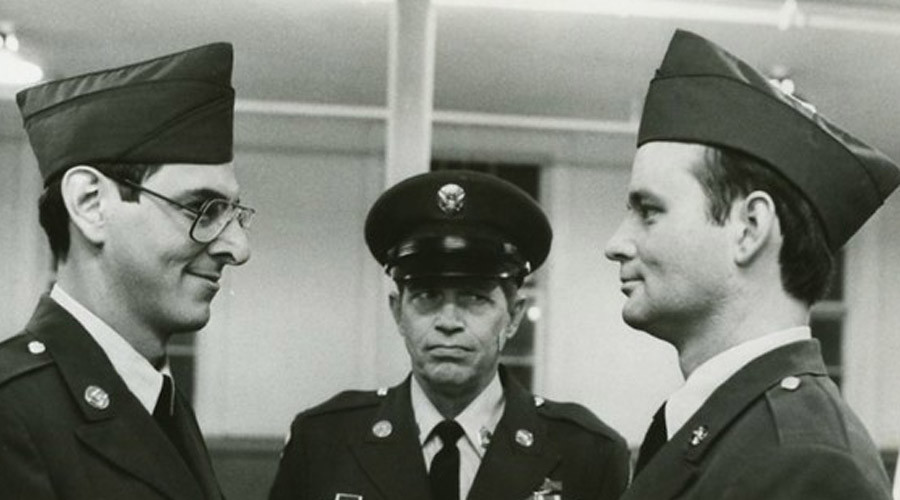 It was the height of the Cold War. US President Ronald Reagan had been in office for less than six months when a new comedy released on June 26, 1981, made Bill Murray a movie star, the Army "fun," and the conflict along the Iron Curtain a little warmer.
Stripes turns 35 on Sunday – old enough to be commander-in-chief. In this RT exclusive, Slovak-born director Ivan Reitman takes us inside the creation of the beloved film and tells us whatever happened to the flame-throwing EM-50 Urban Assault Vehicle.
RT: Stripes was originally written for Cheech and Chong. Where were the differences between that original concept and what's actually on the screen? What are the biggest changes?
Ivan Reitman: Well it got changed quite a bit. The overall plot remains the same, but I think that was mostly a dope version of the film where I guess the Stripes that we all know is more of an early 1980s-style slacker… two slackers joining the army. Most of the comedy that we wrote for Cheech and Chong ended up in the Elmo character, the Judge Reinhold character. When we had a really good dope-related joke, we gave it to Judge and that seemed to work really well. A little bit of it went to the John Candy character. And the characters that Bill Murray and Harold Ramis play are really their own, newly-conceived.
RT: And that's part of the reason Bill wanted Harold, because they could riff off of each other and improv those two roles, is that right?
IR: Well to be more accurate, Bill was always hard, yes. The famous story on my first movie, Meatballs, is that he finally said 'yes' the day before I started shooting, which was particularly scary considering that I was co-financing a Canadian-made film. I had worked with both those men and with (John) Belushi and Gilda Radner in a show called The National Lampoon Show, which was a comedy revue that I produced off-Broadway, and that's when I first got to know all these extraordinary actors and comedians
This is before Saturday Night Live, before SCTV. Most of whom were in Second City and then the National Lampoon Radio Hour and we put them together in this very, very funny stage revue. And what was clear to me, and I knew a lot of them got hired by Lorne Michaels to go on Saturday Night Live, but I knew that Harold Ramis was as good as any of them and held his own on stage. So I had no problems whatsoever of putting Harold Ramis as the co-star with Bill Murray. I also know that Bill, is the kind of guy he is, really felt bad that Harold never got that next job, that Saturday Night Live job that they all got and so when I presented that Harold would be the co-star and I knew it would put a lot of moral pressure on him to say 'yes' faster because he was doing Harold a favor. Never mind me.
RT: And that worked out, that was the right combo. Dennis Quaid in that role: I couldn't even imagine it now 35 years later.
IR: They were so wonderful together.
RT: So was it your idea to place the third act in Czechoslovakia, against the backdrop of the Cold War? Was that originally conceived with the script or where did that come into the process?
IR: Yeah it was. My parents and I escaped Czechoslovakia in 1950 and so I always had this thing in my head about it being sort of this foreboding communist country. Of course both Slovakia and the Czech Republic are quite different right now, but that was what I was left with in 1950 and grew up with. Stripes is an army comedy and I thought, "How can you do an army comedy without some kind of conflict or some kind of potential war?" Of course I didn't want a real conflict, because that would make the film too heavy and I'm surely no fan of wartime, so I had to create a comedy one and it seemed like an accidental invasion by this group for the American Army would be funny.
RT: Do you think the timing, where it came in the Cold War, do you think it at all contributed to thawing things out or easing both sides a little bit? Making fun, with love? Or do you think it played no role whatsoever?
IR: As much as I'd like to take credit for the thawing of relations between the East and the West during that period, I think Reagan had much more to do with it than me.
RT: So you never heard any stories from White House folks saying "You know, that film totally changed negotiations?"
IR: No, nothing like that. The only thing I heard from official sources was from the Department of Defense. It was the beginning of voluntary army, so it created a rise in recruitment at that period. It looked like the Army was fun.
RT: You and Bill aren't big war guys. Was that a kind of side effect you weren't hoping for and were disappointed it had a positive effect?
IR: Absolutely not. I'm not so much a war guy, but I'm certainly all for the armed services. I have a son-in-law who's done four tours in Iraq and Afghanistan, so I wasn't trying to make fun of the Army with Stripes. It was really much more finding the comedy in those kinds of institutions because there's always humorous things to be had. And I think it's one of the reasons that we got Department of Defense cooperation as was clear from the screenplay that although satirical, it was a very positive, if not totally loving look at the Army.
RT: And somehow you made Kentucky look like the Czechoslovakia border. Did you take a while to find spots that kind of looked slightly Central or Eastern Europe… in Kentucky?
IR: You have to remember, this is almost 40 years ago now, but I remember parts of Kentucky outside of Louisville, there was an ex-Jim Beam plant that had been abandoned and it was in a remarkable physical location that felt very much appropriate to what I imagined a border crossing in Eastern Europe would look like. We had an excellent production designer who created little things. It was also the basis of where the [Soviet] Russian Army was stationed.
RT: Joe Flaherty made it too. He was spot on, wasn't he, for that?
IR: Yeah. These are old friends of mine from Canada. Dave Thomas and Joe Flaherty were working out of both SCTV and Dave Thomas had gone to school with me at McMaster University. I'd always thought they were really funny guys and I'd always look for a place to put them in a film and I'm really happy that both ended up in the film.
RT: One of my favorite lines is when Bill Murray says going into Czechoslovakia is like going into Wisconsin. Was that his ad lib from what you remember?
IR: Yeah I think it probably was. He has this wonderful ability of taking ordinary lines, putting his own spin on it and then finding some kind of oddball addition to it that really makes it… unforgettable.
RT: And there's almost a regional humor to it because somebody growing up in Chicago might think that's funnier than somebody growing up in other parts of the country. It was almost an in-joke for those in the Midwest.
IR: Well remember Murray grew up in Chicago. Harold went to school in St. Louis. But there's this whole other world that people tend to forget when they come from New York and Los Angeles that is really the central core of our country. It's what's great about so many of these actors and comedians that have come from Second City and Chicago, that they were bred there and they have this extraordinary ironic look at the world that seems to have come out of this location.
RT: I also remember the mud wrestling scene was more PG than maybe the version I watched years later. Did you shoot two different versions, one for TV and one for the R rating?
IR: We did television coverage because it was required under our contract with Columbia. So perhaps you had only been watching the television version where the bras the wrestlers were wearing were not removed. But I can't speak to what version you watched.
RT: Yeah that's probably it because also when Larroquette is looking through the spyglass, it was a much tighter shot. But they don't do that anymore, right? That's not a contract obligation anymore, is it?
IR: Some level of coverage is still required because there's different kinds of censorship all over the world and different kind of requirements. Plus there's the airline version, one that's used to be shown publicly for everybody on the airplane, they have to be a certain way. I mean these are things are slowly disappearing because we now watch our entertainment individually so much.
RT: Do you ever know what happened to the EM-50 Urban Assault Vehicle, because our readers love military tech so I think they would love to get their hands on that?
IR: It was around at Columbia [Studios] for the longest time, but they clearly don't have it because I have all the old vehicles outside of my offices of Ghost Corp at Sony which is the home of Columbia. I have both Ecto-Ones from the old [Ghostbusters] movie and the new movie. I remember it had gone on tour and I think it fell apart finally. I thought it would be always funny to have an assault vehicle that looked like a camper van.
There was just something goofy about it and very humorous, especially if it had all this cool stuff on it and while it looks a little dated right now, I remember when we first showed it off when the film first came out, people went nuts when those missiles came out of the top or the side flamethrowers were working. It was just a fun, wonderful thing.
That's the facts, Jack.
Ivan Reitman will discuss Ghostbusters then and now, including the controversy around the trailer, in Part Two of our exclusive interview next week in advance of the new 3D film's release.
VT Editors is a General Posting account managed by Jim W. Dean and Gordon Duff. All content herein is owned and copyrighted by Jim W. Dean and Gordon Duff
ATTENTION READERS
Due to the nature of independent content, VT cannot guarantee content validity.
We ask you to
Read Our Content Policy
so a clear comprehension of VT's independent non-censored media is understood and given its proper place in the world of news, opinion and media.
All content is owned by author exclusively. Expressed opinions are NOT necessarily the views of VT, other authors, affiliates, advertisers, sponsors, partners or technicians. Some content may be satirical in nature. All images within are full responsibility of author and NOT VT.
About VT
-
Read Full Policy Notice
-
Comment Policy