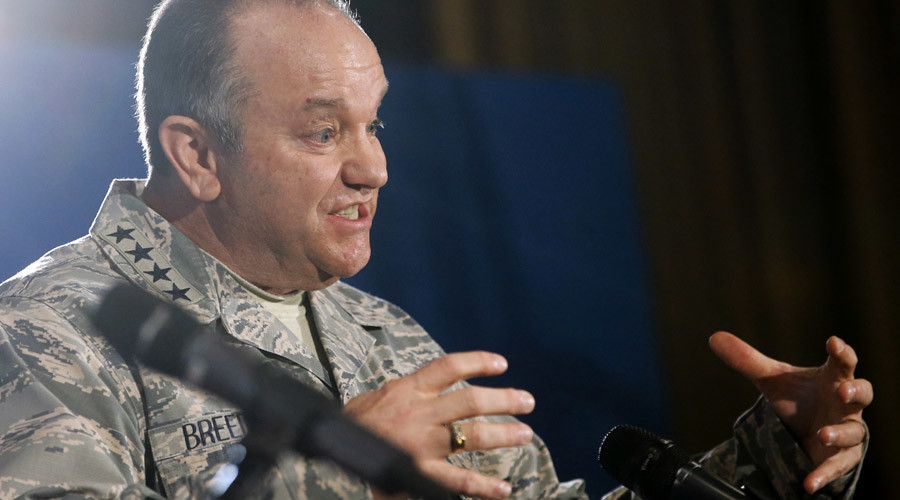 Oh what a tangled web we weave….  This is a story replete with immense significance and far-reaching implications. Breedlove can now be categorised alongside the likes of Petraeus and Clark as Zionist stooges, infiltrators into the US/NATO military machine whose loyalties have been bought, either with Shekels or with compromising materials.
Breedlove was identified almost immediately by Col. James Hanke (who had known Breedlove most of his professional military career) as a foreign operative inside the US military; this new information proves Col. Jim was right.
There are several extremely damning revelations contained in the hacked and leaked emails, revelations that expose the treasonous nature not only of Breedlove, but also expose the network of traitors within the US military and political spheres; thus providing confirmation of what we have known for quite some time – that the Bush era had left the US government and military in a state of total infiltration by people of dubious loyalties.
Now we have confirmation that Nuland, Pyatt and others were deeply involved in the events in Ukraine that lead to the Maidan coup, toppled the legally elected Yanukovich government and installed a puppet junta who could be relied upon to carry out the debt enslavement of Ukraine via colossal IMF loans that can never be repaid while also pursuing a policy of antagonism towards Putin's Russia.
Furthermore we now have clear proof that these traitors also tried to start World War III by using Zionist sellout Wesley Clark to pass to Breedlove fabricated intel about Russian preparations to invade Ukraine. Breedlove, like the good little stooge he is, went straight to the White House with this intel but was rebuffed by General Dempsey. This was a clear attempt by the Zionists to start WW3 by attacking Russia – surely a treasonous act if ever there was one.
Breedlove may have been part of a plot to assassinate President Obama and in private, this is someone who spoke of Obama as a traitor and of the 'Gang of Three' – Hagel, Obama and Dempsey as disrupting Breedlove's 'biblical prophecy' agenda he shares with other far-right extremists; in fact, Breedlove, as NATO commander, was not only central to the fabrication of the New Cold War but very much a part of Europe's new facism, which has lead military leaders like Mike Rose to support Brexit and keep Britain out of the now thoroughly discredited project to build a United States of Europe.
---
Hacked private emails of the US general formerly in charge of NATO reveal a campaign to pressure the White House into escalating the conflict with Russia over Ukraine, involving several influential players in Washington.
The emails, posted by the site DCLeaks, show correspondence between General Philip M. Breedlove, former head of the US European Command and supreme commander of NATO forces, with several establishment insiders concerning the situation in Ukraine following the February 2014 coup that ousted the elected government in favor of a US-backed regime. Breedlove served as the NATO Supreme Commander between May 2013 and March 2016. His personal email incorporated his Air Force call sign "Bwana" – a Swahili word for "boss."The hacked emails reveal his frequent and intense communications with retired General Wesley Clark, as well as former Secretary of State Colin Powell, and involving a senior fellow at the Atlantic Council, State Department official Victoria Nuland, and US Ambassador to Ukraine Geoffrey Pyatt.
Clark, who commanded NATO during the 1999 war in Yugoslavia, reached out to Breedlove in April 2014. On April 8, he forwarded "intelligence" obtained by Anatoly Pinchuk and Dmitry Tymchuk, activists close to the new regime, claiming a Russian invasion was in the works.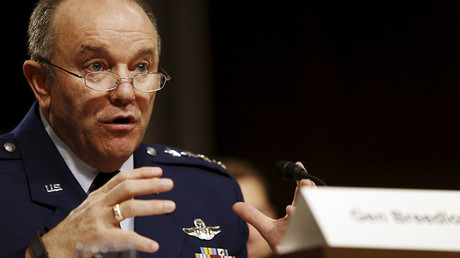 The information was conveyed by Phillip Karber, an ex-Marine and president of the Potomac Foundation, whom Clark calls a "colleague"and "our guy." Karber wrote about observing the Russian border from inside a Ukrainian tank, and eagerly transmitted Tymchuk and Pinchuk's calls for support. Contacted by The Intercept on Friday, Karber confirmed the authenticity of several emails in the leaked cache.
Reporting on his meeting with Ambassador Pyatt on April 6, Karber wrote: "State is the one trying to be pro-active and recognizes need to do more faster," while General Martin Dempsey – at that point the chairman of the Joint Chiefs of Staff – was "dragging his feet in order to save [military] relations with Russians."
In an email dated April 12, Clark referred to his exchange with "Toria"Nuland – the assistant secretary of state for Europe and Eurasia, who personally backed the Ukrainian revolution – pushing for open US support for the regime in Ukraine to use force against protesters in the east. Prior to the coup, Washington had strongly warned Kiev not to use force against the anti-government demonstrators in the city.
Kiev's summer "anti-terrorist operation" ended in crushing defeat in August, and the first armistice between the government and rebels was signed in Minsk in September. Meanwhile, the so-called Islamic State jihadist group arose in Iraq and Syria, drawing US attention away from Eastern Europe with gruesome beheadings of Westerners. Frustrated by the White House's reluctance to back his belligerent agenda in Ukraine, Breedlove reached out to Powell, a retired general and former secretary of state.
"I seek your counsel on two fronts,…. how to frame this opportunity in a time where all eyes are on ISIL all the time,… and two,… how to work this personally with the POTUS," Breedlove wrote to Powell in September 2014. Powell's response was not made available.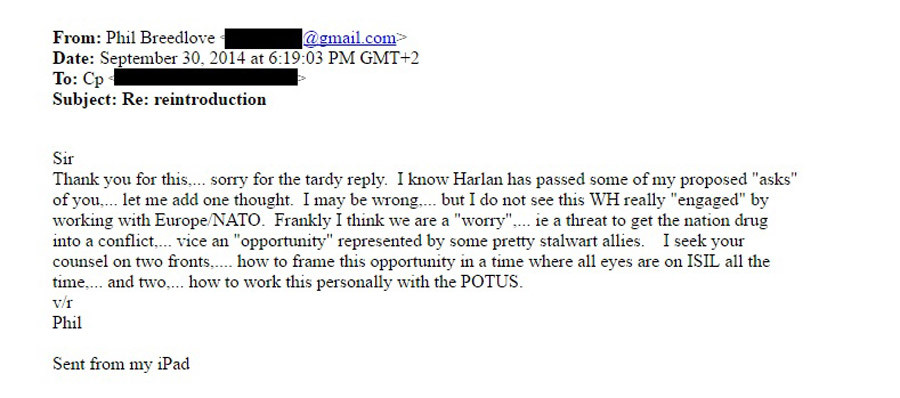 EDITORIAL DISCLOSURE
All content herein is owned by author exclusively.  Expressed opinions are NOT necessarily the views of VT, authors, affiliates, advertisers, sponsors, partners, technicians or Veterans Today Network (VT).  Some content may be satirical in nature. 
All images within are full responsibility of author and NOT VT.
About VT
-
Read Full Policy Notice
-
Comment Policy