Turkish Foreign Minister Mevlut Cavusoglu has lashed out at NATO, saying the alliance is not fully cooperating with Ankara. In an interview with Sputnik, he hinted that Turkey would consider military cooperation with Russia.
Cavusoglu says that Ankara has become alarmed at the lack of willingness shown by NATO to cooperate with Turkey, which is a member of the alliance.
"It seems to us that NATO members behave in an evasive fashion on issues such as the exchange of technology and joint investments. Turkey intends to develop its own defense industry and strengthen its defense system," he said in an interview with Sputnik.
"In this sense, if Russia were to treat this with interest, we are ready to consider the possibility of cooperation in this sector," Cavusoglu said when asked about the possibility of working with Russia in the defense sphere.
It is Cavusoglu's strongest rebuke of NATO to date. In an interview with the Anadolu news agency on August 10, he said that Turkey and Russia would look to establish a joint military, intelligence, and diplomatic mechanism, while adding that relations with NATO were not as satisfactory as he would have wished.
"Turkey wanted to cooperate with NATO members up to this point," he said. "But the results we got did not satisfy us. Therefore, it is natural to look for other options. But we don't see this as a move against NATO," he told Anadolu.
Meanwhile, a week ago, the Turkish ambassador to Russia, Umit Yardim, said NATO has no right to dictate foreign policy to Ankara.
"In no way can NATO limit our contacts with other countries… It means NATO has no right to dictate its terms and tell us who we should or should not meet and communicate with," Yardim said on August 11, as cited by RIA Novosti.
The warming of relations between Turkey and Russia, which were previously at a low after a Turkish warplane shot down a Russian warplane over Syria in November, has led to apprehension in the West.
Cavusoglu also previously pointed out that there is growing resentment in Turkey due to a perception that the EU and US have only been giving mild support to Ankara in the wake of the attempted coup against President Recep Tayyip Erdogan on July 15.
Turkey has been incensed by the US' refusal to hand over cleric Fethullah Gulen, who Ankara believes organized the attempted coup.
The Turkish government wants Gulen, who lives in self-imposed exile in Pennsylvania, to be extradited to face trial at home, but Washington has repeatedly refused. The US says it needs clear evidence that there was a link between Gulen and the attempted coup before it will consider complying with Turkey's request.
Speaking to Sputnik, Cavusoglu accused the West of treating Turkey and Russia like "second class countries" simply because they did not see eye-to-eye.
"They consider Russia and Turkey to be second class countries, and they are outraged that these second class countries dare to criticize them… Therefore, faced with the straightforwardness and resilience of Erdogan and [President Vladimir] Putin, they feel very worried and anxious," Cavusoglu said.
READ MORE: 'Turkey gave up EU membership hope, seeking other partners'

Cavusoglu's criticism was not restricted to NATO, as he launched a broadside towards the West, saying it was largely responsible for the crisis in Ukraine.
"Look at what has happened in Ukraine," he told Sputnik. "They were always threatening the country and forcing it to make a choice between them and Russia. They were saying, 'you will either be with us or with Russia.' This course of action is futile. What is happening in Ukraine is a reflection of the main problems in the region."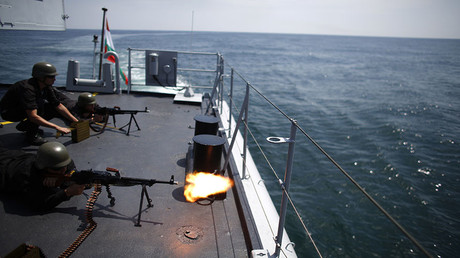 In contrast, the Turkish diplomat says that Ankara wants peace around the Black Sea region and does not want it to become an epicenter for tension. He called on all parties to try and find a peaceful resolution and said there needed to be greater dialogue between Russia and NATO.
"There should be no threats emerging in the region for anyone, for Turkey, for Russia or for anyone else," Cavusoglu said.
According to the minister, the need for dialogue with Russia was apparent at the last NATO summit. "In my opinion, all existing issues should be overcome through establishing dialogue," he added.
The Turkish foreign minister pointed out that Turkey was the only member of NATO not to champion the introduction of sanctions against Russia, while he added that attempts by the West to frighten Moscow by the introduction of punitive measures had failed.
He noted how the West tried to humble Russia during its hosting of the 2014 Winter Olympics in Sochi by constantly bringing up the same topic concerning the rights of sexual minorities.
"You cannot turn around a relationship with such a huge and great power like Russia just because of one question," he said, adding that when a relationship is reduced to such a low level, "nothing constructive can come of it."
WATCH MORE:
ATTENTION READERS
We See The World From All Sides and Want YOU To Be Fully Informed
In fact, intentional disinformation is a disgraceful scourge in media today. So to assuage any possible errant incorrect information posted herein, we strongly encourage you to seek corroboration from other non-VT sources before forming an educated opinion.
About VT
-
Policies & Disclosures
-
Comment Policy
Due to the nature of uncensored content posted by VT's fully independent international writers, VT cannot guarantee absolute validity. All content is owned by the author exclusively. Expressed opinions are NOT necessarily the views of VT, other authors, affiliates, advertisers, sponsors, partners, or technicians. Some content may be satirical in nature. All images are the full responsibility of the article author and NOT VT.