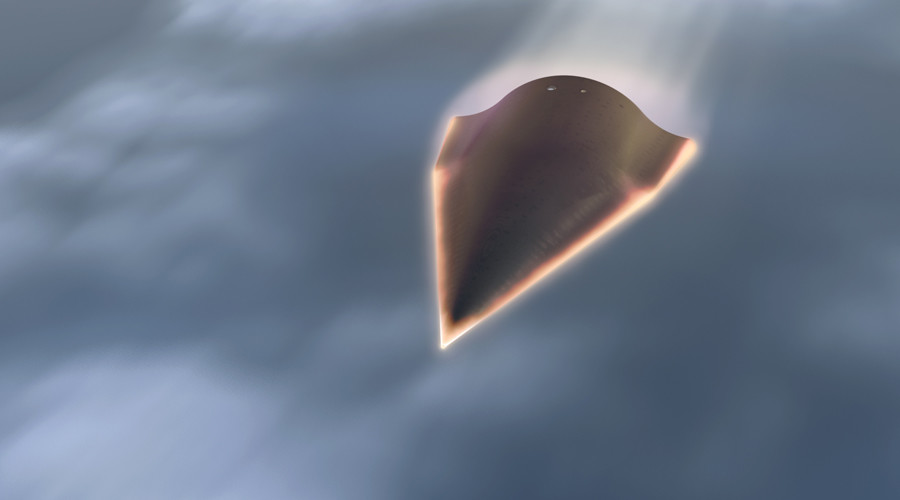 The top brass of US Strategic Command acknowledges that hypersonic glide weapons developed by other countries are a serious challenge to Washington's defense capabilities.
The concerns were voiced during a Space and Missile Defense Symposium that was hosted in the US state of Alabama earlier this week, Defense News reports.
It is "becoming increasingly more difficult" for the US to track down and tackle the foreign hyper-glide vehicles, Admiral Cecil Haney, chief of US Strategic Command (STRATCOM) said as quoted by the media outlet. "Hyper-glide vehicle technology can complicate our sensing and our defensive approaches," he added.
Hyperglide vehicle's (HGV), also known as boost gliders, are unmanned weapons that are launched by ballistic missiles. After separating from the rocket, they follow their own track path, reaching speeds of at least Mach 5 (five times faster than the speed of the sound) or more.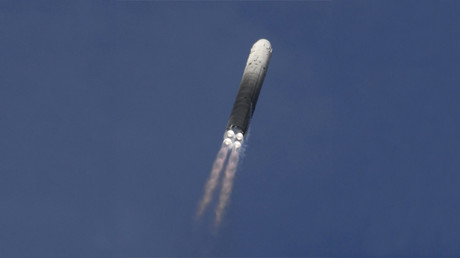 HGV's can "potentially glide over distances approaching ten thousand kilometers," while hitting their targets "with accuracies down to a few meters," according to Forbes.
During the summit, Haney admitted that most of the US Defense capabilities are not designed to deal with these threats, which have different flight schemes in the air, compared to conventional missiles.
One of the key problems voiced by the US military was limited detection capabilities of HGV's because of their extreme high altitude, reaching into the atmosphere, as well as a very short approaching time to target.
"Reduced shooter-to-target timeline is our greatest problem because of how we do our command-and-control as well as how do we integrate our systems to be able to engage on fast-moving targets," US Army Acquisition Chief Katrina McFarland stated.
Alongside the US, China and Russia are among the countries leading the research and development of such state of the art weapons.
Earlier this year reports in the Russian and western media indicated Moscow tested a "combat ready" HGV. The weapon is said to be part of a top-secret project codenamed 4202.
Britain's Daily Star said the aircraft can reach speeds of over 12,000 kph and can "travel from Moscow to London within 13 minutes." The Russian Defense Ministry has refrained from commenting on the issue.
Mark Clark, the director of US Missiles and Space Intelligence insists that Moscow is developing a "hypersonic vehicle for the purpose of penetrating missile defense," as quoted by Defense News.
RT International

China is planning to take space exploration to a new level, as it develops a new "spaceplane" that could take off from a runway and fly at hypersonic speed before blasting into space and back.
In April, China launched a seventh test of its hyper glider, the Washington Free Beacon revealed, citing officials familiar with the matter. China is reportedly working on developing HGV's as part of its secret DF-ZF project. Officials in Beijing also refused to comment on the alleged test.
According to McFarland the HGV weapons "is one of our most challenging areas" the US Defense Department is facing in the coming years.
Washington is currently working on its own Advanced Hypersonic Weapon (AHW) project, which is tasked with developing a glider capable of flying within the planet's atmosphere, Army-technology reports.
The program is running under the guise of the US Army Space and Missile Defense Command (USASMDC) in partnership with Army Forces Strategic Command (ARSTRAT).
ATTENTION READERS
Due to the nature of independent content, VT cannot guarantee content validity.
We ask you to
Read Our Content Policy
so a clear comprehension of VT's independent non-censored media is understood and given its proper place in the world of news, opinion and media.
All content is owned by author exclusively. Expressed opinions are NOT necessarily the views of VT, other authors, affiliates, advertisers, sponsors, partners or technicians. Some content may be satirical in nature. All images within are full responsibility of author and NOT VT.
About VT
-
Read Full Policy Notice
-
Comment Policy