[Editor's note: Yet again we find ourselves quite mystified by Russia's actions. It seems rather odd to withdraw their bomber fleet from Iran right now as the job is far from done in Syria. Perhaps the reason for this mission to Iran in the first place was just to show the world that Russia was capable of using a foreign airstrip in order to project strategic airpower globally. Ian] FIRST WITH RT;
All Russian planes back from Iran base, future missions possible – Moscow
Russian Air Force warplanes have left the base in Iran from which they last week bombed terrorist targets in Syria. Moscow and Tehran said the deployment had achieved its goals.
"The Russian aircraft which flew missions from the Iranian Hamadan Airbase against terrorist targets in Syria have successfully completed [their tasks]. The warplanes are currently back in the Russian Federation," Russian Defense Ministry spokesman Igor Konashenkov said Monday.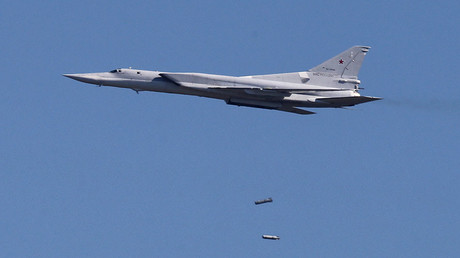 He added that further deployments of the Russian military to Iran"would be based on mutual agreements on fighting terrorism and depending on the developments in Syria."
Iran's Foreign Ministry spokesman confirmed the outcome.
"They did this [operation] and it is finished for now," Bahram Qasemi was quoted as saying by Tasnim news agency.
Earlier, Iranian Defense Minister Hossein Dehghan said the Russian deployment was temporary, but would last "as long as needed."
The unexpected deployment last week of Tu-22M3 heavy bombers and Su-34 fighter bombers was criticized by the White House, which called it "unfortunate" and speculated that it might have violated a UN Security Council resolution which bans the transfer of combat aircraft to Iran.
Moscow dismissed the notion on several occasions, with the Defense Ministry on Monday reaffirming that it was an anti-terrorism mission, not an arms sale contract.
"In the case of using Iranian territory by Russian military aircraft, we should proceed from the annex to [UN Security Council] Resolution 2231, which sets out regulatory measures of arms supplies to Iran. In this case, we are not talking about arms supplies or sales," said Mikhail Ulyanov, head of the ministry's non-proliferation and arms control department.
According to Ulyanov, it was a bilateral agreement on the use of Iranian airfield by Russian planes and "no approval from the UN Security Council on such operation is required by definition."
READ MORE: Russia could use Incirlik airbase 'if necessary' – Turkish PM
Russia and Iran both support the Syrian government in its fight against Islamist groups such as Islamic State (IS, formerly ISIS/ISIL) and Al-Nusra Front.
__________
FARS
Russia Underlines Continued Combat Missions from Hamadan Air Base if Necessary
The Russian defense ministry announced on Monday that it has called back its air fleet from Western Iran after accomplishing all planned anti-terrorism missions in Syria, but meantime underlined that similar missions will be conducted from the Hamadan air base in future based on mutual agreement with Tehran.
"The Russian aerospace forces will use the Hamadan Air Base in Iran on the basis of mutual agreements with Tehran, depending on situation in Syria," the Russian defense ministry stressed Monday afternoon after two sides confirmed halt in Russian bombers' flight from the Nojeh Air Base in Western Iran.
The defense ministry also said the aircraft that took off from Hamadan Base in Iran to bomb targets in Syria have all accomplished their tasks successfully, adding that the air force unit that conducted combat flights from Nojeh for three consecutive days last week has now returned to Russia after fulfilling all planned missions.
Russian bombers deployed at the Iranian Air Base carried out a number of airstrikes in Syria last week, destroying a number of command centers, headquarters, arms depots and training camp of the terrorists in several provinces across the Arab country.
Iranian Foreign Ministry Spokesman Bahram Qasemi had informed earlier today that Russia has stopped using Hamadan airbase for the time being.
"Russia has no base in Iran and is not stationed here. They did this [operation] and it has finished for now," the spokesman told reporters on Monday.
Senior Russian diplomats, then, confirmed that Moscow has stopped using Iran's Hamadan airbase for the time being, but may resume operations from there any time soon.
"Moscow sees no obstacles to the further use of Iranian infrastructure, including the air base in Hamadan, for strikes against terrorists in Syria," Russian Ambassador to Tehran Levan Djagaryan told Interfax on Monday.
The Russian envoy also confirmed the halt, but underlined that the agreement between the two sides to further the operation from the Hamadan air base is still in place and Russian flights from there might resume soon.
"The Russian aerospace forces may resume operations from Iranian base Hamadan when it is expedient, and by the decision of leaders of Russian and Iran," Levan Djagaryan said.

"All the Russian military have currently left Iran's Hamadan Air Base," he added.
The ambassador announced that Moscow hopes Russia and Iran will strengthen interaction in Syria settlement process.
"Interaction with Tehran on Syria has positive perspective," the Russian official stressed.
Long-range Russian Tupolev-22M3 bombers and Sukhoi-34 fighter bombers used Nojeh Airbase, near the city of Hamedan in Northwest Iran, to launch the airstrikes against the terrorist groups in Syria for three days last week.
The Iranian spokesman also underlined the strategic ties between Tehran and Moscow, and said both countries share the same views over war on ISIL and terrorism in the region.
"Relations between Iran and Russia are strategic," Qassemi told reporters in a press conference in Tehran on Monday.

"Iran and Russia enjoy similar views over campaign against the ISIL and terrorism in the region and security is important to us and we don't spare any efforts to maintain the country's security," he added.
Referring to the Russian fighter jets' use of an airbase in Western Iran for anti-terrorism flights in Syria, Qassemi said, "Russia's presence in Iran was temporary and was a result of coordination, and they neither have any base nor been deployed in Iran."
DISCLOSURES:
All content herein is owned by author exclusively.  Expressed opinions are NOT necessarily the views of VT, authors, affiliates, advertisers, sponsors, partners or technicians. Some content may be satirical in nature. All images within are full responsibility of author and NOT VT.
About VT
-
Read Full Policy Notice
-
Comment Policy