The US-led coalition did not provide previously-agreed air support to Turkish forces and Free Syrian Army rebels when they were attacked by Islamic State militants outside the city of Jarablus in northern Syria, losing several troops wounded in action.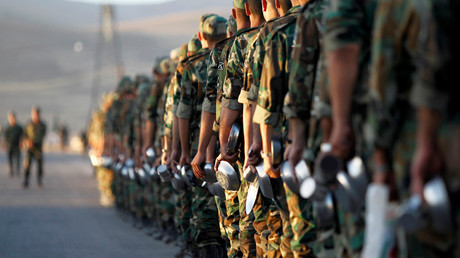 A Free Syrian Army (FSA) unit and Turkish troops came under heavy machine gun fire from Islamic State (IS, formerly ISIS/ISIL) in a village located nearby Jarablus on Tuesday evening, Anadolu news agency reported on Wednesday.
Taking heavy enemy fire, Turkish air forward observers requested immediate support from the NATO airbase at Incirlik, from which the US-led coalition's aircraft operate. The agency's report also said that some US aircraft were already airborne for a regular patrolling mission.
However, the US command was reluctant to provide air cover and reportedly delayed scrambling jets for about an hour, making excuses, though such scenarios were previously agreed between the US and Turkish militaries, according to Anadolu.
In the meantime, a Turkish tank which supported advancing rebels was hit by a rocket fired by Islamists, wounding three soldiers, an FSA source told the news agency.
"We could have lost many people," the source said. "The Americans had promised to provide air support in case of an emergency, but they did not.
"They should have helped; however, the air intervention came in late because of them."
Consequently, the Turkish Air Force scrambled its own aircraft which arrived "last minute" and hit IS targets, the source added. US-led coalition jets came in and bombed the area three hours later, and the airstrike was useless, Anadolu said.
The ground offensive has been part of Turkey's 'Operation Euphrates Shield', launched in late August with a stated goal of retaking northern Syria from IS militants.
On August 24, Turkey deployed ground troops and Special Forces teams to the area, while the US-led coalition claimed it will synchronize its actions and airstrikes with the Turkish advance. Damascus has called the intervention a "blatant violation of the sovereignty" of Syria.
"What is happening in Jarablus now isn't fighting terrorism as Turkey claims – rather it is replacing one type of terrorism with another," a Syrian government official told SANA last week, calling upon the UN to "put an end to this aggression." 
The Tuesday incident will likely add more strain to the complicated relations between NATO allies Turkey and the US. Washington has already accused Ankara of fighting Kurdish opposition instead of combatting IS, urging to stop"unacceptable clashes."
In turn, Turkey summoned US Ambassador John Bass to explain Washington's comments. Last Wednesday, Turkish Prime Minister Binali Yildirim said that Operation Euphrates Shield will continue, adding that Kurdish militia forces, the PKK, PYD and the YPG, "are all the same and hurt Turkey."
"Operations will continue until all threats to Turkish citizens have been eliminated," he said.