A former Florida police officer says he was fired for "blowing the whistle" on his department's "unconstitutional" practices of racial profiling that specifically targeted young black males. He has sued the city of Miami Gardens, seeking $75,000 in damages.
Jose Rosado served on the Miami Gardens Police Department (MGPD) for over seven years, until he was terminated in June 2015.
Rosado has now sued the city, which he is accusing of violating the Whistleblower's Act, aimed at protecting people exposing wrongdoings.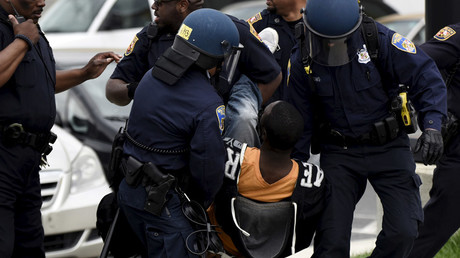 Baltimore police conducted more than 60 illegal strip searches, some in public – DoJ
In his lawsuit, the former officer has said that MGPD "had implemented, enforced, encouraged and, sanctioned a policy, practice, and/or custom of unconstitutional stop-and -frisks, searches, seizures, arrests and prosecutions of Black Males ages 15-30."
As a part of the Crime Suppression Team (CST) in the past, Rosado names his supervisor, Major Anthony Chapman, who ordered him to conduct those "illegal activities." He says the CST conducted "countless" amount of such stops, searches and seizures, often without "the reasonable articulable suspicion and/or probable cause required under the Fourth Amendment and based on Race a violation of the 14th Amendment."
According to the lawsuit, up until his termination, Rosado took issues with the practices, and in January 2014 he "blew the whistle" to Miami Gardens executive officials.
Thinking he was protected by the Whistleblower Act, he sent a written disclosure, exposing the MGPD's "violations of law; malfeasance; misfeasance and public waste" by Chapman and others.
In January 2015, he also testified in a highly publicized civil case, initiated by a man named Earl Sampson.
In four years, the 28-year-old black man had been stopped and questioned by Miami Gardens police 258 times and searched more than 100 times. He was arrested and jailed 56 times. In 62 cases, Sampson was arrested for trespassing at a convenience store, even though he worked there.
Rosado provided an
affidavit
, unveiling Chapman's justification of the such stops and searches. On one occasion, Chapman allegedly told his team that
"all crimes in the city were being committed by black males"
and that arresting somebody for open containers, such as a can of beer, was
"just as good as arresting them for homicide."
View image on Twitter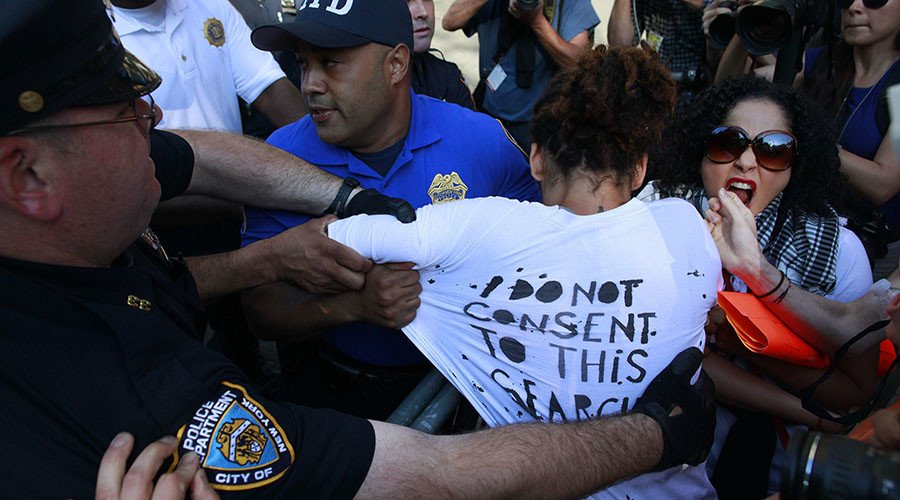 Six months after Rosado filed his affidavit, he was fired by Chapman following an investigation and alleged harassment. Since reporting the wrongdoings, he was purportedly being denied assignments and promotional opportunities, because he was not a

"team player."

Rosado believes that his termination was "in retaliation" for "blowing the whistle" while also accusing the city of violating the Whistleblower Act by not stepping in to prevent his firing.

"City of Miami Gardens was on notice of the unlawful activity, custom, policy or practice and had a reasonable opportunity to correct the same," Rosado's Attorney wrote in the lawsuit. "Instead, however, [the city] retaliated against Rosado by asserting false allegations against him, suspending him without pay, and eventually terminating his employment."

Rosado is now seeking $75,000 in damages to his career and reputation, among others, as well as to cover legal costs associated with his lawsuit.

ATTENTION READERS

Due to the nature of independent content, VT cannot guarantee content validity.

We ask you to

Read Our Content Policy

so a clear comprehension of VT's independent non-censored media is understood and given its proper place in the world of news, opinion and media.

All content is owned by author exclusively. Expressed opinions are NOT necessarily the views of VT, other authors, affiliates, advertisers, sponsors, partners or technicians. Some content may be satirical in nature. All images within are full responsibility of author and NOT VT.

About VT

-

Read Full Policy Notice

-

Comment Policy