Israel 24: Israel Hayom owner will testify as to whether he knew of PM's alleged 'quid pro quo' deal with rival publisher
US billionaire Sheldon Adelson is expected give testimony to Israeli police in the coming days regarding alleged underhanded dealings between Prime Minister Benajmin Netanyahu and Israeli media mogul Arnon "Noni" Mozes, as part of a corruption probe brought against the premier, according to a report by Israel's Channel 10 News on Monday.
Adelson is expected to testify as to the extent of his knowledge of an alleged 'quid pro quo' arrangement between Netanyahu and Mozes, which would have provided benefit to Mozes' Yedioth Ahronot newspaper in exchange for more favorable coverage for the premier, while in return limiting the circulation of the paper's Adelson-owned rival, Israel Hayom.
It is unclear if Adelson will travel to Israel to testify or whether he will submit written or video testimony to police, the report said.
In leaked audio recordings between Netanyahu and Yedioth publisher Mozes, the two men reportedly discuss practical steps for lowering the influence of Adelson's free pro-Netanyahu Israel Hayom, which has cut into a significant share of Yedioth's circulation and revenues.
In an excerpt of the 2014 recordings published Israel's Channel 2 News on Monday, Mozes says him and Netanyahu need to "think about the details of the law" to curb Israel Hayom,stressing any future legislation's wording will "have to cite a number (of copies), not 'two-thirds.', the Times of Israel quoted.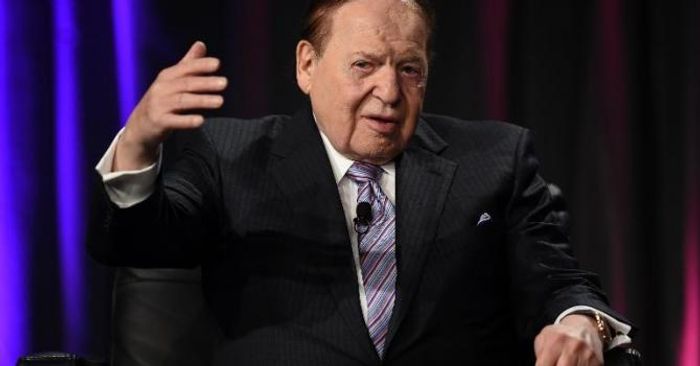 "Le multimilliardaire Sheldon Adelson, qui s'est mobilisé en faveur de Benyamin Netanyahou pour les élections israéliennes, le 1er octobre 2014 à Las Vegas"
Mozes adds that a large amount of advertising published in Israel Hayom is government-sponsored. "30, 50, 70 percent of the advertising pages" are government ads, he complains, adding that he'd like "a formula" for such pages.
Netanyahu asks: "What? Can you limit the number of advertising pages?"
"The state is giving them money. That's not right," Mozes replies. "But I'm mentioning this in passing. We can't deal with everything all at once."
Monday's Channel 2 report stressed that the nature of the conversations shows that these were serious and "practical" negotiations, negating claims by sources close to Netanyahu saying that he made the recordings out of fear that Mozes could try to extort him.
The recordings however, do not present any evidence that an actual deal was reached between the two men.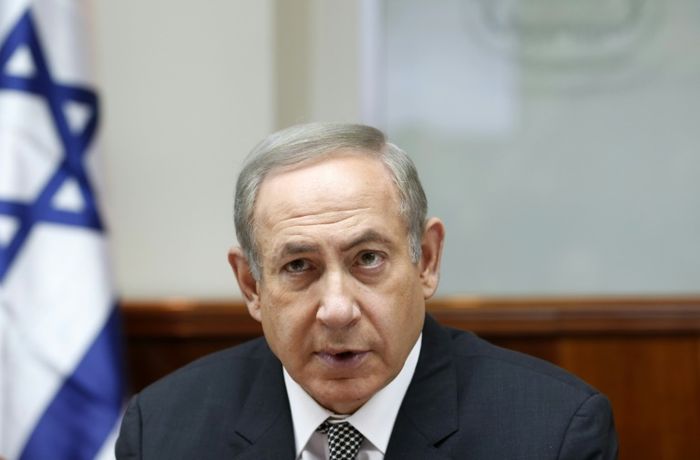 "Israeli Prime Minister Benjamin Netanyahu attends the weekly cabinet meeting at his office in Jerusalem on January 15, 2017"
In earlier leaks from the conversation published Friday, the Times of Israel reports, Netanyahu ultimately hesitates to finalize a deal with Mozes out of fear of crossing Adelson, whose paper is widely considered a mouthpiece for the premier, rarely publishing anything negative or critical of him.
Israel's Attorney General Avichai Mandelblit said on Monday evening he would consider releasing the entirety of the tapes of the conversations "at the appropriate time."
Netanyahu is also under investigation for a second case regarding alleged illicit benefits the prime minister and his wife Sara received for years from wealthy friends, including film producer Arnon Milchan and Australian billionaire James Packer.
This second case, legal commentators have said, is more likely to lead to an indictment than the Yedioth case.
Netanyahu has repeated his mantra that the entire corruption investigation against him would come to nothing, as there was nothing to find, deriding the cases as a "fake investigation" aimed at removing him from power.
'Prepare for new elections – Bibi could be indicted'
Senior Shas MK says party is preparing for possibility Prime Minister is forced to resign and new elections held.
Prime Minister Netanyahu
Amos Ben Gershom/GPO
Israeli lawmakers are taking seriously the possibility that Prime Minister Binyamin Netanyahu could be indicted in one of the investigations currently underway, a senior MK from the Shas party said.
With a new police investigation into claims the Prime Minister received gifts from media mogul Nuni Mozes joining allegations of possible conflicts of interest in the purchase of ballistic missile submarines from Germany and a series of other police inquiries targeting Netanyahu, political leaders are preparing for a potential resignation by Netanyahu, followed by new elections.
A veteran Shas MK recently reflected upon his own party's preparations for the fallout from a resignation by the Prime Minister or other coalition crisis, telling the haredi news site Kikar Shabbat that such scenarios were not as farfetched as they might seem.
"We're getting ready for the possibility of elections," the MK said. "This whole business [police investigation of Mozes's alleged gifts to PM] doesn't smell good. An indictment isn't so unrealistic, and in this kind of situation the odds of new elections are very high, so we're preparing for that possibility – it won't be easy, but slowly things are becoming clearer."
Earlier this month, American Jewish jurist Alan Dershowitz blasted the investigations of the Prime Minister and his family, calling for the Israeli Head of State to receive the same sort of immunity enjoyed by the President of the United States while in office.
ATTENTION READERS
Due to the nature of independent content, VT cannot guarantee content validity.
We ask you to
Read Our Content Policy
so a clear comprehension of VT's independent non-censored media is understood and given its proper place in the world of news, opinion and media.
All content is owned by author exclusively. Expressed opinions are NOT necessarily the views of VT, other authors, affiliates, advertisers, sponsors, partners or technicians. Some content may be satirical in nature. All images within are full responsibility of author and NOT VT.
About VT
-
Read Full Policy Notice
-
Comment Policy