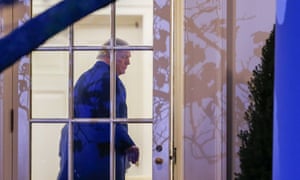 Now once again, he seeks to buoy his political fortunes by attacking Obama. Perhaps what is so striking about the tweets is not their desperation, but their cynicism. In exclaiming "This is McCarthyism!", Trump said something deeply revealing – only about himself. It was about defaming public officials with charges of treason without a shred of evidence. Sounds familiar, no?
In the 1970s, after the justice department accused the Trump Corporation of racially discriminatory rental policies, Trump hired Roy Cohn. This was a man who, as a young lawyer, had assisted Joseph McCarthy's red-baiting. On Trump's behalf, Cohn countersued the government for $100m, a tactic Trump absorbed and has practiced throughout his career: when on the defensive, attack.
Concerned about congressional investigations into contact between his campaign and the Russians? Make a groundless charge of wiretapping against Obama and insist that the allegations be included in the investigations.
read more at Guardian