The Turkish military has successfully completed its 'Euphrates Shield' operation in northern Syria, the Turkish National Security Council has announced.
The NSC meeting on Wednesday was attended by Turkish President Recep Tayyip Erdogan.
"It was noted that the Operation 'Euphrates Shield' which was started with the goal of ensuring national security, preventing the threat from Daesh (Arabic acronym for Islamic State) and return of Syrian refugees to their homes has successfully completed," the NSC said in a statement.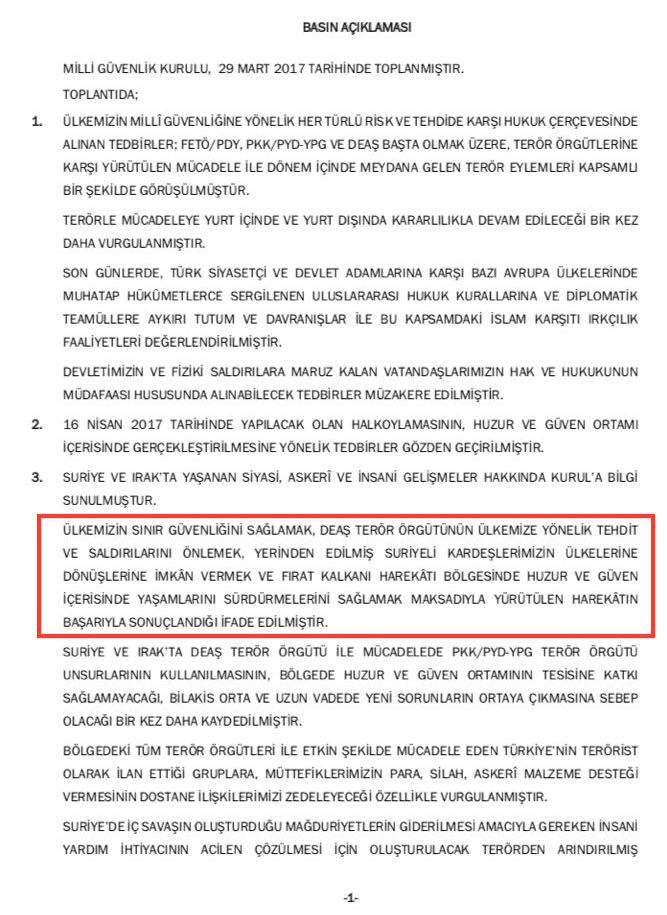 The conclusion of the Euphrates Shield operation was also confirmed by Turkey's Prime Minister, Binali Yildirim.
The PM told the NTV broadcaster the operation had been successful and that further Turkish military actions would be conducted under a different name.
Turkey launched the Euphrates Shield operation on August 24, 2016, with the aim of clearing the border with Syria of Islamic State (IS, formerly ISIS/ISIL) and Syrian Kurdish Democratic Union Party (PYD) forces — both classed as terrorist organizations by Ankara.
In the course of the operation Turkey has been supporting the Free Syrian Army (FSA) on the ground.
READ MORE: Manbij crossfire: Liberated from IS, Kurdish-controlled city now fears Turkish invasion (EXCLUSIVE)
The Syrian government has criticized the presence of Turkish troops as an "act of aggression" and asked the UN Security Council to "force Turkey to withdraw its invasion forces."
The official announcement of the conclusion of the Euphrates Shield operation came a day before the US Secretary of State visits Turkey.
Rex Tillerson is expected to meet with Erdogan and other Turkish officials in Ankara on Thursday, where he is expected to discuss the operation to retake the Islamic State capital of Raqqa and other issues regarding Syria.
Relations between Washington and Ankara have been strained recently over US support for the Syrian Kurds whom Donald Trump called the most effective forces against Islamic State.
READ MORE: Turkey refuses to join US-led offensive on ISIS-held Raqqa if Kurds involved
Last week, Turkey's Deputy Prime Minister Numan Kurtulmus reiterated that his country's' forces won't take part in the battle for Raqqa if the Kurds are also involved.
The timing of the announcement sends "a very important message to the US," Cengiz Tomar, professor of political history and international relations at Marmara University, told RT.
"Turkey for a long time has been waiting for the American decision related to the Raqqa offensive," he said, adding that by this move, Ankara "persuades them to go to Raaqa with the Turks" ahead of Tillerson's visit.
According to Tomar, "Turkey is in a very difficult situation in Syria" now because it hasn't yet completed all its objectives regarding the Kurds, but it can't act in the country on its own due to the presence of the Russian and US militaries there.