by  Uri Avnery, with Gush Shalom, Tel Aviv
[ Editor's Note: Uri has a great piece for us today, as he shines when he goes digging into the history of his current home country that has belonged to so many others for its many years of human habitation. Unlike many other Zionists, he has been a sharp critic of much of that they have done in Palestine…and not done, and he has always had many enemies there.
I got a look at this "habitation" when on a VT trip to Syria, when I was the last to fly out of Beirut in the late afternoon, so I splurged a bit on hiring a taxi to take me on a number of stops over three hours, winding up at their main museum that survived the terrible Lebanese civil war.
I learned that new major construction in Beirut is a slow process, as any major building that goes a couple of stories below ground has to wait until the archaeological survey is done. This takes a lot of time, as there are layers of old foundations on top of one another like a Pancake House Sunday morning special.
Beirut has made a top priority of preserving its archaeological history, and if it runs up the cost of construction, so be it. Labor is inexpensive so the construction economics still work out. You can go into a Christian Church and, instead of a basement, they take you down into the ruins of the first church's foundation to see some of the artifacts found inside.
Upstairs the watchman stretched the rules and let me inside to shoot some photos, as I was a journalist who had come a long way. Such courtesies are not rare in a city where tourism is a key business. During the Lebanese war, opposing sides had shot up each others' places of worship, as their sturdy stone construction made them good defensive positions against small arms.
When the Christians repaired this church they left the bullet holes in the huge and beautiful wall murals of Christ. No one in Beirut wants to forget what happened, less they be lax in not nipping any repeat conflicts in the bud. There are a few buildings on the front lines, left as they were back then, "Swiss Cheese" buildings due to there being so many holes in them.
Uri closes his article below in a similar tone – that it would serve Zionist Jews well to remember that the Crusaders were once in Palestine, and were there longer than the Jews have been so far, and they are no longer, despite their might and power. The wheel of history turned, and they went under it.
Personally I hope to see that happen to the current invaders in my lifetime, so I can die with a big smile on my face, not that I hate Jews or Zionists – just that they took the land by the sword, and it is only fair that their turn should come, as it has for so many others. I think they should all be treated equally, with no exceptions… Jim W. Dean ]
Jim's Editor's Notes are solely crowdfunded via PayPal – JimWDean@aol.com
This includes research, needed field trips, Heritage TV Legacy archiving, and more – Thanks for helping out
*
–  First published September 2, 2017 –
A few days ago I found myself in Caesarea, sitting in a restaurant and looking out over the sea. The sunbeams were dancing on the little waves, the mysterious ruins of the ancient town arrayed behind me. It was hot, but not too hot, and I was thinking about the crusaders.
Caesarea was built by King Herod some 2000 years ago and named after his Roman master, Augustus Caesar. It once again became an important town under the Crusaders, who fortified it. These fortifications are what now makes the place a tourist attraction.
For some years in my life I was obsessed with the Crusaders. It started during the 1948 "War of Independence", when I chanced to read a book about the crusaders and found that they had occupied the same locations opposite the Gaza strip which my battalion was occupying. It took the crusaders several decades to conquer the strip, which at the time extended to Ashkelon. Today it is still there in Muslim hands.
After the war, I read everything I could about these Crusaders. The more I read, the more fascinated I became. So much so, that I did something I have never done before or after: I wrote a letter to the author of the most authoritative book about the period, the British historian Steven Runciman.
To my surprise, I received a hand-written reply by return of post, inviting me to come and see him when I happened to be in London. I happened to be in London a few weeks later and called him up. He insisted I come over immediately.
Like almost everyone who fought against the British in Palestine, I was an anglophile. Runciman, a typical British aristocrat with all the quaint idiosyncracies that go with it, was very likeable.
We talked for hours, and continued the conversation when my wife and I visited him later in an ancient Scottish fortress on the border with England. Rachel, who was even more anglophile than I, almost fell in love with him.
What we talked about was a subject I brought up at the very start of our first meeting: "When you were writing your book, did you ever think about the similarities between the Crusaders and the modern Zionists?"
Runciman answered: "Actually, I hardly thought about anything else. I wanted to subtitle the book A Guidebook For the Zionist About How Not To Do It." And after a short laugh: "But my Jewish friends advised me to abstain from doing so."
Indeed, it is almost taboo in Israel to talk about the crusades. We do have some experts, but on the whole, the subject is avoided. I don't remember ever having heard about the Crusades during the few years I spent at school.
This is not as astonishing as it may sound. Jewish history is ethnocentric, not geographical. It starts with our (legendary) forefather, Abraham, and his chats with God, and continues until the defeat of the Bar Kochba rebellion against the Romans in 136 AD.
From then on our history takes leave from Palestine and dances around the world, concentrating on Jewish events, until the year 1882, when the first pre-Zionists set up some settlements in Ottoman Palestine. During all the time in between, Palestine was empty, nothing happened there. That is what Israeli children learn today, too.
Actually, lots of things did happen during those 1746 years – more than in most other countries. The Roman, Byzantine, Arab, Ottoman and British empires followed each other until 1948. The crusaders' kingdoms were an important chapter by themselves.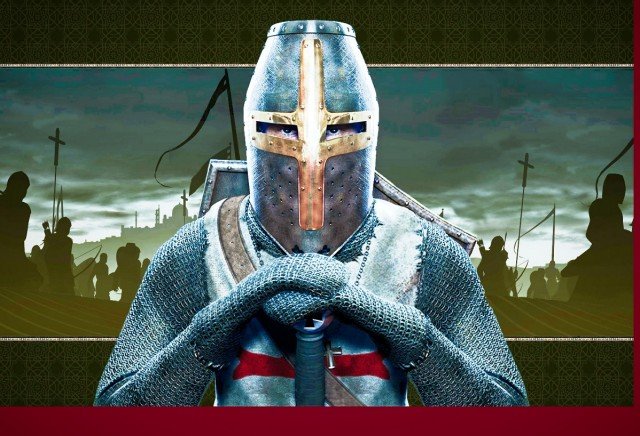 Most Israelis would be surprised to learn that the Crusaders resided in Palestine for almost 200 years – much longer than Zionist history until now. It was not a short, passing episode.
The similarity between the Crusaders and the Zionists strikes one at first glance. Both movements moved a large number of people from Europe to the Holy Land. (During the first half century of its existence, Zionism brought almost only European Jews to Palestine.) Since both of them came from the west, they were perceived by the local Muslim population as Western invaders.
Neither the Crusaders nor the Zionists had one day of peace during their entire existence. The perpetual sense of military danger shaped their entire history, their culture and their character.
The crusaders had some temporary armistices, especially with Syria, but we, too, now have two "peace agreements" in place – with Egypt and Jordan. Without any real feelings of peace and friendship with these peoples, our agreements do also resemble armistices rather than peace.
Then as now, the Crusaders' lot was made easier by the fact that the Arabs were constantly quarreling among themselves. Until the great Salah-a-Din ("Saladin"), a Kurd, appeared on the scene, united the Arabs and vanquished the Crusaders in the battle at the Horns of Hattin, near Tiberias. After that, the Crusaders regrouped and hung on in Palestine for another four generations.
Both the Crusaders and the Zionists saw themselves, quite consciously, as "bridgeheads" of the West in a foreign and hostile region. The Crusaders, of course, came here as the army of the West, to regain the Temple Mount in Jerusalem. Theodor Herzl, the founder of modern Zionism, wrote in his book Der Judenstaat, the bible of Zionism, that in Palestine we shall serve as the outpost of (Western) culture against (Muslim) barbarism.
The Holy City, by the way, remains the focus of a daily battle. Just this week, two extreme-right Members of the Knesset were allowed by the Israeli authorities to enter the Temple Mount area, fortunately without inciting Jewish-Muslim riots as on previous such occasions.
Also last week, our Minister of Justice, (whom I have called "the devil in the guise of a beautiful woman"), accused the Israeli Supreme Court of putting human rights above the "values of Zionism" (whatever these are). She has already introduced a bill which makes it clear that those "Zionist values" are legally superior to "democratic values" and come first.
*
Conquest … versus Peace
The similarity is most apparent when it comes to peace. For the crusaders, of course, peace was unthinkable. Their whole enterprise was based on the aim of liberating Jerusalem and the entire Holy Land ("God Wills It!") from Islam, the deadly enemy. This excludes a priori any peace with God's enemies.
Zionists talk endlessly about peace. No week passes without Binyamin Netanyahu releasing some touching declaration about his craving for peace. But by now it is absolutely clear that he does not dream of giving up one inch of land west of the Jordan. Just a few days ago he again publicly confirmed that he will not "uproot" one single Jewish settlement in the West Bank. Under international law every one of these settlements is illegal.
There are, of course, huge differences between the two historical movements, as huge as the differences between the 11th and 21st centuries.  Can one imagine the Templar knights with atom bombs? Saladin with tanks? The journey of Hospitalers from Clermont to Jaffa by airplane?
At the time of the crusades, the idea of the modern "nation" was not yet born. The knights were French, English or German, but foremost they were Christian. Zionism was born of the will to turn the Jews of the world into a nation in the modern sense of the term.
Who were these Jews? In 19th century Europe, a continent of new nations, they were an unnatural exception, and therefore hated and feared. But they were really an unreformed relic of the Byzantine Empire, where the very identity of all communities was based on religion.
Ethnic-religious communities were autonomous and legally under the jurisdiction of their religious leaders.
A Jewish man in Alexandria could marry a Jewish girl Antioch, but not the Christian woman next door. A Latin woman in Damascus could marry a Latin man in Constantinople, but not the Greek-orthodox man across the street.
This legal structure still exists in many ex-Byzantine countries, including – you'll never guess – Israel.
But given all the differences of time, the comparison is still valid, and provides much food for thought – especially if you sit on the shore of Caesaria, the imposing Crusaders' wall just behind you, a few kilometers from the port of Atlit, where the last Crusaders were literally thrown into the sea when it all came to an end, just 726 years ago.
To paraphrase Runciman, I hope we learn not to be like them, in time.
*
Jim W. Dean is VT Editor Emeritus.  He was an active editor on VT from 2010-2022.  He was involved in operations, development, and writing, plus an active schedule of TV and radio interviews.  He now writes and posts periodically for VT.
ATTENTION READERS
We See The World From All Sides and Want YOU To Be Fully Informed
In fact, intentional disinformation is a disgraceful scourge in media today. So to assuage any possible errant incorrect information posted herein, we strongly encourage you to seek corroboration from other non-VT sources before forming an educated opinion.
About VT
-
Policies & Disclosures
-
Comment Policy
Due to the nature of uncensored content posted by VT's fully independent international writers, VT cannot guarantee absolute validity. All content is owned by the author exclusively. Expressed opinions are NOT necessarily the views of VT, other authors, affiliates, advertisers, sponsors, partners, or technicians. Some content may be satirical in nature. All images are the full responsibility of the article author and NOT VT.