Russia Today: Serious questions are being raised over controversial proposals that could lure the multi-trillion share listing of Saudi Arabia oil giant Aramco to London. RT UK looks at some other times Britain has been accused of bending the rules for its close ally.
London is battling with stock exchanges around the world to host the lucrative float of Saudi state-owned Aramco, which is said to be valued at more than £1.5 trillion – a figure that would make it the biggest share floatation in history. A listing in the capital would be seen as a major victory for the City and boost the UK economy in the wake of Brexit.
Aramco plans to list five percent of its shares in London or another stock market in the West. Current UK rules state more than 25 percent of shares should be listed to stop a single shareholder having too much dominance.
However, proposals put forward by the Financial Conduct Authority (FCA) could allow for Aramco to sidestep the rules and qualify for a "premium" listing.
It is certainly not the first time Britain has let Saudi Arabia play by its own rules. From ignoring human rights abuses in the country to burying terrorism reports, the UK is not afraid to turn a blind eye to preserve its lucrative relationship with the Gulf kingdom.
What terrorism report?
A report into terrorism funding in the UK has been permanently shelved, sparking widespread condemnation amid claims the government is trying to cover up substantial evidence of Saudi Arabia funding terrorist organizations in Britain.
The report, commissioned by former Prime Minister David Cameron, will not be published because of "national security reasons" and the "vast amount of personal information" it contains, according to the government.
READ MORE: Theresa May denies suppressing report on Saudi terrorism funding to protect UK arms deals
However, critics say Prime Minister Theresa May is sitting on the report in order to protect diplomatic ties and lucrative trade deals with Saudi Arabia.
Britain and Yemen
When Britain's part in the Middle Eastern crisis is mentioned, many people would think of Iraq, Afghanistan or Syria. But Britain's role in the destabilization and destruction of Yemen is often lost in the mainstream media.
In the last two years, the UK has licensed the sale of £3 billion (US$3.86 billion) worth of arms to the Saudi government. The sales have come under sustained scrutiny since the start of the Saudi-led bombing campaign in Yemen.
Amnesty International says the airstrikes are killing and injuring thousands of civilians, adding that some attacks are "indiscriminate, disproportionate or directed against civilian objects including schools, hospitals, markets and mosques."
The United Nations estimates around 2.5 million people have been displaced during the conflict, and 17,000 people have died.
Despite this, Britain appears to be turning a blind eye to the conflict, with Saudi Arabia remaining the UK's most important weapons client.
Arms sales have included Typhoon and Tornado jets and the UK has had military personnel embedded in Saudi headquarters throughout the Yemen conflict.
Silence over human rights abuses
Saudi Arabia's human rights record has repeatedly been called into question.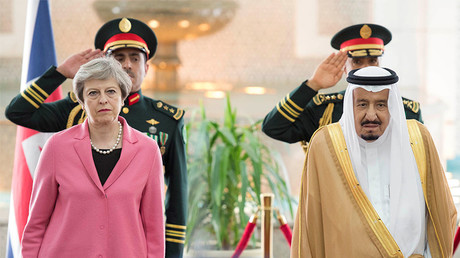 May urged to intervene in Saudi executions as figures show arms sale bonanza
Saudi authorities continue their arbitrary arrests, trials and convictions of peaceful dissidents, curbing freedom of expression. Dozens of human rights defenders and activists continue to serve long prison sentences for criticizing authorities or advocating political and rights reforms.
Women face discrimination, as do religious minorities. Women cannot drive a car, wear clothes that "show off their beauty," interact with men they are not related to in public, or try on clothes when shopping.
Sharia law is national law. Judges routinely sentence defendants to floggings of hundreds of lashes. Children can be tried for capital crimes and sentenced as adults if there are physical signs of puberty.
Despite this, May has no problem traveling to Riyadh to mingle with Saudi Arabia's leaders. One of her first international visits since triggering Article 50 was to Saudi Arabia for a visit she hoped will "herald a further intensification" in relations.
Blair drops arms investigation
In 2006, Tony Blair's government abandoned a corruption investigation into a multibillion-pound arms deal between British Aerospace Systems (BAE) and Saudi Arabia, after Saudi threats of "repercussions."
The Serious Fraud Office was looking into allegations of fraud, corruption and bribery allegations involving the Saudi royals and BAE in its Al Yamamah arms deal.
According to court documents released in 2008, Saudi Arabia's rulers threatened to make it easier for terrorists to attack London unless the probe was dropped – and Blair caved, claiming "British lives on British streets" were at risk.
The dropping of the inquiry triggered an international outcry, with allegations Britain had broken international anti-bribery treaties.
In 2008, the High Court ruled Blair's government broke the law when it abandoned the investigation.
ATTENTION READERS
We See The World From All Sides and Want YOU To Be Fully Informed
In fact, intentional disinformation is a disgraceful scourge in media today. So to assuage any possible errant incorrect information posted herein, we strongly encourage you to seek corroboration from other non-VT sources before forming an educated opinion.
About VT
-
Policies & Disclosures
-
Comment Policy
Due to the nature of uncensored content posted by VT's fully independent international writers, VT cannot guarantee absolute validity. All content is owned by the author exclusively. Expressed opinions are NOT necessarily the views of VT, other authors, affiliates, advertisers, sponsors, partners, or technicians. Some content may be satirical in nature. All images are the full responsibility of the article author and NOT VT.