UPDATE 15:15 GMT
[Editor's note: The British Daily Express newspaper has published an article that fits precisely with #11 on the False Flag Checklist : 11: Immediate Calls for Gun Control
Of course, no gun control legislation is going to prevent or hinder false flag atrocity attacks, which we are pretty sure is what we are seeing here in Las Vegas. The entire narrative of 'ten rifles' found in the shooter's room smacks of BS to me, as we have already explained, what we heard was long, sustained bursts of fully automatic gunfire from a .30 cal belt-fed machine gun; as Gordon quipped "it sounds like the soundtrack of All Quiet on The Western Front."
We now expect the all too predictable bleating of politicians both in Nevada and Congress about introducing new, tougher background checks on gun buyers and proposing stricter controls on gun ownership, they will, no doubt, cite how Mr. Paddock was able to waltz into the Mandalay Bay with not one but TEN rifles as justification for these new, tougher laws. Ian]
Las Vegas shooting: How did Stephen Paddock get 10 GUNS into Mandalay Bay hotel room?
QUESTIONS are being raised about US gun laws after Las Vegas killer Stephen Paddock was found with at least 10 guns in his Mandalay Bay hotel room in what is the deadliest mass shooting in the country's history.
People have taken to social media to express their outrage at the fact that Mr Paddock was able to get the weapons into the hotel room.
One Twitter user wrote: "The Las Vegas mass shooter was picking his victims at random from a hotel room. America needs to urgently reform its gun laws."
Another added: "Las Vegas My god 50+ now! Just how easy was it to take a gun into a hotel & Fire at defenceless people!!"
Social media users called for greater restrictions on firearms in the US under the '#GunControlNow' hashtag.
One wrote: "There's absolutely no reason to own an assault rifle. #GunControlNow."
Another demanded: "Instead of thoughts and prayers, we need action. We need #GunControlNow."
Nevada gun laws are among some of the most relaxed in the US. People are allowed to carry weapons and do not even have to register themselves as owners.
Background checks are done when people buy guns from stores but there are no requirements for buying and selling guns privately.
There are no limits on purchasing ammunition and no bans on automatic or semi-automatic firearms.]
UPDATE 14:04 GMT. BBC
Las Vegas gunman 'killed himself'
Sheriff Joe Lombardo has said that suspect Stephen Paddock killed himself prior to police entering his 32nd floor hotel room.]
[Editor's note: Oh how convenient, the gunman shot himself before police could apprehend him. Dead men tell no tales and this stinks of being yet another all too convenient 'suicide'. See #6 on the False Flag Checklist at the top of this article.  Ian]
UPDATE 14:00 GMT. BBC
Multiple guns found in hotel room
Police said ten rifles were discovered in the Mandalay Bay hotel room that the gunman was found in.
Stephen Paddock is the sole suspect in an attack where at least 50 people were killed and hundreds more were injured.
Officers believe he had been in the hotel since 28 September.]
[Editor's note: I'm calling BS on this, 'ten rifles' does not explain the long sustained bursts of automatic gunfire. When details of these 'ten rifles' are released we can be sure, but right now, I am convinced that what was heard firing in the videos was a machine gun with a rate of fire of 500-600 rounds per minute; either belt fed or with a drum magazine holding at least 50 rounds, which would account for the 10 second long burst that was clearly audible. This all smacks of Lee Harvey Oswald firing three shots out of a beaten-up Carcano being given as the explanation for the fusillade of gunfire that JFK rode into. Ian]
UPDATE 13:00 GMT. BBC
At least 50 people have been killed and another 200 have been wounded in a mass shooting at a Las Vegas concert.
A gunman, named as 64-year-old local resident Stephen Paddock, opened fire from the 32nd floor of the Mandalay Bay Hotel towards an open-air music festival.
He was shot dead by officers in the hotel where a number of guns were found.
The attack is the worst mass shooting in recent US history.
US President Donald Trump tweeted his "warmest condolences and sympathies" to the victims and their families, and called the shooting "terrible".
Sheriff Joe Lombardo described the shooting as a "lone wolf" attack. He said there was no information about Paddock's motives.
"We have no idea what his belief system was," he said.
He added that police were now confident they had located a woman, earlier named as Marilou Danley, who was thought to have been travelling with the gunman before the attack.
Sheriff Lombardo said he was unable to give accurate details of dead and wounded, but confirmed two off-duty police officers were among those killed.]
---
This event happened only a couple of hours ago and it is too soon to make any pronouncements; however, as always with any mass shooting event it is prudent to remember the False Flag Checklist and remain vigilant for any suspicious aspects:
Drill at the Same or Nearby Time and Place2: Foreknowledge
Eyewitnesses Have Conflicting Accounts
MSM Quickly Name and Demonize the Patsy
Patsy Has No Military Training, Yet Shoots Extremely Fast and Accurately
Patsy Gets Killed, Drugged or "Suicided"
Driver's Licence or Passport of shooter(s) conveniently found at scene
Shooter Leaves Manifesto
Evidence Gets Conveniently Destroyed
No Obvious Motive for the Mass Attack
 Immediate Calls for Gun Control
Fake "Victims" = Crisis Actors
"Victims" Get Killed Twice
Families of "Victims" Have Elite or Acting Backgrounds.
Families of "Victims" Show Little to No Emotion, and Even Snigger and Laugh
Families of "Victims" Receive Millions in Federal Payoffs
So far, all we know is that someone opened fire onto a crowd of concert goers at a festival and apparently shot from the 32nd floor of the Mandalay Bay Hotel, just across the famous Strip. This is a distance of 400 yards, with an elevation of over 300 feet; the gunfire was reported as being very rapid, like automatic fire and if you listen to the gunfire in video below, it definitely sounds like full auto fire – perhaps this is an indicator of #5 on the checklist?
The burst of fire heard at the beginning of the video above sounds like two guns firing full auto to my ears. At 1.43 a guy says 'that's a machine gun they're shooting'; at 1.53 another burst of fire is heard and it is clearly full auto, it sounds like a heavy calibre belt fed machine gun such as a .308/7.62×51 NATO or Russian 7.62x54R rather than an assault rifle in .223/5.56×45 (AR-15 etc.) or Russian 5.45×39 (AK-74 etc.) This burst of fire lasts for 10 seconds and has a slower rate of fire than a full-auto assault rifle, it has the steady rat-a-tat sound of a belt fed machine gun firing around 5-600 rounds per minute (M240/FN MAG, M60, Russian PK/PK-M) and a 10 second burst would be 50-60 rounds, again suggesting a belt fed weapon.
The suspected shooter has been killed by police, this is in keeping with all other mass shootings in the US in recent times and is #6 on the checklist.
This advert for Crisis Actors in the Las Vegas area appeared on Craigslist in mid August, see #12 on the checklist. Crowds On Demand is the same company that had ads up in Orlando before the Pulse nightclub shooting, as well as ads before the Boston Marathon Bombing and the Charlottesville Riots earlier this year; they also provided fake Trump supporters for political rallies during last years election.
GRAPHIC IMAGES of Las Vegas Concert Massacre Shooting Victims Lay Dead on Concert Floor.  Do they look like fake victims? Click Here >>
We will, of course, be watching subsequent events and media reporting of this incident with a very cynical and suspicious eye.
---
BBC
Las Vegas: Mass casualties in Mandalay Bay shooting
More than twenty people have been killed and at least 100 injured in a mass shooting at a Las Vegas concert.
A gunman opened fire from the 32nd floor of the Mandalay Bay Hotel toward an open-air music festival being held close by.
Police said a suspect identified as a local resident had been shot and killed by officers.
They said they were looking for a companion travelling with the suspect as a "person of interest".
Hundreds of people fled the scene and the sound of what appeared to be prolonged automatic gunfire could be heard on videos posted on social media.
There had been reports of other incidents at different locations along the Las Vegas strip, but police say they believe the dead suspect acted alone.
A hospital spokeswoman said 14 of the wounded were in a critical condition.
Witnesses reported that hundreds of shots were fired.
Many hotels on the Las Vegas strip close to the scene remain on lockdown.
Parts of Las Vegas Boulevard were shut as armed police arrived at the scene of the attack.
People have been sheltering in hotels, restaurants and at Las Vegas McCarran airport.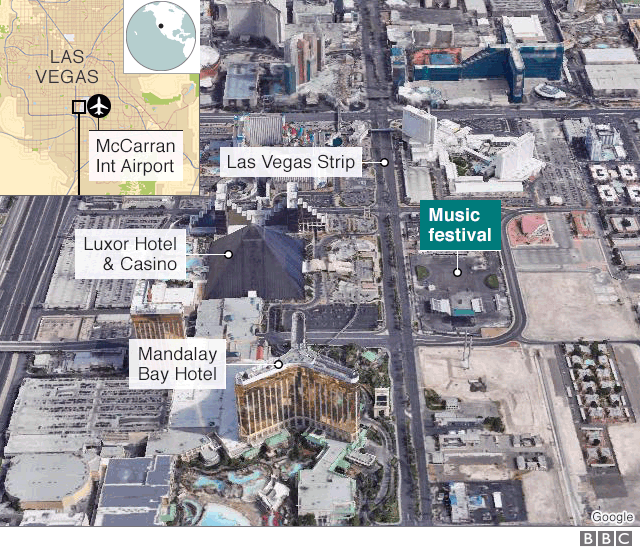 Some flights were diverted after news of the incident emerged.
The country music festival had been taking place since Friday at several hotels on the Las Vegas strip.