Introduction by the Senior Editor:  Those of us of European descent understand Trump's statement, even though he now denies it.  He made it.  He simply pulled it out of his ass.  Let's go for the jugular first.  He is married to a "model," an accused call girl.  What most of us like about her is that she seems to hate him, it shows character.
I've been to Slovenia.  It is nicer than Slovakia but Slovenia is a shithole by America standards.  Frankly, America is a "shithole" by American standards.  Hey, I love Detroit, a town made of music, sports and partying.   Mr. Pence's "Indiana" where people who sexually assault farm animals and their own children as a way of life, however, is not on my list. 
Maybe I will start writing about rural white America, the land of meth and buggery, of welfare fraud and endless crime.  I have a horse farm outside Winchester, Kentucky and know the area well, 100% white, 95% criminal with the exception of some great people, like everywhere else.  You are safer in Africa than in any rural county in Kentucky, Tennessee or West Virginia, counties that are totally white, utterly corrupt and endlessly violent.  
Military retirees in these states live in terror, endless break-ins by meth addicts, all on full welfare, all white, no law as the clanish nature of society there precludes any residual effects of civilization.  This is "red state" America, an America most of us won't drive through and hate flying over.
Anyway, back to Trump and his idea of what a "shithole" is.  Yes, he said it.  If you want to understand Trump's love for Norway, suggest you watch "Lillyhammer" on Netflix or "Wallender" on Masterpiece/PBS.
If you were really German, you would know that the "Drumpf" family are Swabian "white trash" and considered the ignorant and most hateful of Germany.  
Again we have another rich boy who grew up watching New York City through the back window of a chauffeured Packard or Lincoln, who went to rigged private schools, now 2 GOP presidents who are illiterate, Bush and Trump, neither can read at above 3rd grade level, both have sub-normal IQs and the morals of insects.
And this pair of imbeciles is smarter than most of the remaining Tea Party assholes as well.  I just got off the phone with Steve Robertson, explaining the time I spent as lobbyist for his father's employer, Hughes Aerospace.   On a daily basis I felt I was explaining calculus to orangutans.  
Then again, we began, on an earlier article with Phil Butler and Jonas, "the talk."  Time we began dealing with "that religion," you know the one, where no archaeology whatsoever exists proving there ever was an Israeli nation, that Jews were ever in Israel, that Moses ever existed and that the Passover and that deal with god was all made up.
What we do have is the Khazarian Mafia from the 7th century, the phony "old testament" along with the Talmud and Torah, with the historical accuracy of Grimm's fairy tales.
This isn't all of history that is made up.  Remember when cable TV began with shows like The Secret History of World War II?  Well, everything we are taught is total crap, particularly the phony history of Christianity.  What we call religion now, here in the US mostly, certainly Judaism, Evangelical Christianity and Catholicism is entirely Luciferian and has been for 2000 years.  That the varying Luciferian sects don't get along well is not religious or geopolitical struggle.
What am I saying?  We can prove that most, not all, Catholicism, Evangelical Christianity  and all of Judaism is Luciferian and exists to destroy "Christ's kingdom on Earth."  
There is tons of suppressed scholarship on this, hundreds fired from universities, their books purged, but real history heads no other direction.
All of this, of course, is predicated on belief in the supernatural.  Thus, rather than a compact with an all knowing god, a deal is cut between someone that never existed, Noah or Moses, all made up, none existed, and "god" or angels or whatever where secret information is passed or alien military technology is used to interfere with human affairs on behalf of those who are, and how does anyone miss admitting this, the least deserving people in world history?
Time to "cut the crap."
'Reprehensible & racist': African states respond to Trump's alleged 's***hole countries' comment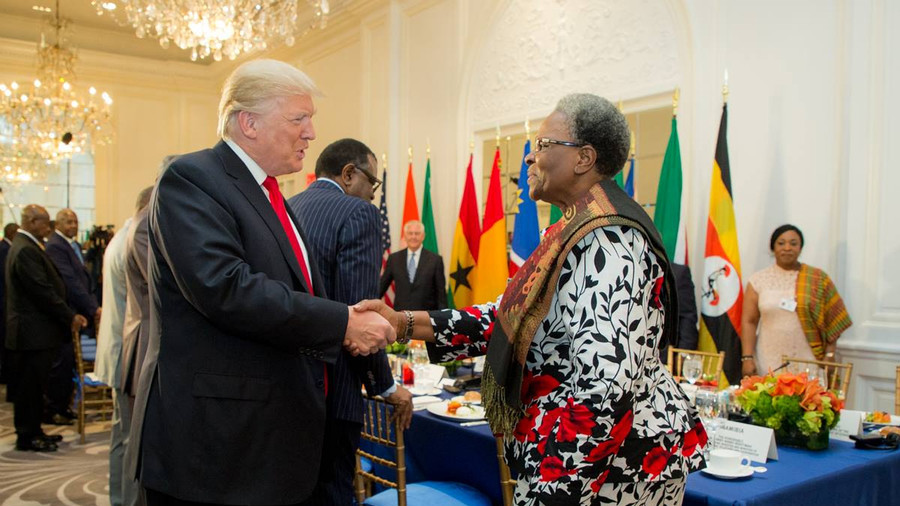 US President Donald Trump meets with African leaders on the sidelines of the 72nd Session of the United Nations General Assembly on September 20, 2017. © Shealah Craighead / Global Look Press
African governments have slammed Trump's alleged remark about "s***thole countries," said to be targeting the continent. Local media also jumped in, with one outlet suggesting parallels between the White House and the KKK.
It comes after a Washington Post report, citing sources, said that Trump had referred to some African countries, as well as Haiti and El Salvador, as "s***hole countries" during a discussion about protecting people from those nations as part of a bipartisan immigration deal.
Responding to the alleged remark on Friday, the African Union (AU) told AP it was "frankly alarmed" by the comment. "Given the historical reality of how many Africans arrived in the United States as slaves, this statement flies in the face of all accepted behavior and practice," AU spokeswoman Ebba Kalondo said. "This is particularly surprising as the United States of America remains a global example of how migration gave birth to a nation built on strong values of diversity and opportunity."
Individual countries also chimed in, with Botswana releasing a statement that called the comment "highly irresponsible, reprehensible, and racist." It said the country had summoned the US ambassador to "express its displeasure at the alleged utterances."
"The government of Botswana is wondering why President Trump must use this descriptor and derogatory word when talking about countries with whom the US has had cordial and mutually beneficial bilateral relations for so many years," the statement reads.
South Africa's ruling African National Congress called the alleged remark "extremely offensive," with the country's deputy secretary-general pointing out that while the nation has its difficulties, the US "has millions of people out of work or without healthcare." He went on to say that despite that fact, "we would not deign to make comments as derogatory."
Meanwhile, South African opposition leader Mmusi Maimane called the remark "abhorrent," adding that "the hatred of [former US President Barack] Obama's roots now extends to an entire continent."
Uganda's state minister for international relations, Henry Okello Oryen, called the comment "unfortunate and regrettable," adding that he hopes African heads of state will respond during an African Union summit scheduled to take place later this month.
However, South Sudan was more restrained. "Unless it was specifically said about South Sudan, we have nothing to say," government spokesman Ateny Wek Ateny told AP.
Media outlets also jumped on board, with South African newspaper the Daily Maverick stating that "casual Friday at the White House is soon to include hoods and tiki torches at this rate," in a reference to the Ku Klux Klan (KKK).
Some combined the alleged remark with a dose of sarcasm. "Good morning from the greatest, most beautiful 's***hole country' in the world!!!'" South African Broadcasting Corporation anchor Leanne Manas tweeted.
The US television program 'The Daily Show' responded to the alleged remark by tweeting in reference to the show's South African host: "As someone from South S***hole, Trevor is deeply offended by the president's remarks."
Earlier on Friday, a spokesman for the UN Office of the High Commissioner for Human Rights, Rupert Colville, called Trump's alleged comment "shocking and shameful," adding that there was "no other word one can use but racist." 
If the Washington Post report is true, it wouldn't be the first time that Trump has spoken negatively about Africa. In 2013, he tweeted that "every penny of the $7 billion going to Africa as per Obama will be stolen – corruption is rampant!"
Meanwhile, Trump tweeted on Friday that although he used "tough" language at the immigration meeting with lawmakers, "this was not the language used."
Gordon Duff is a Marine combat veteran of the Vietnam War. He is a disabled veteran and has worked on veterans and POW issues for decades. Gordon is an accredited diplomat and is generally accepted as one of the top global intelligence specialists. He manages the world's largest private intelligence organization and regularly consults with governments challenged by security issues.
Duff has traveled extensively, is published around the world, and is a regular guest on TV and radio in more than "several" countries. He is also a trained chef, wine enthusiast, avid motorcyclist, and gunsmith specializing in historical weapons and restoration. Business experience and interests are in energy and defense technology.
ATTENTION READERS
Due to the nature of independent content, VT cannot guarantee content validity.
We ask you to
Read Our Content Policy
so a clear comprehension of VT's independent non-censored media is understood and given its proper place in the world of news, opinion and media.
All content is owned by author exclusively. Expressed opinions are NOT necessarily the views of VT, other authors, affiliates, advertisers, sponsors, partners or technicians. Some content may be satirical in nature. All images within are full responsibility of author and NOT VT.
About VT
-
Read Full Policy Notice
-
Comment Policy