[

Editor's note

: 
According to Russia, Trump has ordered the killing of Syrian civilians (on Israeli orders) in order to justify US attacks on Syria in support of terrorists aligned with Saudi Arabia and Israel.
Poison gas is to be used, as the US has done many times in the past. Of course, these same terrorists are the ones the US claims is responsible for the attack on 9/11. Is anyone out there waking up
?…

Gordon Duff

]
[

Editor's Note 2

:
We are closer to war than during the Cuban missile crisis. Sources tell us we are at DefCon 2 right now. Both Russia and the US are scattering command centers, and Trump's giant 747 nuclear command bird has engines running and a door open waiting for Trump's fat ass to hit the air with his wife and daughter in tow, while American cities might burn to the ground.
 If we were only kidding.
We are sweating bullets that "they" may have picked the weekend to do this, as their Ghouta-gassing false-flag attempt is leaking out, especially the US equipment we found in the jihadis' weapons-grade chlorine weapons factory captured by the SAA last week.
US media censored this blockbuster news story, showing they are aware of the war freight – even the US Navy groups in the Persian Gulf getting into position for fire swarm missile attacks on Syria is especially scary. The Russians are putting this out now to have a paper trail that they told us what was in the works, and they obviously have a right under international law to respond.
Do not be surprised to see a false flag attack where Special ops arrange to have a few missiles fired at the Persian Gulf Navy battle groups, which will trigger a turkey shoot on Iranian counter terrorism units and facilities wherever they are.
The Saudis and some other Gulf state Arab countries could also become engaged in the attack, which would shut down the Gulf, spike oil prices and send oil up past $200 a barrel. The economic consequences would be quick and devastating. So I ask who could possibly benefit from this, and you VT readers know the answer.
–
We cannot wait until Monday. Everyone must call their Congressman and Senators now to get into their voice mail that we will hold them responsible if they sit by and allow this travesty to happen, and that if Trump does so, then they should move to remove him immediately to stop it.
This mass phone calling and emails worked when it was used to stop Obama from attacking Syria the first time.
You can see elements in the military view that as a mistake that they want a second shot at, and Trump and Bibi are their guys. But back then we had almost a month and lots of media coverage to stir it up.
We see signs that "they" learned from that and might initiate quickly to get ahead of that happening. For you Twitter folks a good hashtag would be #NoFakeSyriaWar. If there is anything else anyone can think of, please share in the comments … Jim W. Dean ]
Jim's Editor's Notes are solely crowdfunded via PayPal
Jim's work includes research, field trips, Heritage TV Legacy archiving & more. Thanks for helping. Click to donate >>
"Jabhat al-Nusra militants along with the White Helmets are preparing a staged chemical attack in the Alghabit and Kalbb Lusa communities situated 25 km (15 miles) to the North-West of Idlib. There are 20 chlorine containers in their possession," said the Russian General Staff.
Russia's Defense Ministry says "US instructors" are training militants to stage false flag chemical attacks in south Syria. The incidents are said to be a pretext for airstrikes on Syrian government troops and infrastructure.
"We have reliable information at our disposal that US instructors have trained a number of militant groups in the vicinity of the town of At-Tanf, to stage provocations involving chemical warfare agents in southern Syria," Russian General Staff spokesman General Sergey Rudskoy said at a news briefing on Saturday.
"Early in March, the saboteur groups were deployed to the southern de-escalation zone to the city of Deraa, where the units of the so-called Free Syrian Army are stationed."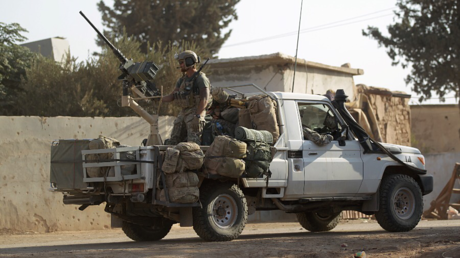 'Not proxy': Lavrov says US, British, French special forces 'directly involved' in Syria war
"They are preparing a series of chemical munitions explosions. This fact will be used to blame the government forces. The components to produce chemical munitions have been already delivered to the southern de-escalation zone under the guise of humanitarian convoys of a number of NGOs."
The planned provocations will be widely covered in the Western media and will ultimately be used as a pretext by the US-led coalition to launch strikes on Syria, Rudskoy warned.
"The provocations will be used as a pretext by the United States and its allies to launch strikes on military and government infrastructure in Syria," the official stated.
"We're registering the signs of the preparations for the possible strikes. Strike groups of the cruise missile carriers have been formed in the east of the Mediterranean Sea, Persian Gulf and Red Sea."
Another false flag chemical attack is being prepared in the province of Idlib by the "Al-Nusra Front terrorist group, in coordination with the White Helmets," Rudskoy warned. The militants have already received 20 containers of chlorine to stage the incident, he said.
and…
'We were about to die': E. Ghouta civilians say militants used them as human shields & barred escape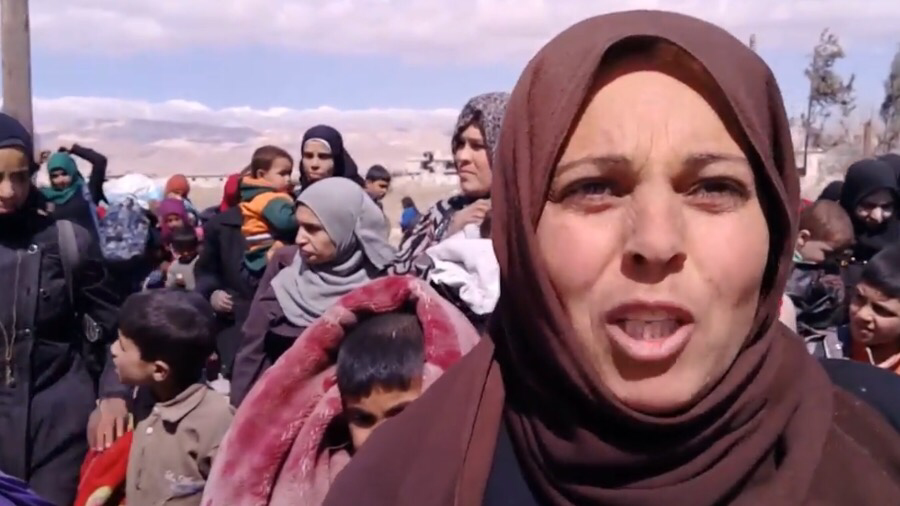 Civilians fleeing the fighting in Eastern Ghouta in their thousands through humanitarian corridors say the militants controlling the area used them as human shields and prevented them from leaving their homes.
"They fired at us, they did not want us to flee at all, they fired at the car wheels so that we could not flee… There was no flour, no bread, no water at all. They let no one out," one man told RT's Ruptly video agency near Hush Nasri.
"They [militants] were living with us, next to our houses and inside them. They would open a road amongst the houses to be able to move. They would not leave, and we would not dare to say 'get out.' Then the shelling was over and it is us who became part of the human shields. We were not allowed to move," a woman told Ruptly.
The armed groups holding out in Eastern Ghouta, a militant-held suburb near the Syrian capital of Damascus, continued to fire at civilians even as they were fleeing their homes, leaving several people injured.
"They were besieging us inside the basements, and we were strictly prevented from getting out at all, they made us starve… They were even firing at us as we were moving out, we were targeted by snipers, we were about to die, someone was shot," one woman recalled.
"We had no food or water. We wanted to flee but they prevented us. We fled against their will, they [militants] fired at us, half of the people were shot. Look at our children, bare feet, hungry, and without clothes, but [the militants] showed no mercy, they kept the commodities in stores for their benefit while our children starved to death, and they fired at us even as we wanted to get out," another woman added.
Desperate, scared and starved, people hoped to be rescued.
"We wanted to get out for a long time, and we wanted the Syrian Arab Army to take us out, but we could not. We were detained and put inside houses, and they fired at us, a lot of people were injured."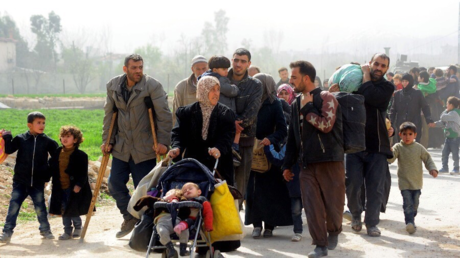 Over 30,000 leave militant-controlled E. Ghouta as people continue to flee for safety
Over 30,000 people have left towns in Eastern Ghouta on Saturday morning alone, Maj. Gen. Vladimir Zolotukhin, the spokesman for the Russian Defense Ministry's Reconciliation Center for Syria, said, adding that "on average over 3,000 people per hour" are passing through the humanitarian corridor.
Daily humanitarian pauses for Eastern Ghouta began on February 28, as part of the Syrian Army's and Russia's efforts to help civilians leave the combat zone. The Russian military has repeatedly noted that the militants use civilians as human shields, targeting those trying to flee the terrorist enclave.
On Monday, militants killed at least nine civilians during protests against being held hostage in the city.
"Terrorists severely suppress any protest actions from the population of Eastern Ghouta, who are forbidden to leave the area under threat of death," Valery Gerasimov, head of Russia's General Staff, said. At least 15 civilians are known to have been killed and another 133 were injured in the past month. "Terrorists and so-called moderate opposition that joined them forcibly hold civilians, using them as human shields," the general added.
The total number of those evacuated from the besieged enclave has reached nearly 45,000 people, Russian General Staff spokesman General Sergey Rudskoy said on Saturday afternoon.
*
*
ATTENTION READERS
We See The World From All Sides and Want YOU To Be Fully Informed
In fact, intentional disinformation is a disgraceful scourge in media today. So to assuage any possible errant incorrect information posted herein, we strongly encourage you to seek corroboration from other non-VT sources before forming an educated opinion.
About VT
-
Policies & Disclosures
-
Comment Policy
Due to the nature of uncensored content posted by VT's fully independent international writers, VT cannot guarantee absolute validity. All content is owned by the author exclusively. Expressed opinions are NOT necessarily the views of VT, other authors, affiliates, advertisers, sponsors, partners, or technicians. Some content may be satirical in nature. All images are the full responsibility of the article author and NOT VT.