Editor's note

:
  Sources have dropped a bombshell on VT. The sad story is that VT, even by "media haters" is considered "last man standing" on behalf of freedom of the press.
Here is the quick of it, what we now know:
The rigging of the American election was real but from a source none of us suspected, MI6 in Britain, representing the "bloodline" gangsters who rule the City of London financial markets.
Skripal, the White Helmets and Syrian gas attacks and the propaganda war against Russia are all MI6 projects.
Cambridge Analytica is an MI6 front, managed by political fixer/stooge Steve Bannon, working with Google, Facebook and the mob-controlled DC think tanks, Heritage, Jamestown and propaganda fronts which manage the mainstream media through fake news clearinghouse PJ (Pajama) Media.
There is so much more, consider this a "teaser."
Please note that we are certain that Russian Foreign Minister Lavrov and Putin himself received all of this with reams of documentation hours ago and will act. 
Boris Johnson is their "monkey boy," selling a war on Russia the same way the greatest fraud of all time, Winston Churchill, sold World War II.
Then again, remember Lady Di?  Same folks. Ouch. g
 *
Boris Johnson has insisted that British chemical lab Porton Down told him the nerve agent used to attack the Skripals was definitely Novichok. However, court documents suggest there is no such certainty.
In an interview with Deutsche Welle on Thursday, the UK foreign secretary claimed that a Porton Down scientist was "absolutely categorical" in confirming to him that the source of the nerve agent, identified by the UK as A-234 – also known as Novichok – was Russian. Johnson said:
"Let me be clear with you… the people from Porton Down, the laboratory… they were absolutely categorical and I asked the guy myself, I said, 'Are you sure?' And he said there's no doubt."
A judgment from the High Court on Thursday, however, has allowed new blood samples to be taken from Sergei and Yulia Skripal and analyzed by the Organization for the Prohibition of Chemical Weapons (OPCW).
In his judgment, Justice David Basil Williams included a summary of the evidence, revealing Porton Down's analysis. The judgment, which includes sworn court evidence from a Porton Down chemical and biological analyst, reads:
"Blood samples from Sergei Skripal and Yulia Skripal were analyzed and the findings indicated exposure to a nerve agent OR related compound. The samples tested positive for the presence of a Novichok-class nerve agent OR closely related agent."
[ Editor's Note 2: Dear readers, notice that it took a court order to force the British government to give a sample to OPCW, which Britain was obligated to due as a member, under the already established protocols, which were just ignored. Imagine that.
And while stalling from doing this, Whitehall moved forward with expelling Russian diplomats based solely on presumptive guilt, and used the delay time to get the US and EU to "pile on" with accepting Russia's guilt without a shred of court admissible evidence. Frankly, this bizarre behavior, even for the Brits, seemed beyond their usual low bar (not to excuse the US and its low bar).
Boris the clown clumsily exposed himself as a key operator in this nerve agent hoax with his reckless statements, the kind of thing that could destroy the political careers of most if they were not hardwired into the the British Intel machine and the power structure behind it.
And by that I do not mean the British Government, as Brit Intel has been the play pen for the Brit Deep State crowd for a long time. Can you say Rothschilds?
And lastly, we are waaayyyy past to point when someone, anyone, should be bringing up the question of motive for the Russians to do such a thing. That is where the "Russia did it" scam all falls a part. There is no motive, just like there was none with Litvinenko polonium.
This current poisoning hoax gave us another opportunity to expose that he "poisoned" himself while smuggling the stuff to Israel. Both this planes to and from Israel had to be decontaminated. Polonium, by the way, is used for nuclear triggers, a piece about the size of a nickel does the trick… Jim W. Dean ]
Jim's Editor's Notes are solely crowdfunded via PayPal
Jim's work includes research, field trips, Heritage TV Legacy archiving & more. Thanks for helping. Click to donate >>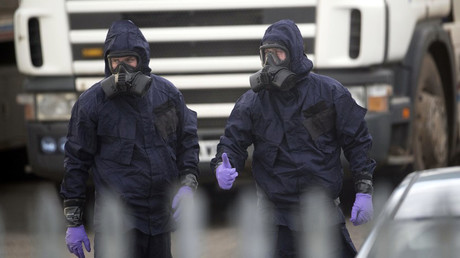 MPs retweet claim that Porton Down scientists can't identify nerve agent as Russian
Former British ambassador to Uzbekistan Craig Murray wrote in his blog that the evidence therefore does not unequivocally confirm that the agent is Novichok. Murray also claimed that scientists at Porton Down have failed to find evidence of Russian "culpability."
The judgment comes despite multiple affirmations from the UK government that the nerve gas came from Russia. The evidence given in court raises questions over the information provided by the government to parliament, the EU, NATO, the United Nations and the public.
On Sunday, Boris Johnson told BBC One's Andrew Marr Show that Russia has "stockpiles" of the chemical weapon. "We actually had evidence within the last 10 years that Russia has not only been investigating the delivery of nerve agents for the purposes of assassination, but it is has also been creating and stockpiling Novichok," Johnson said. The following day, he said in Brussels that Russia was "not fooling anyone" with its "increasingly absurd" denials of engineering Novichok to attack the Skripals.
On March 13, Theresa May gave Moscow a midnight deadline to prove that they hadn't manufactured the chemical weapon used in the Salisbury attack. In a statement to the House of Commons, the prime minister said the evidence showed that Skripal had been targeted by a "military-grade nerve agent of a type developed by Russia." When Moscow asked to see samples of the agent before responding to May's ultimatum, she told MPs in the House of Commons that "there is no alternative conclusion other than that the Russian state was culpable for the attempted murder of Sergei Skripal and his daughter…"
The judgment also provided an update on the condition of the Skripals. "It is not possible to say when or to what extent Mr or Ms Skripal may regain capacity," it read.
READ MORE: 'Reckless Russians': BoJo and NATO head need no proof to blame Moscow
According to evidence given by the Skripals' treating doctor, "[The Skripals are] heavily sedated following injury by a nerve agent." It also said that "Mr Skripal is unable to communicate in any way" and "Ms Skripal is unable to communicate in any meaningful way."
Justice Williams ruled that "it is in the best interests of Mr Skripal and Ms Skripal for the samples to be taken, tested and the notes provided" to the OPCW.
Think your friends would be interested? 
*
ATTENTION READERS
We See The World From All Sides and Want YOU To Be Fully Informed
In fact, intentional disinformation is a disgraceful scourge in media today. So to assuage any possible errant incorrect information posted herein, we strongly encourage you to seek corroboration from other non-VT sources before forming an educated opinion.
About VT
-
Policies & Disclosures
-
Comment Policy
Due to the nature of uncensored content posted by VT's fully independent international writers, VT cannot guarantee absolute validity. All content is owned by the author exclusively. Expressed opinions are NOT necessarily the views of VT, other authors, affiliates, advertisers, sponsors, partners, or technicians. Some content may be satirical in nature. All images are the full responsibility of the article author and NOT VT.