… from Russia Today, Moscow
[ Editor's Note: On the surface, this is a major statement politically, but in military practical terms a pointless exercise, as Stoltenberg knows that all US military power would support Israel in a war with Iran, including that stationed in Europe.
Everyone already knew that the NATO treaty has no formal defense relationship with Israel, so what could be the reason for Stoltenberg's statement now?
Could it be timed to the current trade war show down, where EU claims in the news today state that Trump only has days to back off, not weeks, before the EU begins retaliatory actions?
Could it be a signal to Israel, indirectly of course, to embarrass it for its slaughtering of unarmed protesters in Gaza? What Israel is doing to them now, if anyone were doing that to Jews anywhere in the world, Tel Aviv would be demanding they be nuked.
But we have heard no call for Zionist Israel "to be removed from the sands of time", despite the widely held acknowledgement that it would make the world a much safer place to live.
And Stoltenberg's statement about NATO not being involved in the Mideast is also baloney, as its major countries have been, which includes supporting proxy terrorist groups in Syria and Iran, and in a nasty war against Yemen that could keep war crimes prosecutors busy for a decade.
Some would call this institutional rot on a scale almost hard to conceive, but yet we have a vast world public that has become accustomed to it as the new normal.
It is a public so dumbed down by social media and herded like Western cowboys taking steers to the stock yards for slaughter, their brains anyway, that it plays no effective role against the Deep State whatsoever. 
The public as individuals are not primarily to blame, but the public institutions. From what VT can see, all over the world people are virtually on their knees to the Deep State thugs, on the grounds that it is none of their business, or not in their organizational charter. The blame is shared by many, and I fear for the future… Jim W. Dean ]
Jim's Editor's Notes are solely crowdfunded via PayPal
Jim's work includes research, field trips, Heritage TV Legacy archiving & more. Thanks for helping. Click to donate >>
– First published … June 03, 2018 –
NATO is not obliged to come to the rescue should a hypothetical war break out between Iran and Israel, Jens Stoltenberg has told Germany's Der Spiegel, amid increased tensions between the bitter Middle East rivals.
"Israel is our partner, but not a member of NATO. The security guarantee of Article 5 does not apply to Israel," Secretary General of North Atlantic Treaty Organization (NATO) Jens Stoltenberg told the magazine. Article 5 of NATO's treaty stipulates that an attack against one ally is considered as an attack against all allies, but it does not apply to those designated only as "partners" of the alliance.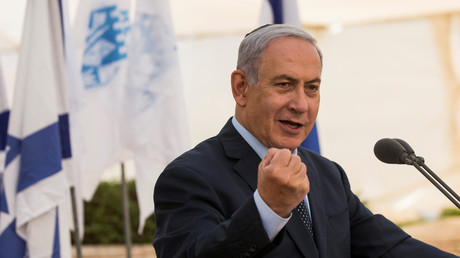 Netanyahu vows to keep fighting Iran 'anywhere in Syria'
Stoltenberg added that the alliance is not involved in Mideast peace efforts, or in conflicts in the region. "This is not our job," he stressed, somehow overlooking that, just last year, NATO formally joined the US-led coalition against IS (Islamic State, formerly ISIS/ISIL) terrorists in Iraq and Syria.
Were such a hypothetical war to break out, it also remains an open question if the US will rush to defend its closest regional ally, as Washington and Tel Aviv do not have a formal mutual defense treaty, despite a new milestone in bilateral relations being reached when the US recognized Jerusalem as the Israeli capital and moved its embassy there.
"We are all equally concerned about Iran's missile program and its activities leading to instability in the region, for example the support of terrorist groups," Stoltenberg added, reiterating the generic accusations regularly pressed against Iran, and on which basis Washington continues to introduce fresh rounds of sanctions on Tehran.
While the existential rivals Israel and Iran never engaged in a direct military conflict, they are locked in a vicious political struggle and in proxy confrontations.
Being the most vocal critic of the 2015 international nuclear deal with Iran, Israeli PM Benjamin Netanyahu was influential in convincing US President Donald Trump to unilaterally withdraw from the Joint Comprehensive Plan of Action (JCPOA).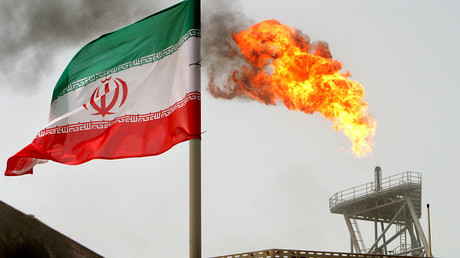 "The Iran agreement continues," Stoltenberg had to agree, given the fact that the US was just one party to the complex, UN-backed deal – involving the UK, Russia, France, China, Germany and the EU – none of which supported Washington's reckless move. "The question is, can it work without the US? The impact of US sanctions on European companies will be huge in any case."
With the agreement scrapped, US State Secretary Mike Pompeo laid out a list of 12 "basic requirements" for Iran. The demands, among other things, call on Iran to withdraw from Syria, to stop "enrichment" of uranium and to undertake never to process plutonium, which are the key points that bother Israel.
Tel Aviv believes a potentially nuclear-armed Iran poses an existential threat, and has claimed that Iranian-backed forces involved in the Syrian war are seeking to establish a permanent presence along its northern border.
"We will continue to act against [Iran's] intention to establish a military presence in Syria opposite us, not just opposite the Golan Heights but anywhere in Syria," Netanyahu stressed earlier this week.
Tehran, in turn, promised to retaliate against Israel at a time and a place that it sees fit, with the Chief of Staff of the Iranian Armed Forces, Major General Mohammad Baqeri, warning of a "firm and crushing response" against any aggression.
Jim W. Dean is VT Editor Emeritus.  He was an active editor on VT from 2010-2022.  He was involved in operations, development, and writing, plus an active schedule of TV and radio interviews.  He now writes and posts periodically for VT.
ATTENTION READERS
We See The World From All Sides and Want YOU To Be Fully Informed
In fact, intentional disinformation is a disgraceful scourge in media today. So to assuage any possible errant incorrect information posted herein, we strongly encourage you to seek corroboration from other non-VT sources before forming educated opinion. In addition, to get a clear comprehension of VT's independent non-censored media, please read our
Policies and Disclosures
.
Due to the nature of uncensored content posted by VT's fully independent international writers, VT cannot guarantee absolute validity. All content is owned by the author exclusively. Expressed opinions are NOT necessarily the views of VT, other authors, affiliates, advertisers, sponsors, partners, or technicians. Some content may be satirical in nature. All images are the full responsibility of the article author and NOT VT.
About VT
-
Comment Policy