Introduction by the Senior Editor
The Russian press, Sputnik and Russia Today, has been running sleazy and childish crap defending Trump for the last 2 months, propaganda so bad it is though they were trying to take the new focus off Israel, where it sits now, and put it back on themselves.
It is our assessment that much of the Russian press is CIA infiltrated and working for the same gang that really rigged the election, all about rampant corruption and very little about war and politics, except as a business.
The article below is typical.  What it fails to point out early on is that a judge tossed out the suit based on venue, not substance. The judge here is one of the very few "straight shooters" on the DC court, which is packed with vet haters and police state clones.
Our issue is with Russia Today and our expectations for them.  They are one of the few well funded new organizations to openly report on Syria and other issues, sometimes in defense of Russia but more often, just simple truth when such a thing doesn't really exist.
A threat against them is a very serious threat against the last vestiges of free speech.  The last of which in the US is, sadly, tiny little Veterans Today and the blue ribbon staff of editors and writers put together so many years ago by the Senior Editor, me.
I had no idea we would be "last man standing." ~ Gordon
*
Russiagate: DC judge throws out collusion lawsuit against Trump
A Washington DC judge has thrown out
a lawsuit alleging the Trump campaign colluded with Russia and Wikileaks to publish hacked emails from the Democratic National
Committee in 2016.
The suit, filed by two DNC donors and one former DNC employee, argued that 'Russian agents' gained access to the DNC's networks, and distributed emails in a "deliberate campaign to interfere in the US election and tilt its outcome in favor of Donald Trump."
It then alleges that the Trump campaign, along with former adviser Roger Stone, worked with Russia and Wikileaks to publish the hacked information. It cites meetings at Trump Tower between Trump campaign staff and a "Kremlin connected" lawyer as proof of the collusion.
The donors, Roy Cockrum and Eric Schoenberg, claim that the emails deterred other potential donors from supporting the Democratic party. They also allege that scammers used their personal details to try to commit identity theft and credit fraud.
The DNC employee, Scott Comer, claims that the emails revealed his sexuality, medical information, and other gossip to the world, damaging his reputation with family and friends. After the publication of the emails, he claims he received menacing phone calls, with some calling him a "faggot" and threatening violence.
District Judge Ellen Segal Huvelle dismissed the suit on Tuesday evening, arguing that the Trump campaign was not sufficiently tied to Washington DC, and the suit was therefore outside her jurisdiction. She did not take a position on the suit's allegations.
"It bears emphasizing that this Court's ruling is not based on a finding that there was no collusion between defendants and Russia during the 2016 presidential election," she wrote. "This is the wrong forum for plaintiffs' lawsuit. The Court takes no position on the merits of plaintiffs' claims."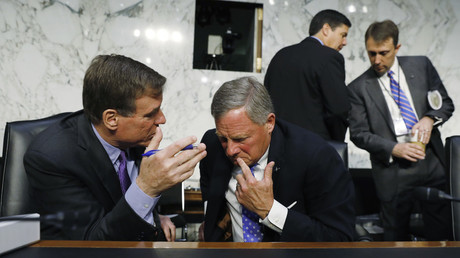 'Sound conclusions': Senate panel backs 'Russiagate' intel report
President Donald Trump and his campaign staff have repeatedly denied charges of conspiring with Russian actors in the runup to the 2016 election.
After two years and almost $20 million dollars spent, White House Special Counsel Robert Mueller has thus far failed to find any evidence of collusion from the Trump team. Instead, Mueller has indicted campaign staff on unrelated charges, like former campaign chairman Paul Manafort's decade-old bank and tax fraud charges.
After a year-long investigation, The House Intelligence Committee published a report in April which also found that there was no Russian collusion in 2016.
Nevertheless, Democrats have not let the specter of collusion slip away. One week before the House Intelligence Committee report was released, the DNC itself filed a multimillion-dollar lawsuit against the Trump campaign, the Russian government, and WikiLeaks.
The suit was described by the Trump campaign as "a last-ditch effort to substantiate the baseless Russian collusion allegations by a nearly-bankrupt Democratic Party still trying to counter the will of the people in the 2016 presidential election."
A spokesperson at the Russian Foreign Ministry called it "a kind of attempt by the Democrats to justify their defeat."
Even if the lawsuit was built on solid evidence, the DNC might find it difficult to actually sue Russia, as other nations enjoy immunity from US lawsuits.
Gordon Duff is a Marine combat veteran of the Vietnam War. He is a disabled veteran and has worked on veterans and POW issues for decades. Gordon is an accredited diplomat and is generally accepted as one of the top global intelligence specialists. He manages the world's largest private intelligence organization and regularly consults with governments challenged by security issues.
Duff has traveled extensively, is published around the world, and is a regular guest on TV and radio in more than "several" countries. He is also a trained chef, wine enthusiast, avid motorcyclist, and gunsmith specializing in historical weapons and restoration. Business experience and interests are in energy and defense technology.
ATTENTION READERS
Due to the nature of independent content, VT cannot guarantee content validity.
We ask you to
Read Our Content Policy
so a clear comprehension of VT's independent non-censored media is understood and given its proper place in the world of news, opinion and media.
All content is owned by author exclusively. Expressed opinions are NOT necessarily the views of VT, other authors, affiliates, advertisers, sponsors, partners or technicians. Some content may be satirical in nature. All images within are full responsibility of author and NOT VT.
About VT
-
Read Full Policy Notice
-
Comment Policy