Russia Today with Supporting Material: Radioactive isotopes discovered by scientists in Australian sheep have added gravity to longstanding claims that a mysterious flash above the Indian Ocean 39 years was actually an illegal Israeli nuclear weapon test.
On September 22, 1979, US satellite Vela 6911 detected a 'double flash' near the Marion and Prince Edward Islands in the southern Indian Ocean. Ever since, there has been speculation that it was actually a nuclear weapon test carried out by Israel. According to the memoirs of then-US President Jimmy Carter, this was also the assumption of American generals who briefed him on the incident. The official position of the Israeli state is to neither confirm nor deny having a homegrown military nuclear program.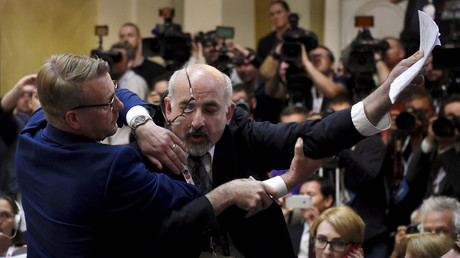 Israel's nukes, not Syria: Man kicked out from Trump-Putin summit says AP misquoted him
Now a new paper, published in the Science & Global Security journal, says radioactive isotope iodine-131 had been discovered in the thyroids of Australian sheep in the month following the so-called 'Vela incident.'
Christopher Wright of the Australian Defense Force Academy and nuclear physicist Lars-Erik De Geer, who used to work for the Swedish Defense Research Agency, have analyzed thyroid samples that were sent monthly to the US in 1979. The information on test results was only recently made available to the public under the Freedom of Information Act.
The isotope levels found in the sheep affected by rain four days after the incident, "would be consistent with them having grazed in the path of a potential radioactive fallout plume from a 22 September low-yield nuclear test in the Southern Indian Ocean," the paper states.
The researchers said that the analysis of weather patterns suggests the fallout plume from a nuclear explosion would have carried over from the test site in the Indian Ocean to parts of Australian territory.
READ MORE: 'I stood up to the world': Bibi reportedly boasted that Israel convinced Trump to nix Iran nuke deal
The assumption that a nuclear test took place in 1979 is also backed by the analysis of the declassified "hydroacoustic signal" from US underwater listening devices, the study added.
The research "removes virtually all doubt that the 'flash' was a nuclear explosion," Leonard Weiss, nuclear weapons expert from the Stanford University, wrote in the Bulletin of the Atomic Scientists.
He pinpointed Israel as the responsible party because it was "the only country that had the technical ability and policy motivation to carry out such a clandestine test." According to Weiss, it was just one of several aerial nuclear explosions performed by the Jewish state, which was detected by the US satellite due to an unexpected change in the cloud cover.
Researchers say the Israeli test was carried out in violation of the Limited Test Ban Treaty from 1963, and urge a large-scale international probe of the incident.
Israeli Ambassador to New Zealand Itzhak Gerberg denied the findings of the research in a comment to the New Zealand Herald, calling them "simply a ridiculous assumption that does not hold water."
Vela Incident – Questions
The Vela Incident and it's fallout upon Australia
UPDATED as @MalcolmFraser12 and bit.ly bundles are both deceased.
What did happen on September 22nd, 1979?
Was it investigated by Australian Authorities independent of the Carter Administration?
Did the Australian Government know what it was?
What discussions ensued between Australia and the United States as outlined in Christine Dodson's discussion paper of October 1979?
What did the Government of Malcolm Fraser know and what did it do about it?
Did anyone talk to Dr Roger Melick about the results of sheep thyroid samples that he sent to Dr Lester Van Middlesworth?
Was John R Moroney or anyone else at Australian Radiation Laboratory tasked to investigate and report on fallout?
Were civilian populations in Australian States subjected to radioactive fallout from a secret Nuclear Weapon Test?
Are those reports or discussions available to the public?
What was the effect on their health?
Was anything done to mitigate the risks?
Was the decision to bring in mandatory Cancer Reporting directly related to concerns about this event?
Were any measurements made of radioactive contamination of civilians, pastures, livestock, food and water resources?
Who was responsible?
Who is liable to compensate them?
How many Australians died prematurely?
---
Disclaimer.
All published material is to be treated as opinion only.
Some of which is only shared to expose various differing views or possibilities of the topic.
Endorsement is not given nor implied unless stated as such.
Should you therefore want to act upon any material here, (eg share it) you should check the veracity of anything written here for yourself and act in accordance to your personal circumstances and whatever your laws allow.
Gordon Duff is a Marine combat veteran of the Vietnam War. He is a disabled veteran and has worked on veterans and POW issues for decades. Gordon is an accredited diplomat and is generally accepted as one of the top global intelligence specialists. He manages the world's largest private intelligence organization and regularly consults with governments challenged by security issues.
Duff has traveled extensively, is published around the world, and is a regular guest on TV and radio in more than "several" countries. He is also a trained chef, wine enthusiast, avid motorcyclist, and gunsmith specializing in historical weapons and restoration. Business experience and interests are in energy and defense technology.
ATTENTION READERS
Due to the nature of independent content, VT cannot guarantee content validity.
We ask you to
Read Our Content Policy
so a clear comprehension of VT's independent non-censored media is understood and given its proper place in the world of news, opinion and media.
All content is owned by author exclusively. Expressed opinions are NOT necessarily the views of VT, other authors, affiliates, advertisers, sponsors, partners or technicians. Some content may be satirical in nature. All images within are full responsibility of author and NOT VT.
About VT
-
Read Full Policy Notice
-
Comment Policy