It started like any normal day on campus at the polytechnic college in the Crimean city of Kerch — but it quickly turned into a horror story, drawing somber comparisons to the fateful 1999 Columbine Massacre in Colorado.
Before the day would end, at least 19 lives would be taken and dozens of students would suffer injury at the hands of a gun-wielding man.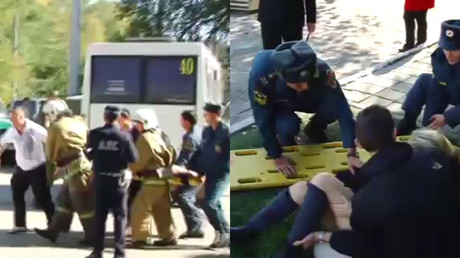 Crimea bloodbath: Seeing friends die and fleeing for their lives – witnesses describe attack horror
As the drama unfolded, conflicting information was making its way online. In the initial confusion, reports suggested there had been a gas explosion inside the building — but it soon became clear that something much more horrifying was playing out.
Police were now reporting that an"unidentified explosive device" had gone off inside the canteen on the first floor of the college. Forensics experts and FSB explosive ordnance teams were quickly dispatched and tasked with "preventing other possible explosions" as word trickled out that authorities were treating the incident as a possible terror attack. They would later change the classification from terror attack to multiple homicide.
But it wasn't just the explosion. Inside the building, people were hearing gunfire. Some would later describe seeing men with their faces covered burst into the building, armed with assault rifles and firecrackers, opening fire indiscriminately, terrorizing students and teachers. Only one man responsible for the shooting was found, but in the panic and confusion of the moment, people believed they saw more than one killer. Investigators haven't ruled out there may be more.