Editor's note:  Our sources in the Saudi security services tell us that Jared Kushner personally authorized this, saying "the US does this kind of thing all the time" and noting that "my father-in-law is a bumbling idiot and will forget the whole thing so long as the prince keeps putting cash into the family coffers."
The media is now coverup stories, erased by Google, telling of Trump and Kushner contracts including for an Adelson casino, limousine service and employment agency to cover child trafficking for sex, the real heart of the Trump/BayRock/Mara Lago partnerships.
After a Turkish daily said it obtained a recording from the Saudi consulate in Istanbul related to journalist Jamal Khashoggi, a London-based outlet published an ultra-graphic description of his alleged murder and dismemberment.
A three-minute audio recording of Khashoggi's said to reveal what happened to him at the Saudi consulate has been leaked to the Turkish daily Sabah, but the paper has yet to release it. It is said to have been recorded by the journalist's Apple Watch.
READ MORE: 'Guilty until proven innocent'? Trump defends Saudi Arabia from rush to judgment in Khashoggi case
But the London-based Middle East Eye claims to know what's on the tape citing a source. It alleges the journalist was dragged into a study, where he was dismembered with a bone saw while he was still alive. The source also cites alleged witnesses hearing harrowing screams which only stopped, according to the claims, when the journalist was drugged with an unknown substance.
Salah Muhammad al-Tubaigy, the head of forensic evidence in the Saudi general security department, was singled out, as he can reportedly be heard in the recording urging his colleagues to listen to music while dismembering Khashoggi's body with a bone saw.
The task took some "seven minutes" to complete. Sabah claimed that the Saudi officials then tried to delete the recordings first by trying to guess Khashoggi's PIN on the watch, then using the journalist's finger. This detail has raised suspicions since Apple Watches do not have a fingerprint-enabled unlock mechanism.
And while it's true that an Apple Watch can theoretically sync with a nearby iPhone if the devices share a Bluetooth connection, Sabah did not elaborate on how the alleged recordings found their way out of the Saudi consulate.
This recording is said to be reviewed by the Turkish investigators, who have so far neither confirmed nor denied its existence. Khashoggi's fiancée, who was waiting outside the consulate and could potentially have received the haunting audio files, has made no mention of any recordings.
READ MORE: Police found evidence in Saudi consulate that Khashoggi was killed there – Turkish official to AP
Khashoggi was last seen entering the Saudi consulate on October 2, on an administrative errand to get documents to allow for him to get married.
Tubaigy is one of five suspects so far identified by Turkish police as part of their investigation into the disappearance and killing. The others are said to have links to Saudi Crown Prince Mohammad bin Salman.
Think your friends would be interested? Share this story!
A member of the 15-man team suspected in the disappearance of Saudi journalist Jamal Khashoggi has died in an accident back in Saudi Arabia, according to Turkish media, prompting suspicion of a cover up.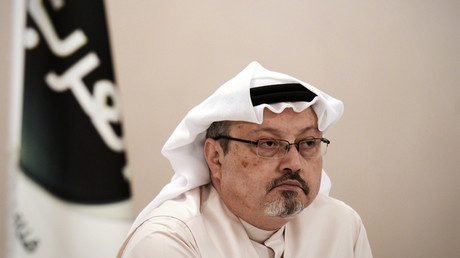 'Sawed while still alive'? Gruesome 'taped' details of Khashoggi's alleged murder cause media stir
Meshal Saad al-Bostani, a 31-year-old lieutenant in the Saudi Royal Air Force, is believed to have died in a 'suspicious car accident' in the Saudi capital Riyadh, sources told the Turkish Yeni Safak – the one that earlier covered the shocking details of the murder.
A still taken from a Turkish police CCTV video, released by the Sabah newspaper, identified Bostani as he passed through Istanbul's Ataturk airport on October 2.
He, along 14 other Saudi citizens allegedly arrived and left Turkey on the same day and are alleged by Turkish police to have tortured and murdered Khashoggi after he entered the Saudi consulate.
The unconfirmed death of Bostani has already prompted accusations on social media that a cover up was underway by those who orchestrated Khashoggi's disappearance.
[poll id="173″]
These fears have also been voiced in Turkish media, with Daily Hürriyet columnist writing Thursday that Saudi Arabia's Istanbul consul-general Mohammad al Otaibi could be "the next execution."
On Wednesday, it was reported that the consul-general returned to Saudi Arabia on October 16, before authorities searched his residence as part of their investigations.
READ MORE: Money talks: top US firms to visit Saudi business forum ignoring alleged grizzly murder of critic
In reports of an unreleased recording documenting Khashoggi's alleged murder and dismemberment, Otaibi is believed to have said "do it somewhere else outside or I will be in trouble," to Khashoggi's interrogators.
He was reportedly told to "shut up if you want to live when you are back in Saudi Arabia."
Gordon Duff is a Marine combat veteran of the Vietnam War. He is a disabled veteran and has worked on veterans and POW issues for decades. Gordon is an accredited diplomat and is generally accepted as one of the top global intelligence specialists. He manages the world's largest private intelligence organization and regularly consults with governments challenged by security issues.
Duff has traveled extensively, is published around the world, and is a regular guest on TV and radio in more than "several" countries. He is also a trained chef, wine enthusiast, avid motorcyclist, and gunsmith specializing in historical weapons and restoration. Business experience and interests are in energy and defense technology.
ATTENTION READERS
Due to the nature of independent content, VT cannot guarantee content validity.
We ask you to
Read Our Content Policy
so a clear comprehension of VT's independent non-censored media is understood and given its proper place in the world of news, opinion and media.
All content is owned by author exclusively. Expressed opinions are NOT necessarily the views of VT, other authors, affiliates, advertisers, sponsors, partners or technicians. Some content may be satirical in nature. All images within are full responsibility of author and NOT VT.
About VT
-
Read Full Policy Notice
-
Comment Policy