Submitted to VT by Maud'Dib
Why do we need so many state-issued licenses (and tributes/taxes) in a supposedly free country? Why should anyone need the state's permission to do anything that is lawful, e.g. travel and work?
The government tells us it's for our own protection and peace of mind. They claim chaos would ensue if not for their mandatory licensing programs, which get more expensive every year. But would it? Or is that what they would have us believe and repeat to each other to justify their own existence?
What exactly is a license and where did the idea come from for the state to set up their lucrative business selling them?
licentious |lʌɪˈsɛnʃəs| – adjective
1 promiscuous and unprincipled in sexual matters. the ruler's tyrannical and licentious behaviour. the licentious avenues of New York City.
2 archaic disregarding accepted conventions, especially in grammar or literary style.
DERIVATIVES – licentiously adverb; licentiousness noun
ORIGIN late Middle English: from Latin licentiosus, from licentia 'freedom'.
A license is the government's equivalent of a catholic "indulgence" whereby you can sin, if you pay the church (or state) for a license/indulgence/permission. Further proof that there is no separation of church and state, if the tax exempt status "501(c)(3)" for "non-profit" organizations wasn't proof enough.
Emigrate While You Still Can! Learn More…
indulgence |ɪnˈdʌldʒ(ə)ns| – noun
1 [ mass noun ] the action or fact of indulging: indulgence in self-pity.
• the state or attitude of being indulgent or tolerant: she regarded his affairs with a casual, slightly amused indulgence.
• [ count noun ] a thing that is indulged in; a luxury: Claire collects shoes—it is her indulgence.
2 chiefly historical (in the Roman Catholic Church) a grant by the Pope of remission of the temporal punishment in purgatory still due for sins after absolution. The unrestricted sale of indulgences by pardoners was a widespread abuse during the later Middle-Ages.
3 an extension of the time in which a bill or debt has to be paid. The notice
given granted a final indulgence of four weeks.
ORIGIN late Middle English: via Old French from Latin indulgentia, from the verb indulgere (see indulge) .
Driving a vehicle is not a licentious act, and therefore does not need a "license". Neither does having a gun, a dog, going fishing or any other thing that is not licentious, including a trade, profession or skill.
"Personal liberty, or the Right to enjoyment of life and liberty, is one of the fundamental or natural Rights,
which has been protected by its inclusion as a guarantee in the various constitutions, which is not derived from,
or dependent on, the U.S. Constitution, which may not be submitted to a vote and may not depend on the
outcome of an election. It is one of the most sacred and valuable Rights, as sacred as the Right to private
property…and is regarded as inalienable". 16 C.J.S., Constitutional Law, Sect. 202, p.987.
"The right to travel is part of the Liberty of which a citizen cannot be deprived without due process of law
under the Fifth Amendment. This Right was emerging as early as the Magna Carta."
       Kent vs. Dulles, 357; U.S.116 (1958).
No one EVER gave the state (i.e. government at the local, state or federal level) the right to destroy our inalienable rights through taxation, which is exactly what licenses do. Did you, or anyone you know vote for this?
"…It maybe said that a tax of one dollar for passing through the state cannot sensibly affect any function of
government or deprive a Citizen of any valuable Right. But if a state can tax…a passenger one dollar, it can tax
him a thousand dollars." Crandall vs. Nevada, 75 U. S. (6 Wall) 35, 46, (1867).
and…
"If the Right of passing through a state by a Citizen of the United States is one guaranteed by the Constitution, 
      it must be sacred from state taxation." Ibid. p47.
The same goes for professional licenses:-
"The right to follow any of the common occupations of life is an inalienable right…"
"It has been well said that 'the property which every man has in his own labor, as it is the original foundation
of all other property, so it is the most sacred and inviolable. The patrimony of the poor man lies in the strength
and dexterity of his own hands, and to hinder his employing this strength and dexterity in what manner he thinks
proper, without injury to his neighbor, is a plain violation of this most sacred property'." 
       United States Supreme Court, Butcher's Union Co. v. Crescent City Co., 111 U.S. 746 (1883)
"There should be no arbitrary deprivation of Life or Liberty…" Barbier vs. Connolly, 113 U.S. 27, 31 (1885);
       Yick Wo vs. Hopkins, 1l8 U.S. 356 (1886).
Yet despite all of these eloquent, noble-sounding words, the state requires licenses for dozens and dozens of trades and professions, which they refer to as "occupations".
The state (government) must think all of us are stupid, or incapable or unwilling to read the very rules they aim to enforce, because they routinely violate our sacred, God-given rights and then laugh about it, as they put our money into their pockets. Sadly, it appears their gamble is paying off, at least for now, because most not only don't question the need for all of these license fees and taxes, but seem willing to put up with whatever the state demands, as often as they demand it, out of cowardice or laziness.
The reason they're called "occupations" is because we're expected to occupy a position within the evil system designed to serve the parasitic criminal class (who like it when you refer to them as "the elite") and their puppet politicians, lawyers and judges. And to add insult to injury, THEY actually have us paying them for their permission to be their slave!
THAT is what license fees and taxes are really about.
After generations of slave labor capitulating to their every demand, these extremely evil people openly and brazenly refer to us as disposable "human resources" to be used up—in their occupations and wars—and thrown away.
War = "legalized" murder. It involves the unlawful "occupation" of another country.
Taxes and license fees = "legalized" theft. NOWHERE in the One and ONLY True Law does it grant anyone the power to take ANYTHING from another without their permission. In fact theft, in any form, is expressly prohibited.
Legalese = redefining the common meaning of words in a deceitful attempt to legalize that which is UNLAWFUL (i.e. criminal) and to make illegal that which is LAWFUL. It is, and always has been, completely and totally LAWFUL for the people to take The Law into their own hands and to enforce it; in fact it should NEVER have been taken out of the hands of the people in the first place.
We the people have the power to dismantle this evil system and replace it with a perfect, just system that provides freedom and security for all. It's in our hands right now, and has been for thousands of years, if only we would find the courage to use it.
The government's power is derived solely from our obedience to it. Its wealth is derived solely from our labor. Its perceived strength is actually our strength, to give or to take away.
STOP FEEDING THE BEAST (SYSTEM).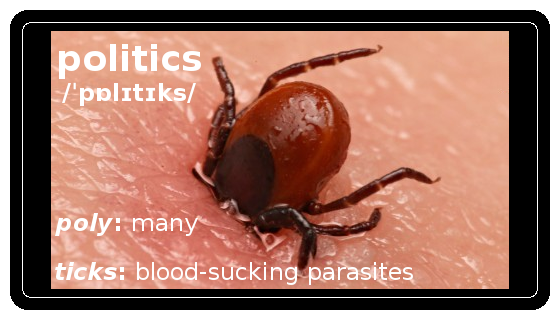 The church and state/government are two heads of the very same evilbeast, used by the parasitic criminal class to control, lie, cheat and steal from YOU (see Isa. 3:9-15, where the "elders" are the politicians and the "princes" are the princes of the church, i.e. the cardinals, bishops, etc.).
The evil church is still selling indulgences today. Every time you contribute to their coffers you fund another paedophile priest and their legal representation. Or worse. And despite what these self-proclaimed salvation-brokers falsely claim, no one can buy the stairway to heaven. If the church really was of God, their leaders would publicly stone every paedophile and anyone who tried to cover up their crimes (see King of kings' Bible John 8:35-36, John 8:44-45 KJV for proof of who the churches really work for – a cover-up is a LIE).
The evil state is still selling licenses that require ever-increasing levels of maintenance at the expense of the licensee. Every time protection money is paid into the system for their permission to continue slaving away just to keep a roof over your head and food on the table, you're funding your own demise, whether you realize it or not.
Funding ANY organization that does evil to others is the same as personally doing that evil. It's a self-feeding, iterative cycle that not only causes evil to flourish exponentially, but feeds back onto those who originated it. Perfect karma (Gal. 6:7).
The American Declaration of Independence (independence from government tyranny and oppression) states the following:-
"When in the Course of human events, it becomes necessary for one people to dissolve the political bands which have connected them with another, and to assume among the powers of the earth, the separate and equal station to which the Laws of Nature and of Nature's God entitle them, a decent respect to the opinions of mankind requires that they should declare the causes which impel them to the separation.
We hold these truths to be self-evident, that all men are created equal, that they are endowed BY THEIR CREATOR with certain UNALIENABLERights, that among these are Life, Liberty and the pursuit of Happiness.–That to secure these rights, Governments are instituted among Men, deriving their JUST powers from the consent of the governed, –That whenever any Form of Government becomes destructive of these ends, it is the RIGHT of the People to alter or to abolish it, and to institute new Government, laying its foundation on such principles and organizing its powers in such form, as to them shall seem most likely to effect their Safety and Happiness."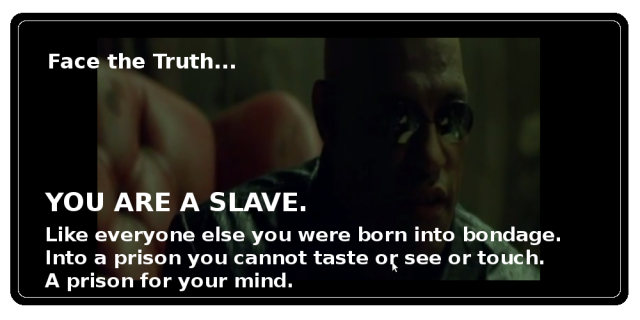 We've had 6000 years of man-made governments, in a variety of different forms and NONE of them have EVER been just. It's a 100% fail-rate, so if you're hoping this will somehow turn out differently this time, then you're not thinking clearly. The classic definition of insanity is doing the same things over and over and expecting different results.
The Solution should likewise be self-evident, and it's exactly as expressed in the Declaration of Independence: get rid of ALL of these destructive man-made rules and failed attempts to govern ourselves without our Creator's help, and go back to His Law, and His Law ONLY, which is where ALL of our unalienable rights originate.
God gave us His Law to protect us from all of this evil and to keep us FREE. Free from fear, free from injustice, free from war, free from poverty, free from crime, free from debt, and free from ALL tyranny and oppression. TRUE FREEDOM.
Under our Creator's Law, it is a CAPITAL OFFENSE to be an attorney, politician, legislator, bankster, war-monger or any other con-artist/thief who profits from human suffering. But it's up to us to use that FREE GIFT, by keeping and enforcing His Law ONLY.
This could truly be the land of the free and the home of the brave under the Perfect Law of Liberty instead of the land of the license fee and the home of the corporate bankster debt slave that we have allowed this nation to become on our watch – THE LAND OF THE FEE AND HOME OF THE SLAVE.
When men stopped being brave, they stopped being free. That's why THEY (The Hierarchy Enslaving You) have done everything THEY can to emasculate men.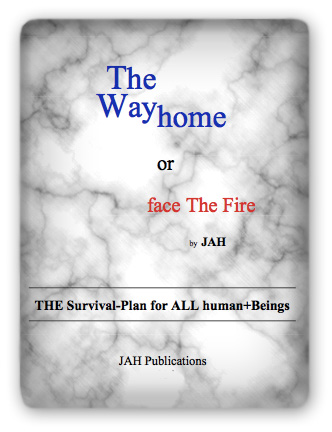 Those who are genuinely sick of the evil system and have enough courage to learn how to help put things right will need to read, study and put into practice The Survival Plan, which is the "little book" (Rev. 10:7-10) entitled The Way home or face The Fire by JAH. The title is self-explanatory. Absolutely no other plan will work.
A partial list of professions requiring licensing:-Accountants & Auditors (CPA's)
Acupuncturists
A/C, Heating & Refrigeration Mechanics & Installers (HVAC Refrig Contractor)
Architects
Athletic Trainers
Automotive Repair Dealers
Automotive Repair Technicians
Attorneys (including judges, magistrates and legislators)
Barbers
Brake and Lamp Adjusters
Cannabis Distributors
Cannabis Retailers
Cemetery Brokers
Cemetery Managers
Cemetery Salespersons
Combative Sports Promoters
Cosmetologists
Child Care Administrators
Chiropractors
Clinical Laboratory Cytotechnologists
Clinical Laboratory Medical Technicians/Med-Techs
Clinical Laboratory Phlebotomists
Clinical Laboratory Scientists
Clinical Laboratory Technicians
Compliance Officers (Code Enforcement Officer)
Counselors, Chemical Dependency (Chemical Dependency Counselor)
Counselors, Professionals
Court Reporters
Dental Assistants
Dental Hygienists
Dentists
Dietitians and Nutritionists
Drinking Water Utility Plant Operators
Emergency Care Attendants (ECA)
Emergency Medical Technicians and Paramedics (EMT, EMT-1, EMT-P)
Emergency Care Attendants (ECA)
Engineers (Professional Engineers)
Fire Fighters (Fire Protection Personnel/Firefighters)
Fire Inspectors (Fire Protection System Contractors)
Funeral Directors & Morticians (Embalmers)
Genetic Counselors
Geologists
Geophysicists
Hearing Instrument Fitter/Dispensers
Histologic Technicians
Insurance Adjusters, Examiners, & Investigators
Insurance Sales Agents & Placers
Interior Designers
Interpreters
Kinesiologists
Kinesiotherapists
Landscape Architects
Landscape Construction-Irrigators
Land Surveyors and Mapping Scientists
Landscape Architects
Leisure Professionals
Librarians, Professional
Locksmiths
Marriage & Family Therapists
Medical Physicists, Professional
Massage Scientists
Massage Therapists
Medical Radiologic Technologists
Medical Therapists
Nursing Aides, Orderlies, Midwives & Attendants
Nursing Facility Administrators
Nurses, Licensed Vocational (LVN)
Nurses, Registered (RN)
Medicine & Health Services Managers
Meteorologists
Music Therapists
Occupational Therapists, Assistants
On-Site Sewage Facility Installers
Opticians, Dispensing & Measuring
Optometrists
Orthoptists
Orthotists/Prosthetists, Technicians & Assistants
Osteopathic Physicians
Pathologists
Pathologists' Assistants
Pawn Brokers/Lenders
Perfusionist/Cardiology Technologists
Pest Controllers, Applicators & Assistants (Commercial)
Pest Controllers, Applicators & Assistants (Non-commercial)
Pharmacists
Physical Therapists
Physical Therapist Assistants
Physicians and Surgeons
Physician Assistants
Plumbers, Pipefitters, and Steamfitters
Podiatrists (Podiatric Physician)
Policy Enforcement Officers & Police Detectives
Polygraph Examiners
Private Investigators/Security Guards
Psychologists
Psychological Associates
Specialists in School Psychology
Real Estate Brokers
Real Estate Sales Agents
Real Estate Inspectors
Real Estate Construction & Building Inspectors
Recreation Therapists
Respiratory Therapists/Respiratory Care Practitioner
Sanitarians
Sales Agent in Securities, Commodities, Financial Services
Securities Dealers/Investment Advisors
Social Workers & Associates
Surgical Technologists
Social Worker, Master Levels
Solid Waste Technicians
Speech-Language Pathologists & Audiologists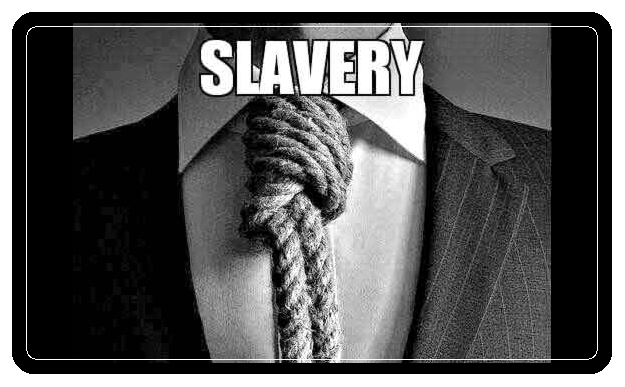 Tax Appraisers
Tax Examiners
Tax Assessor-Collectors
Tax Revenue Agents
Teachers
Underground Storage Tank Installers
Underground Storage Tank Removers
UST On-Site Installer or Remover Supervisors
Veterinarians and Veterinary Inspectors
Water Well Driller/Pump Installers
Don't be a Tie-Fighter for the Evil Empire
TAXES!
Author Unknown
Tax his land, tax his bed,
Tax the table at which he's fed.
Tax his tractor, tax his mule,
Teach him taxes are the rule.
Tax his cow, tax his goat,
Tax his pants, tax his coat.
Tax his ties, tax his shirt,
Tax his work, tax his dirt.
Tax his tobacco, tax his drink,
Tax him if he tries to think.
Tax his cigars, tax his beers,
If he cries, then tax his tears.
Tax his car, tax his gas,
Find other ways to tax his ass
Tax all he has then let him know
That you won't be done till he has no dough.
When he screams and hollers, then tax him some more,
Tax him till he's good and sore.
Then tax his coffin, tax his grave,
Tax the sod in which he's laid.
Put these words upon his tomb,
"Taxes drove me to my doom…"
When he's gone, Do not relax,
It's time to apply the inheritance tax.
A partial list of taxes and license fees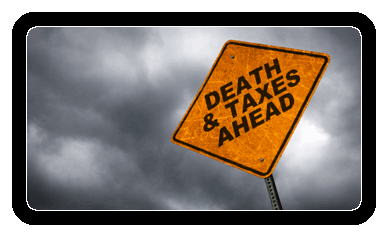 Accounts Receivable Tax
Building Permit Tax
CDL (Commercial Driver's License) Tax
Cigarette Tax
Corporate Income Tax
Diesel Fuel Tax (as high as 74.7 cents per gallon)
Dog License Tax
Federal Income Tax
Federal Unemployment Tax (FUTA)
Fishing License Tax
Food License Tax,
Fuel permit tax
Gasoline Tax (as high as 58.2 cents per gallon)
Hunting License Tax
Inheritance Tax
Interest expense
Inventory tax
IRS Interest Charges IRS Penalties (tax on top of tax)
Liquor Tax
Luxury Taxes
Marriage License Tax
Medicare Tax
Property Tax
Recreational Vehicle Tax
Real Estate Tax
Road usage taxes
Sales Tax
School Tax
Service charge taxes
Social Security Tax
State Income Tax
State Unemployment Tax (SUTA)
Telephone federal excise tax
Telephone federal universal service fee tax
Telephone federal, state and local surcharge taxes
Telephone minimum usage surcharge tax
Telephone recurring and non-recurring charges tax
Telephone state and local tax
Telephone usage charge tax
Utility Taxes
Vehicle License Registration Tax
Vehicle Sales Tax
Watercraft Registration Tax
Well Permit Tax
Workers Compensation Tax
COMMENT: Not one of these taxes (thefts) existed 100 years ago, and our nation was the most prosperous in the world.
Studying this information, including all of the referenced materials, and putting it into practice, will fulfill the only REAL requirement there is for Continuing Educational Credits/Units in all professions.
All Scriptural quotes are from The King of kings' Bible.
P.S. Jesus was the original tax protester!
Matthew 22:15-22
22:15 Then went the politicians, and took counsel how they might entangle him in [his] talk.
22:16 And they sent out unto him their disciples with the Herodians, saying, Master, we know that thou art true, and teachest The Way of God in Truth, neither carest thou for any [man]: for thou regardest not the person of men.
22:17 Tell us therefore, What thinkest thou? Is it lawful to give tribute unto Caesar, or not?
22:18 But Jesus perceived their wickedness, and said, Why tempt ye me, [ye] hypocrites?
22:19 Show me the tribute money. And they brought unto him a penny.
22:20 And he saith unto them, Whose [is] this image and superscription?
22:21 They say unto him, Caesar's. Then saith he unto them, Render therefore unto Caesar the things which are Caesar's; AND UNTO GOD THE THINGS THAT ARE GOD'S.
22:22 When they had heard [these words], they marvelled, and left him, and went their way.
Verse 21 above is often misquoted as: "render therefore unto Caesar the things which are Caesar's…", which omits the most important part of the verse and completely changes its intended message (i.e. satanically making it appear to say the opposite of what it actually says).
As created human+Beings, EVERYTHING we have belongs to our Creator, including our very lives. So if we render unto God what is His—EVERYTHING—what does that leave for Caesar? NOTHING.
THINK about it.
P.P.S. The Gospel of Thomas expands on the quotation in Matthew, to include our Savior—THE Great Prince/Prince of Peace—and the portion that God specifically gave to Him.
Thomas 15:8 He said to them: Give the things of Caesar to Caesar, give the things of God to God and give Me what is Mine (Eze 44:2-3; 48:21-22).
Ezekiel 44:2-3
44:2 Then said the "I AM" unto me; This gate shall be shut, it shall not be opened, and no man shall enter in by it; because the "I AM", the God of Israel, hath entered in by it, therefore it shall be shut.
44:3 [It is] for The Prince; The Prince, he shall sit in it to eat bread before the "I AM"; he shall enter by the way of the porch of [that] gate, and shall go out by the way of the same.
Ezekiel 48:21-22
48:21 And the residue [shall be] for The Prince, on the one side and on the other of the holy oblation, and of the possession of the city, over against the five and twenty thousand of the oblation toward the east border, and westward over against the five and twenty thousand toward the west border, over against the portions for The Prince: and it shall be the holy oblation; and The Sanctuary of The House [shall be] in the midst thereof.
48:22 Moreover from the possession of the Levites, and from the possession of the city, [being] in the midst [of that] which is The Prince's, between the border of Judah and the border of Benjamin, shall be for The Prince.
ATTENTION READERS
We See The World From All Sides and Want YOU To Be Fully Informed
In fact, intentional disinformation is a disgraceful scourge in media today. So to assuage any possible errant incorrect information posted herein, we strongly encourage you to seek corroboration from other non-VT sources before forming an educated opinion.
About VT
-
Policies & Disclosures
-
Comment Policy
Due to the nature of uncensored content posted by VT's fully independent international writers, VT cannot guarantee absolute validity. All content is owned by the author exclusively. Expressed opinions are NOT necessarily the views of VT, other authors, affiliates, advertisers, sponsors, partners, or technicians. Some content may be satirical in nature. All images are the full responsibility of the article author and NOT VT.