… from Russia Today, Moscow
[ Editor's Note: President Tweet used a White House cabinet meeting to play the fool for a change. Addicted to his big bad wolf persona, he thought he would put the whammy on the Pentagon Inspector-General report to the public, letting us know if we are getting a good bang for our buck, pardon the expression.
Never one to put his foot in his mouth, he thought he would fake being a genius and point out to us that the information critical of the job being done, or not being done, is helpful to the enemy, citing the usual areas under government control, with the rest under the Taliban or contested.
Because Trump never clears his talking points with competent staff before grandstanding, he missed having someone point out to him that the Taliban already know how much of the country they control.
President Tweet has used harsh language to disparage those who see through his fake "know it all" myth, by using phrases like dumb as rock.
That is not something I would suggest he continue doing, putting that term out in front of the public that might remember grandma's story about the pot calling the kettle black.
It does not take a genius to see the man is locked into his TV-show mantra of firing people, maybe even having a god complex, although I fear god would step in to object if he did.
Good staff people would have pointed out to him that just maybe the Afghan war is not winnable with the current troop levels, or maybe with double the troop levels; and there will never be peace while we are there, which some suspicious people at VT think may be the real scam.
As with Vietnam, where in hindsight we all can see we had dead-ended ourselves, the military industrial complex and its political allies would not be denied the profits they wanted from the war.
The main Vietnam war military supply companies even moved their headquarters to Texas, wanting to be close to LBJ land. Even though LBJ bailed out of running for a second term, the companies were still in the game, as presidents are just donkeys to be ridden by those guys.
Dear Donald, the public has a right to know what is really happening with America's wars. It's called being "informed", without which they cannot vote correctly for the people they need to run things properly. …Jim W. Dean ]
Jim's Editor's Notes are solely crowdfunded via PayPal
Jim's work includes research, field trips, Heritage TV Legacy archiving & more. Thanks for helping. Click to donate >>
– First published … January 02, 2018 –
US President Donald Trump has slammed the Pentagon's inspector-general for releasing reports about Iraq and Afghanistan to the public, demanding even less transparency from one of the country's least transparent agencies.
Trump told acting Defense Secretary Patrick Shanahan he wanted to stop releasing the watchdog reports to the public immediately, calling the practice "insane" during a Cabinet meeting on Wednesday.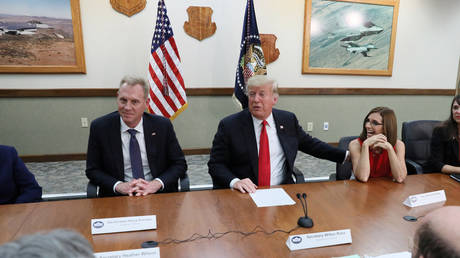 Is new acting Pentagon boss a 'fox in henhouse' or easily bullied yes-man?
"What kind of stuff is this? We're fighting wars, and they're doing reports and releasing it to the public. Now the public means the enemy. The enemy reads those reports," Trump insisted, adding that the watchdog could continue compiling the reports, but "they should be private reports and be locked up" unless a member of Congress wants to consult them.
His comments came amidst a rant about outgoing Defense Secretary James Mattis, who tendered his letter of resignation last month and was subsequently fired before he could step down at the end of February.
Mattis's departure was apparently sparked by Trump's decision to pull out of Syria, which he followed up with an announcement that the US would also be leaving Afghanistan – another sore spot for Mattis, who had pushed for a troop surge last year.
"How has he done in Afghanistan? Not too good!" Trump reminded his Cabinet. "As you know, President Obama fired him… and essentially, so did I."
The president's dissatisfaction with the military watchdog may stem from November's report from the Pentagon's Special Inspector General for Afghanistan Reconstruction (SIGAR), which revealed that the Afghan government's control of the country is at its lowest point since SIGAR began tracking territorial gains and losses in 2015.
The government controls "or has influence over" just 55.5 percent of the country's districts, home to 65 percent of the population, according to the quarterly report, which proved his generals' Afghanistan strategy of throwing more troops at the 17-year-old conflict was not working.
SIGAR also revealed the Pentagon had wasted at least $15.5 billion in Afghanistan since 2008 just a few months before spectacularly failing its first-ever audit. Shanahan, then deputy Defense Secretary under Mattis, defended the failure, praising the Pentagon for following through with the audit at all.
A bombshell report last year revealed the Pentagon had "misplaced" $21 trillion over the past few decades, and the Government Accountability Office, which tracks fraud across US government agencies, consistently places it at the top of the list. With US soldiers involved in dozens of undeclared conflicts around the world, insider dealing isn't exactly unknown.
Jim W. Dean is Managing Editor of Veterans Today involved in operations, development, and writing, plus an active schedule of TV and radio interviews.
ATTENTION READERS
Due to the nature of independent content, VT cannot guarantee content validity.
We ask you to
Read Our Content Policy
so a clear comprehension of VT's independent non-censored media is understood and given its proper place in the world of news, opinion and media.
All content is owned by author exclusively. Expressed opinions are NOT necessarily the views of VT, other authors, affiliates, advertisers, sponsors, partners or technicians. Some content may be satirical in nature. All images within are full responsibility of author and NOT VT.
About VT
-
Read Full Policy Notice
-
Comment Policy