US troop pullout from Syria conditional on Turkey's security guarantees for Kurds – Bolton
… from Russia Today, Moscow
[ Editor's Note: Here we go again, enshrining wide open to all UN countries that US policy is whatever we say it is, for any particular day. Today we have Bolton announcing a reversal of President Tweet's policy announcement via Twitter on the Syria withdrawal.
The free and democratic US now insists, without any input from Syria, that it will decide Syria's foreign policy with the Turks on the Kurds, as a ploy to pull the Kurds back from making a resolution deal with Damascus to be reintegrated into what all have agreed to, or say they do, except the US, that Syrian sovereignty is not up for negotiation. The US, even at this point in the war, still does not recognize it.
So with people like we have in power, who openly claim that not only do they not feel bound by agreements made by any past administration, but they don't even feel bound even by whatever they said yesterday, then how can any country make an agreement with such openly slippery characters?
As VT has editorialized, this is a street-gangster mentality, a degraded condition that the US has been allowed to slide into, year after year, including all key aspects of our government, so our country could not only be overtaken by gangsters, but also have control over all the security and judicial orgs to protect themselves.
Many, like me, would view that as a form of coup, like putting the lobster in the pot and slowly increasing the temperature until it is done so the lobster does not thrash around after being thrown into boiling water and scald everybody.
Don't expect the peace-loving Democrats to do much about this, as they want the funding from the military industrial complex to take back power in 2020; and yes, they will promise to keep the fake war hype going to keep the fat cats happy.
Will the veterans orgs and all the memberships of all of the legal and security organizations raise hell about this? They have not to date; so what would make them do so now? The public does not demand that they do; and frankly, with no public support, why take the risk to do so when they can sit tight and cash their paychecks while basking in the sun as protectors of American freedom and democracy? … Jim W. Dean ]
Jim's Editor's Notes are solely crowdfunded via PayPal
Jim's work includes research, field trips, Heritage TV Legacy archiving & more. Thanks for helping. Click to donate >>
– First published … January 06, 2019 –
US forces will not leave Syria until Turkey guarantees the safety of US-backed Kurdish militias, National Security Advisor John Bolton has said, as cited by AP. He added that there was no timetable for a US withdrawal.
According to Bolton, US President Donald Trump told him that he would "not allow Turkey to kill the Kurds."
"We don't think the Turks ought to undertake military action that's not fully coordinated with and agreed to by the United States, at a minimum, so they don't endanger our troops but also so that they meet the president's requirement that the Syrian opposition forces that have fought with us are not endangered," he said.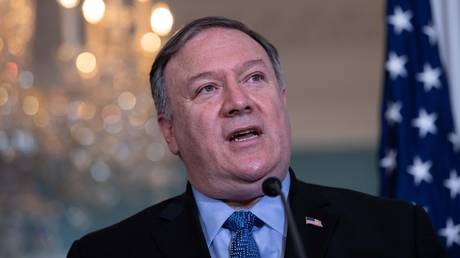 Ankara ridicules Pompeo's 'lack of knowledge' after US vows to protect Syrian Kurds from 'slaughter'
Bolton also stressed there was no set timetable for US withdrawal from Syria, adding that Washington was not interested in maintaining a long-term military presence in the country.
"The timetable flows from the policy decisions that we need to implement," he noted.
Bolton's statements provoked a critical response from Ankara. It is "irrational" to claim that Turkey targets Kurds in its operations, the Turkish president's spokesman Ibrahim Kalin said, adding that the Turkish military campaign is aimed against Islamic State (IS, formerly ISIS/ISIL) as well as against the Kurdish YPG and PKK groups, which Ankara sees as terrorists.
Turkey's goal is to "save the Kurds" from persecution by these "terrorist organizations," Kalin said, and that any claim that these groups might represent the Kurdish people was showing "disrespect to our Kurdish brothers." He also made it clear that Ankara is not intending to stop its military campaign as he said that "Turkey will continue its efforts with determination."
Bolton made his comments while on a visit to Jerusalem, where he is meeting with Israeli officials to explain Donald Trump's sudden announcement last month that American forces stationed in Syria would be coming home.
Trump had previously stated that the US' sole mission in Syria – the defeat of Islamic State (IS, formerly ISIS) – had been completed. Bolton's statement appears to add a new condition before withdrawing: receiving assurances from Ankara that US-backed Kurdish militias in northern Syria will not face an assault from Turkish forces.
Although Trump vowed to bring US troops home as soon as possible, bitter disagreements between Washington and Ankara over the status of the Kurdish militias will likely bring the withdrawal to a halt. Turkey has labeled the Kurdish YPG – which receives support from the Pentagon – as a terrorist group.
Bolton will travel to Turkey on Monday, where he is expected to lay out Washington's demands to Turkish President Recep Tayyip Erdogan.
On Thursday, Secretary of State Mike Pompeo said that "the importance of ensuring that the Turks don't slaughter the Kurds" was "still part of the American mission" in Syria. His comment was condemned by Ankara, which creatively argued that Pompeo was comparing all Kurds to terrorists.
Jim W. Dean is VT Editor Emeritus.  He was an active editor on VT from 2010-2022.  He was involved in operations, development, and writing, plus an active schedule of TV and radio interviews.  He now writes and posts periodically for VT.
ATTENTION READERS
We See The World From All Sides and Want YOU To Be Fully Informed
In fact, intentional disinformation is a disgraceful scourge in media today. So to assuage any possible errant incorrect information posted herein, we strongly encourage you to seek corroboration from other non-VT sources before forming an educated opinion.
About VT
-
Policies & Disclosures
-
Comment Policy
Due to the nature of uncensored content posted by VT's fully independent international writers, VT cannot guarantee absolute validity. All content is owned by the author exclusively. Expressed opinions are NOT necessarily the views of VT, other authors, affiliates, advertisers, sponsors, partners, or technicians. Some content may be satirical in nature. All images are the full responsibility of the article author and NOT VT.