Health Editor's Note:  Antibodies are the foot soldiers who fight against infection. The main function of the immune system is to produce antibodies.  Antigens are foreign substances that enter the body. These can be from viruses, bacteria, foreign objects, toxins, etc. Antibodies recognize the potentially harmful antigens and remove them from the body.  Antibodies are formed by vaccines or previous exposure to an antigen. Without the ability for the body to make antigens, we would not survive for long…..Carol
Decoding the Variety of Antibodies
By Tiana Hicklan, Ph.D for National Institutes of Health Research Matters
At a Glance
Researchers genetically sequenced antibodies in people's blood and estimated that the body may be able to make up to one quintillion unique antibodies.
The findings suggest ways to determine a person's infection history, aid with diagnoses, and design personalized vaccines.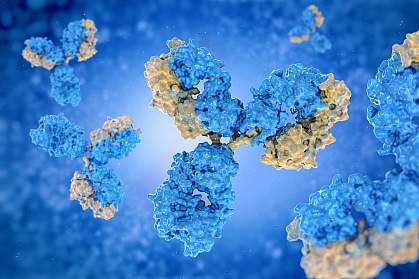 Svisio / iStock /Thinkstock
The body's immune system helps prevent or limit infection. One way the body fights foreign invaders, like bacteria and viruses, is by making antibodies against them. An antibody is a Y-shaped protein that's produced by white blood cells. It's made of two identical "arms," each of which has a heavy chain and a light chain. Together, these create specificity for an antigen (the substance that's causing an immune response).
Two different white blood cells (B cells and T cells) are involved in the body's adaptive immune response. This is the specific attack that the body launches against an invader after an initial general immune response, which includes inflammation. B cells make the antibodies that neutralize or kill specific invaders. They also present antigens to T cells. T cells carry out multiple functions, including killing infected cells and activating or recruiting other immune cells to help clear the infection.
In order to adapt to invaders the body has never encountered before, the immune system can generate countless new antibodies. Scientists previously estimated that the human body can make at least a trillion unique antibodies. To explore the actual combination of antibodies people have developed, a team led by Drs. Bryan Briney and Dennis R. Burton at Scripps Research examined antibody-producing B cells isolated from blood samples of 10 people between the ages of 18 and 30. The research was supported in part by NIH's National Institute of Allergy and Infectious Diseases (NIAID). Results were published online on January 21, 2019, in Nature.
Using large-scale genetic sequencing technologies and analytical software they developed, the researchers examined nearly 3 billion antibody heavy-chain sequences. Based on their findings, they estimated that the human antibody repertoire is much greater than previously thought—with the potential for the body to make a quintillion, or one million trillion, unique antibodies.
The team grouped the antibodies into "clonotypes" based on the similarities of the genes that make up the heavy chain. They found that any two people shared an average of 0.95% clonotypes, and that 0.022% of the clonotypes were shared between all of the individuals. While this might seem low, it's much higher than suggested by chance. These findings suggest that while there's great diversity amongst people's collection of antibodies, there are some types that most people likely share.
"Antibody repertoire information could soon be used to diagnose autoimmune diseases and chronic infections, for example, or to design vaccines," Briney says. "Getting clinically relevant insights from this kind of information would be a big step forward, and we're hoping soon to do that."
Additional studies are needed to more accurately determine the full scope of the human antibody repertoire. This sequencing was limited to a small portion of the B cell population in a small number of people.
Carol graduated from Riverside White Cross School of Nursing in Columbus, Ohio and received her diploma as a registered nurse. She attended Bowling Green State University where she received a Bachelor of Arts Degree in History and Literature. She attended the University of Toledo, College of Nursing, and received a Master's of Nursing Science Degree as an Educator.
She has traveled extensively, is a photographer, and writes on medical issues. Carol has three children RJ, Katherine, and Stephen – one daughter-in-law; Katie – two granddaughters; Isabella Marianna and Zoe Olivia – and one grandson, Alexander Paul. She also shares her life with her husband Gordon Duff, many cats, and two rescues.
ATTENTION READERS
Due to the nature of independent content, VT cannot guarantee content validity.
We ask you to
Read Our Content Policy
so a clear comprehension of VT's independent non-censored media is understood and given its proper place in the world of news, opinion and media.
All content is owned by author exclusively. Expressed opinions are NOT necessarily the views of VT, other authors, affiliates, advertisers, sponsors, partners or technicians. Some content may be satirical in nature. All images within are full responsibility of author and NOT VT.
About VT
-
Read Full Policy Notice
-
Comment Policy