Introduction
The story below is typical of the standards of truth we see in the world today.  VT correspondent, Michael Shrimpton, was not only jailed but disbarred and an unsuccessful attempt (now erased from public record) was made to put child pornography on his computers….all because he reported what we have real (like those that can testify in court if allowed…if..) sources that prove Shrimpton correct.
Two NST Teams from the US recovered a Soviet built 550kt thermonuclear weapon in a warehouse 8 miles from the Olympic Stadium outside London in 2012.  Shrimpton tried to report this to British intelligence and was charged, though he both backchannels and a tip line to report terrorism.
He was found guilty of knowing too much and needed to be destroyed.  If with Shrimpton's good personal relationship with Israeli intelligence and their obvious power in London, when approached even they refused to get involved…though acknowledged Shrimpton was correct.  Helping Shrimpton, according to a high level Mossad source "was a bad use of assets inside Britain."
The story below, as reported two days ago and from a 3rd party source in 2016.  Read it all.
Olympic bomb hoax barrister fails in disbarment appeal
By Max Walters
https://www.lawgazette.co.uk/news/olympic-bomb-hoax-barrister-fails-in-disbarment-appeal/5069928.article
A barrister and former part-time immigration judge jailed for falsely claiming that spies were plotting to detonate a bomb at the London Olympic Games in 2012 has failed in his appeal against the decision to disbar him.
In Shrimpton v Bar Standards Board, Mrs Justice Jefford DBE ruled the decision to ban Michael Shrimpton from practising as a barrister 'was not wrong and nor was there any serious procedural error that rendered the decision unjust'.
Shrimpton was convicted of communicating false information and jailed for a year in 2015. A year earlier, he was also convicted of an offence contrary to the Protection of Children Act 1978 and sentenced to a three-year supervision order.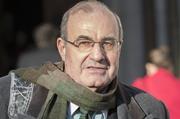 Shrimpton was convicted in 2015 of communicating false information
During the trial for the 2014 conviction at Aylesbury Crown Court, the barrister, called to the bar in 1983, said that secret service agents planted the images on his computer memory stick in a plot to discredit him.
The bomb hoax was made in April 2012. Shrimpton, according to the judgment, had a telephone conversation with a man referred to as Mr Burton, private secretary to the then Secretary of State for Defence in which he said that one of four thermonuclear warheads retrieved from the Russian submarine, The Kursk, was being held in East London. The Kursk sank in the Barents Sea in 2000.
The following day Shrimpton called a political agent of David Lidington MP, then a Foreign Office minister. Shrimpton, on his own account, said the purpose of the call was to set up informal drinks at the London residence of the Foreign Secretary at which the Russian government could verify the intelligence about the nuclear warhead, whilst preserving deniability.
He was disbarred in September last year.
and, Republished from: http://goldenageofgaia.com/2016/01/10/jailed-for-stopping-a-nuclear-attack-on-london/
Jailed for Stopping a Nuclear Attack on London
By Steve Beckow
6Michael Shrimpton blew the whistle on an attempt to explode a nuclear bomb, taken from the Russian submarine the Kursk, in London during the 2012 Olympics.  For his troubles, he landed up in jail. But the false-flag incident was stopped.
Jailed for communicating false information? Or jailed for communicating true information?
On Friday 6th February 2015, in the UK, Michael Shrimpton (57), an English barrister, was jailed for one year. He was found guilty of two counts of communicating false information.
The trial took place at Southwark Crown Court (London). A jury of nine men and three women took six hours over their deliberations. The final decision was a majority (11-1) verdict.
The story which led to this legal outcome involved two telephone calls and a covert issue of UK national security.
In April 2012, four months before the London Olympics, Michael Shrimpton telephoned two of his contacts in the UK government.The first person Shrimpton spoke to was Barry Burton, the principal private secretary to Philip Hammond (UK Secretary of State for Defence in 2012; later UK Foreign Secretary).
Michael Shrimpton explained that he had credibly-sourced information which suggested that a German Nazi-Continuum agency had secreted a nuclear weapon (or weapons) into an ambulance garaged near an East London hospital in Newham. The agency was the Dachau-based Deutsche Verteidigungs Dienst (DVD Dachau).
Their plan was to launch a nuclear attack on Queen Elizabeth II at the opening ceremony of the London Olympics or, failing this, on the Olympic Stadium itself at another time during the Games. The location of the ambulance garage in Newham was in blast distance of the stadium.
The information given to Barry Burton during the twenty-minute telephone call included a reference to the source of the nukes. They had been smuggled into the UK from Bremerhaven in Germany and had a traceable history.
German DVD Dachau agents had sabotaged the Russian nuclear submarine Kursk in the Barents Sea in April 2000, causing it to sink with the loss of all 118 lives on board. The agency, centrally involved in a putative international rescue attempt, then stole four of the twenty-four nuclear warheads from the wreck. These warheads were originally mounted on cruise missiles. One (or possibly two) of the warheads was smuggled into London.
Shrimpton explained that this intelligence had been blocked in official channels in the UK because Deutsche Verteidigungs Dienst had infiltrated MI5, MI6 and GCHQ. Barry Burton suspected that the telephone call was a hoax, but was obliged to pass the information over to the Olympic security team and the police.
The following day, Michael Shrimpton telephoned the Aylesbury Conservative Association and asked to speak with Conservative MP David Lidington (Minister of State at the Foreign & Commonwealth Office at the time) about the threat. The call was reported to officials, and Shrimpton was arrested by police on the same day.
Sometime afterwards, in a move which may or have may not been linked with Shrimpton's tip-off, or others like it, the UK authorities deployed surface to air missiles on the tops of a number of blocks of flats adjacent to the Olympic stadium. The UK legal authorities waited eleven months until they formally charged Shrimpton with communicating false information. There was no nuclear attack on the Olympic stadium.
Examples of the UK mainstream media coverage of the Michael Shrimpton case can be found here (25.11.14), here (06.02.15) and here (07.02.15). A commentary on the case by Gordon Duff of VT, the American alternative military intelligence website, is here (10.11.14).
Among the points which Duff made in VT were:
(1) The existence of a London Daily Mail newspaper hit-piece here(10.11.14). This, Duff suggested, seemed to add credibility to Shrimpton's information.
AB [Alcuin Brqmerton] note: But is it actually a hit-piece? Or is it just an English-style court report styled for tabloid readers?
(2) The Kursk nuclear weapons theft cited in Shrimpton's intelligence, or the UK establishment reaction to it, had resonances with the Bush-era 9/11 Able Danger documentation.
(3) According to Duff's sources at the International Atomic Energy Agency (IAEA) and the US Department of Energy (America's nuclear weapons design agency), Shrimpton was an expedient scapegoat tied to the exposure of very real establishment scandals, including nuclear blackmail.
AB note: Also in Michael Shrimpton's back catalogue was the hushed-up identification of two UK Prime Ministers (Edward Heath and Tony Blair) as being German (DVD) intelligence assets. Shrimpton and Christopher Edward Harle (Christopher Story) had also asserted that Tony Blair's establishment political mentor, Roy Jenkins (UK Chancellor of the Exchequer 1967-1970 and British Home Secretary 1974-1976), was a Deutsche Verteidigungs Dienst agent.
(4) Gag orders were executed against insiders with veridical information willing to back Shrimpton in court. These orders carried a realistic threat of prosecution in the UK if the people gagged were to come forward with pertinent evidence.
(5) The diplomatic relationship between the United States and the UK was significantly damaged following the receipt of Shrimpton's information. NEST Nuclear Emergency Support Teams from the US are said to have launched an operation which secured the nuclear weapon (or weapons) from the vicinity of the London Olympic stadium, apparently without official UK knowledge or approval.
____________
A year after Duff's piece appeared in VT, information surfaced about one of the people who had been prevented from giving information in Shrimpton's court case. He was Benjamin Fulford, a professional financial & investigative journalist of thirty years standing, based in Tokyo, Japan.
Fulford placed it on the record, in a formal witness statement dated the 6th December 2015, that he had agreed to give evidence for the defence at Shrimpton's trial in London in November 2014. He intended that this would be done by video-link from Tokyo. The application to hear Fulford's evidence in this way was refused by the court.
Learning this, Fulford arranged to attend the court in person. A seat on Virgin Atlantic Airways flight VA901 from Tokyo's Narita Airport to London Heathrow Airport on Monday 17th November 2014 was booked in his Japanese name (古歩道ベンジャミン).
Fulford's ticket was arranged over the weekend of 15th & 16th November 2014. On the Sunday morning (16th November), he was forced to withdraw from the flight under pressure from the Japanese Finance Ministry. They had scheduled a surprise tax audit overnight.
Fulford believes that this official interference was deliberately timed to prevent him flying to London to give evidence. The evidence he would have given in court involved Japanese national security issues connected with Kursk-sourced nukes used in the tsunami attack on Fukushima in March 2011.
On Sunday 6th December 2015, Benjamin Fulford posted the text of his formal witness statement in the UK Michael Shrimpton case online. It runs as follows:
ATTENTION READERS
We See The World From All Sides and Want YOU To Be Fully Informed
In fact, intentional disinformation is a disgraceful scourge in media today. So to assuage any possible errant incorrect information posted herein, we strongly encourage you to seek corroboration from other non-VT sources before forming an educated opinion.
About VT
-
Policies & Disclosures
-
Comment Policy
Due to the nature of uncensored content posted by VT's fully independent international writers, VT cannot guarantee absolute validity. All content is owned by the author exclusively. Expressed opinions are NOT necessarily the views of VT, other authors, affiliates, advertisers, sponsors, partners, or technicians. Some content may be satirical in nature. All images are the full responsibility of the article author and NOT VT.