Press TV: An oil tanker of reported Emirati ownership has been unaccounted for in the Persian Gulf for three straight days, a report claims.
The small vessel Riah, which is Panama-flagged, went off radars on Saturday, the Associated Press reported on Tuesday.
The agency said the tanker has turned off its transponder.
It also cited an unnamed Emirati official as saying that it "did not emit a distress call" either. The official also said the ship was "neither UAE-owned nor [UAE-]operated" and carried no Emirati personnel.
"We are monitoring the situation with our international partners," the UAE official added though.
The 58-meter-long tanker would usually freight between Dubai and Sharjah, AP said.
The ship's registered owner, the Dubai-based Prime Tankers LLC, told AP it had sold it to another company called Mouj Al-Bahar.
AP contacted the latter firm but was notified that it was not running any ships at all.
Samir Madani, the co-founder of shipping monitoring website TankerTracker.com, told Emirati paper The National that tracking Riah using satellite images was difficult because of its small size. He added yet, "Hopefully, it will pop up soon and everyone will be OK and nothing will have happened." and from RT:
Mystery in the Persian Gulf: Vanishing oil tanker near Iran fuels speculation
Sailing through the Strait of Hormuz, an Emirates-based oil tanker has vanished (from the radar). With the strait a flashpoint for US-Iran tensions, is Tehran to blame?
The Panamanian-flagged oil tanker 'Riah' usually transits oil from Dubai and Sharjah to Fujairah, a trip of just under 200 nautical miles that takes a tanker like this just over a day and a half at sea. it reported its position off the coast of Dubai on July 7.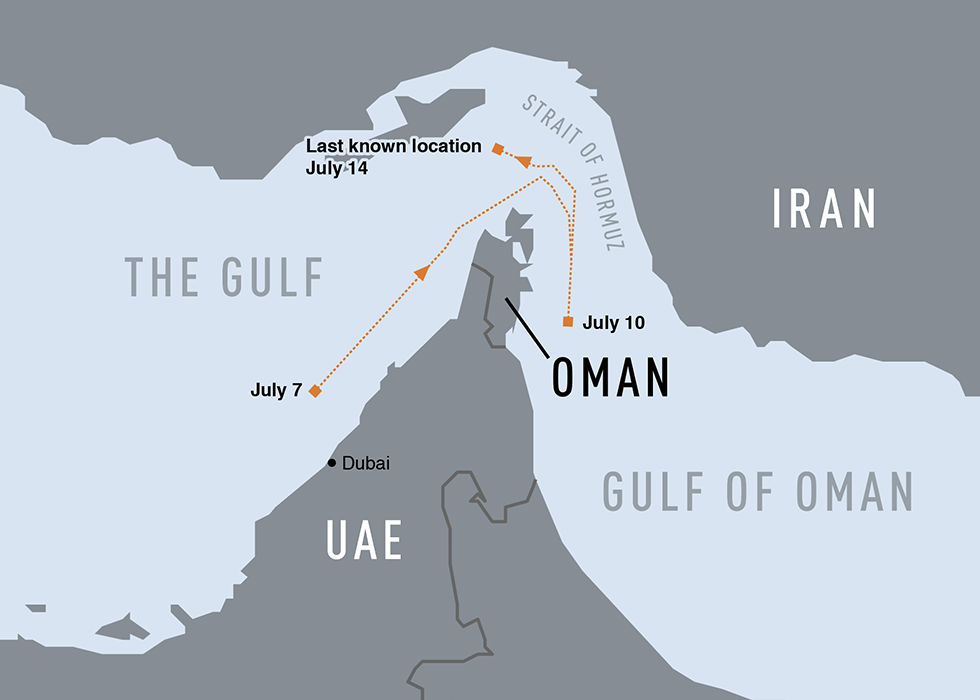 However, while passing through the Strait of Hormuz on Saturday night, the vessel's tracking signal abruptly turned off just before midnight, after it deviated from its course and pointed towards the Iranian coast. According to marine tracking data, the signal has not been turned on again since, and the ship has essentially vanished.
ALSO ON RT.COMUK and Iran talk oil tankers: Zarif insists on immediate release, Hunt gives conditionsSo what happened? With US-Iranian tensions bubbling, and Iran blamed for several attacks on oil tankers near the strait in recent months, attention turned to the Islamic Republic. Israeli media picked up the story on Tuesday, and framed it as another development in the ongoing saga, highlighting Iranian Supreme Leader Ayatollah Ali Khamenei's vow on Tuesday to respond to Britain's seizure of an Iranian tanker near Gibraltar earlier this month.
A spokesman for the shipping company that owns the 'Riah' – Sharjah-based Mouj-al-Bahar General Trading – told TradeWinds that the ship had been "hijacked" by Iranian authorities. CNN reported that the US intelligence community "increasingly believes" the tanker was forced into Iranian waters by the naval wing of Iran's elite Islamic Revolutionary Guard Corps, but has not revealed its sources.
CNN has learned: US intel increasingly believes UAE tanker MT RIAH forced into Iranian waters over the weekend by #IRGC naval forces. UAE isn't talking. Some Gulf sources say ship simply broke down/towed by Iran. US says tho no contact with crew. Last location Qesham Island.
However, Tehran has not acknowledged the disappearance of the 'Riah,' even to deny the alleged 'hijacking.' Nor has the US Fifth Fleet, which patrols the region and has seen its presence bolstered by B-52 bombers and thousands of troops in recent months.
Foreign provocation is another explanation that will likely be thrown around. In light of recent news, the idea that Iran would interdict a tanker is one that will be taken seriously, but the United States has had ample opportunity to take military action against Iran recently.
President Donald Trump said that he was "cocked and loaded" to strike Iran last month after Tehran downed an American spy drone it said was flying in its airspace, but ultimately called off the attack. In short, if either side wished for war, another provocation would likely be unnecessary.
ALSO ON RT.COMNetanyahu compares EU approach to Iran with 'appeasement' of Nazi Germany before WWIIWith provocation unlikely and Iranian responsibility as yet unknown, there are other reasons why a ship might simply vanish. Israeli website TankerTrackers.com compiles reports of ships it believes are switching off their trackers to dock in Iranian ports and load up on oil, in violation of American sanctions. The site reported a Chinese vessel – the 'Sino Energy 1' – disappearing late last month near Iran, before reappearing fully loaded and heading the opposite direction six days later. It is currently passing Singapore en route back to China.
However, an Emirates-based ship is extremely unlikely to be trading oil with Iran, given the Emirates' political differences with Tehran and close alliance with Saudi Arabia, the world's second-largest oil producer and largest exporter.
Further complicating matters, an Emirati security official told local media that "the tanker in question is neither UAE owned nor operated, does not carry Emirati personnel, and did not emit a distress call. We are monitoring the situation."
With conflicting reports circulating and nothing concrete yet, the whereabouts of the 'Riah' is as opaque as the crude oil it carries. and Sputnik:
The tanker, which was making its way through the Strait of Hormuz, stopped reporting its location over two days ago.
Oil tanker Riah, which, according to vessel location tracking websites, stopped transmitting signals on its location in the early hours of 14 July, didn't issue any emergency signals, a highly-profile Emirate official told Al-Arabiya on Tuesday.
"The oil tanker is not owned, and nor is used by the United Arab Emirates, it hasn't trasmitted any SOS signals," the speaker told the television channel, busting reports that the vessel had changed its course and got lost in the Strait of Hormuz off the Iranian coast.
Earlier in the day, an unnamed US defense official told The Associated Press that America "has suspicions" that Iran seized an oil tanker based in the UAE.
The 190-foot MT Riah, carrying the flag of Panama, was last mapped in the vicinity of Iran, near the island of Qeshm, which hosts a local Revolutionary Guard base, according to Haaretz.
According to Dr Ali Reza Rezahah, expert on US international politics, political observer and columnist for the Iranian Supreme Leader's Analytical and expert centre, it is necessary to understand where and where from the tanker was moving, why it disappeared and where it ended up.
"Another issue is that the vessel reportedly belongs to the UK, but has a flag of Panama and carried cargo for the Emirates. If the ship is really an Emirate one, why did they state that they have nothing to do with it?"
The analyst went on to say that whatever happens in the Strait of Hormuz, Americans always point a finger at Iran's "complicity," use Photoshop and photo editing.
"This happened to the tanker in Fujaira," he continued adding:
"When during a visit of the Japanese prime minister to Iran two tankers exploded, the US again pointed at Iran – although it rescued the crew (the incident that occurred on 13 June in the Gulf of Oman – in the waters between Iran, the UAE and Oman; Iran rescued 44 people at the time – Sputnik.)"
Rezahah is certain the US is striving to make the Strait of Hormuz, which many lead to the creation of an anti-Iranian international coalition.  "Unfortunately, they are creating such incidents themselves, in a bid to frighten Iran, but at the same time they are unable to ground not a single instance of the Islamic Republic having anything to do with the attacks."
Oil tankers have been lately targeted in a number of sabotage attacks in the area. Four tankers in the Gulf of Oman, belonging to Norway, the UAE and Saudi Arabia, were left crippled in a series of  explosions that damaged their hulls in May 2019.
While an investigation by the UAE has failed to determine who masterminded the "sabotage", the US has accused Iran of it, with the latter flatly denying the claims. Iran has denounced alleged false-flag operations directed against it, warning that they lead to instability in the region.
Along with oil tanker sabotages, the Persian Gulf region became central in a standoff over Iran's embattled nuclear deal with world powers, with one of Iranian tankers being seized in early July by British Marines in Gibraltar. The Iranian supertanker Grace 1 was stopped on suspicions that the vessel was transferring crude oil to Syria from Iran in violation of EU sanctions, as Iran stepped up efforts to push for better conditions under the 2015 deal that the US unilaterally pulled from in May 2018.
Press TV is a 24-hour English language news and documentary network, affiliated with Islamic Republic of Iran Broadcasting (IRIB).
IRIB is state-owned but independent of the Iranian government in its management and is the only legal TV and radio broadcaster inside Iran. IRIB's head is appointed directly by the supreme leader, Ayatollah Ali Khamenei, and is considered to be close to the country's conservative political faction. Press TV is headquartered in Tehran with offices and bureaus around the world; including London, Beirut, Damascus, Kabul, and the Gaza Strip.
*All posts on behalf of PressTV are made by Jim W. Dean
ATTENTION READERS
Due to the nature of independent content, VT cannot guarantee content validity.
We ask you to
Read Our Content Policy
so a clear comprehension of VT's independent non-censored media is understood and given its proper place in the world of news, opinion and media.
All content is owned by author exclusively. Expressed opinions are NOT necessarily the views of VT, other authors, affiliates, advertisers, sponsors, partners or technicians. Some content may be satirical in nature. All images within are full responsibility of author and NOT VT.
About VT
-
Read Full Policy Notice
-
Comment Policy