By Gordon Duff, Senior Editor
The article below, and I find this crap every day, bashes Americans for using air conditioning. First of all, I live in a European climate in summer, right off Lake Michigan. I used air conditioning, powered by geothermal, on one floor only for 2 days, that's it.
However, millions here do use it, summering in Phoenix is no joke. Back in the early 60s, my parents moved to Florida, and I remember the lesson my dad gave me, if you use air conditioning, you become a prisoner.
Let's go back to one of the hottest summers in history (other than 1988), and that was 2003. I was living in Paris at the time, down in the 5th. The building was stone with an open courtyard, and there was good cross ventilation. Of course, the building was also 190 years old as well.
That summer we saw Parisians flee the city. Problem was, many "Parisians" live with their parents; an apartment the size of a postage stamp, like mine, costs an insane amount.
While the young went to cooler climes, thousands of elderly died, many of them died of thirst as it was too hot outside for them to get to local stores to buy Perrier. They died because they wouldn't drink tap water. If only I were kidding, and I mean thousands dead.
Then the other problem, why no air conditioning. It was illegal. It was illegal to run your dishwasher, a nasty little table top thing compared to the Miele and Bosch we use here, because of continual "brown outs." Power went out every single day.
What did you have instead?  Well, you could open windows, but not run fans. The smell of Paris, the endless tons of dog excrement that covers the sidewalks, mixed with urine and vomit, is quite fragrant.
Britain is finally learning about public toilets, not in London, but elsewhere. Paris has a handful that close at 10pm and take a coin few have. Germany is worse, they don't use toilets there. I have family there; in our town they tore down 3 half timbered homes, incredible buildings, to put up the first public/pay toilet in a town the Romans built with, mind you, free public baths and toilets 2000 years before.
In Germany at least we get power; in France, where nuclear cooling towers dot the landscape, their power grid is worse than Syria's.
The French get a bad rap for sure, these are nice people. Some work incredibly hard, some hardly work at all, oh…just like America. Still, much said about the French is false.
To escape heat in Europe, first try is Southern France, which is cooler to an extent. In 2003, that was a fail as I moved in with friends in Fanjeaux. After a couple of days, I drove across France and Switzerland, a bit of Austria and showed up at the US Army's facility in Garmisch. At 6000 feet we had 80 degrees and, of course, air conditioning and ungodly good food. We have family there too and part-time unpaid work; I am a cook, Carol waits tables at a local restaurant. Better than on the Mosel where I sit in a wine shop all day talking to English and Belgian tourists.
Europeans are really good at putting Americans to work.
What we are really writing about today is a small but visible portion of the Russian, or better "fake Russian" press, Sputnik and RT. Still, they publish news censored in the US and get many stories right. What has happened is that it takes 5 seconds to see they have been compromised.
It matters so much because they are important. They are heavily funded, have some excellent staff, yet now kowtow to the American right, are clearly Zionist. By "Zionist," I mean that they publish fake stories favoring Israel, even when Russia is fighting Israel in the Middle East.
Russia is sided with Iran, Syria and Yemen, all of which are under military attack by Israel where Russians have been killed by Israelis (even Yemen).
By siding we mean "lying." It is OK to favor Israel, maybe not morally correct by most standards, but not insane. Yet almost all who do favor Israel lie continually. Oddly, the Israeli press, on the whole, lies less than others, except for military censorship over the press where Israel's military losses are covered up.
You see, the IDF has no combat experience, while all those they love lobbing missiles at do. That will turn out to be a big problem at some point, if things go as expected.
So, the Russians love to tell Americans how lazy we are. Most Americans only know Russia from their wonderful YouTube (a censored Zionist medium that favors terrorists) videos of car crashes. Russians are nice as well, we just complain when they are victimized by their own media, not all of it mind you, but their English language media. We complain because they used to tell the truth, as "last man standing" and now that's left to VT and we operate with "0" cash and under constant investigation for our ties to the Russian media which we now differ from so greatly. Oh, the Irony of it.
Sweaty and proud: Why Europe doesn't cool itself off with air conditioning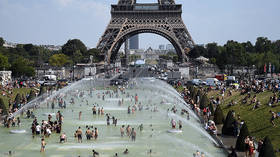 Northern Europeans have traditionally looked down on their American cousins for relying on home air conditioning. However, with temperatures rising they're starting to feel the heat, and beginning to embrace the American way.
From the muggy swamp of Washington DC to the arid heat of Texas, America is the land of air conditioning. AC units hum away outside 90 percent of homes, restaurants, and offices across the land, and few Americans have to subject themselves to the elements for longer than a few minutes at a time. From the air-conditioned home, to the air-conditioned car, to the air-conditioned office, and then on to the air-conditioned bar for happy hour, life is a series of short walks between cocoons of icy comfort.
ALSO ON RT.COMHit by heat: Extreme measures needed to tackle climate chaos before it's too lateThings are a little different in Europe. While air conditioners are common in the warmer south – the Greeks, for example, depend on them – the Viking-blooded northern Europeans would rather put up with the heat. Some of this, of course, has to do with the region's cooler climate, but even on hot days, Germans, Brits and Dutch will choose to shutter their windows and strip off their clothes before investing in AC, while the French will sooner dip their toes into a public fountain.
In true Protestant style, they argue that air conditioning is decadent and wasteful. In 1992, Cambridge University Professor Gwyn Prins called the US' reliance on chilled air the country's "most pervasive and least-noticed epidemic," while German news magazine Focus suggested earlier this year that people cool themselves off using "a fan, a towel, and a bowl of water" instead.
Indeed, it seems the Germans would rather commute naked than give in to the degeneracy of artificial cooling.
Weil wir #sprachlos sind : Wie würden Sie dieses Bild betiteln?

Als kleine Inspirationshilfe – ein #Zitat des Herren: "Et is halt warm, wa?"

Und jetzt Sie!#Hitze #safetyfirst #LebenAmLimit
5,736 people are talking about this
However, rising summer temperatures look set to test Tommy's stiff upper lip and Fritz's Teutonic stoicism.
This summer saw historic high temperatures scorch the entire continent. Record highs were set in Belgium, France, Germany, the Netherlands, Britain, and several Scandinavian countries. At least 13 people died, and July went down as the hottest month ever recorded by the EU Earth Observation Network.
The Germans begged for relief. Sales of AC units –which had already jumped 15 percent in 2018 – spiked. AC installers had their phone lines flooded with calls, and German electronics retailers Saturn and MediaMarkt scrambled to fill orders. "We are advising customers, if they want to buy a fan, to be very quick, because we expect more heat," warned a spokeswoman for the outlets.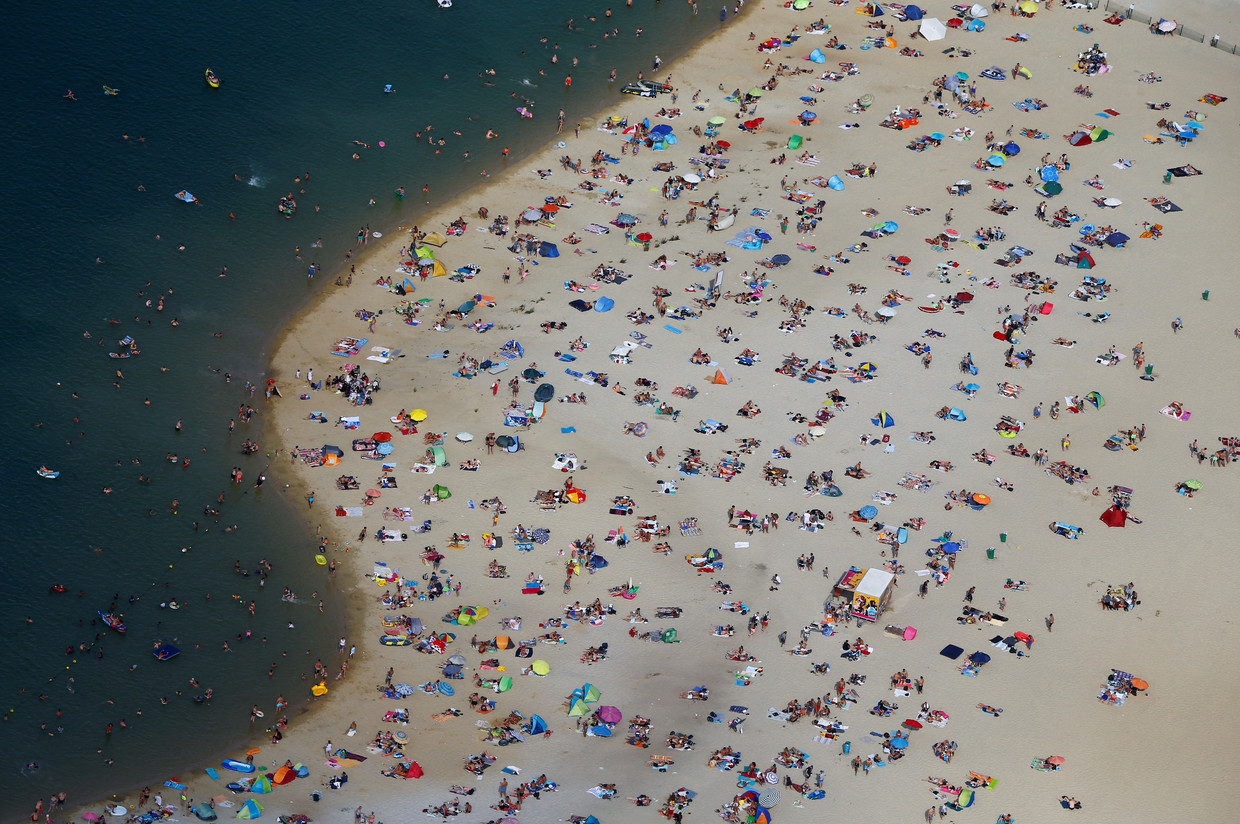 France and Austria saw a similar rise in demand, with French cities even erecting air-conditioned 'cooling rooms' in cities to give sweaty locals access to the reprieve of air conditioning. That's a bold move from the French, who only artificially chill shopping malls and larger offices, despite their country usually getting a hotter summer than most of its neighbors to the east. Perhaps they fear that by making the workplace livable in summer they might have to do away with their sacred two-hour lunch breaks.
In the UK, the US-based National Sleep Foundation went as far as warning people against sleeping in their cars with the AC on. All across Europe, the parched public did what they could to beat the heat.
ALSO ON RT.COMMunich's topless women spark heated debate about nudity as temperatures soar across EuropeForeign media looked on with a mixture of amusement and concern. "What makes Europe's heat wave so insufferable?"asked CNN: "No AC.""Without the air-conditioner, it is hell," wrote the Irish Times, its writers basking in the natural air conditioning offered by Ireland's frigid climate.
In Western Europe, opposition to air conditioning isn't all about physical resilience. There's also bucketloads of green guilt. AC units are seen as power hogs (though the typical modern unit only adds around 100 euros to a household's annual electricity bill) and, as demand rises, governments fret over the environmental damage caused by the refrigerant gases they use. While units are flung up across Asia with feckless abandon, arcane EU regulations mandate that systems in Europe are filled only with the least harmful refrigerants, and regularly inspected for leaks.
Germany's Green Party –which enjoyed a modest bump in regional elections over the weekend– has ignored air conditioning as a method of cooling off. Instead, the party called over the summer for the construction of more green spaces, claiming that "trees, parks, green open spaces and paths" provide natural "cooling air-conditioning systems" for towns and cities.
All of this is fine to debate with cool heads in cool weather, but when the thermometer hits 42.6 degrees celsius (108.7 fahrenheit) in Saxony, Germans will likely crucify any politician suggesting they sit under a tree.
For all their cultural resistance to comfort and ecological hand-wringing, all it looks set to take is another sweltering summer for the Europeans to learn to stop worrying and love the chill.
By Graham Dockery, RT
VT Editors is a General Posting account managed by Jim W. Dean and Gordon Duff. All content herein is owned and copyrighted by Jim W. Dean and Gordon Duff
ATTENTION READERS
Due to the nature of independent content, VT cannot guarantee content validity.
We ask you to
Read Our Content Policy
so a clear comprehension of VT's independent non-censored media is understood and given its proper place in the world of news, opinion and media.
All content is owned by author exclusively. Expressed opinions are NOT necessarily the views of VT, other authors, affiliates, advertisers, sponsors, partners or technicians. Some content may be satirical in nature. All images within are full responsibility of author and NOT VT.
About VT
-
Read Full Policy Notice
-
Comment Policy