Amnesty International blames Turkey
Kurdish Red Crescent investigates
on prohibited weapons' use:
the shocking video in the hospital
SDF spokesman claims many casualties
since the cease-fire agreement

by Fabio Giuseppe Carlo Carisio for VT Italy
«The Turkish military forces and their allies have shown complete disregard for civilian lives, and launched deadly illegal attacks on residential areas that killed and wounded civilians».
Amnesty International once again called on Turkey to end abuses, hold perpetrators accountable and protect civilians living under its control. «Turkey cannot evade responsibility by outsourcing the commission of war crimes» said Amnesty International Secretary-General Komi Naidu.
read more SARA, THE FIRST CRISTIAN CHILD KILLED BY SHELLS
Between 12 and 16 October, the organization collected witness testimony from 17 people, including medical and rescue workers, displaced civilians, journalists and local and international humanitarian workers, as well as video analysis and verification. Review medical reports and other documents.
«Turkey's military offensive in northern and eastern Syria has destroyed the lives of Syrian civilians who have once again been forced to flee their homes and live in constant fear of indiscriminate shelling, kidnapping and murder» said Amnesty International who considers Turkey responsible about the actions of Turkey gangs' Syrians, who support them, arm them and guide them.
read more ERDOGAN ATTACKS ROJAVA FOR HELPING JIHADIST AND ISIS PRISONERS
Naidu pointed out that Turkey has so far granted these mercenary groups the freedom to commit serious violations in Afrin and elsewhere, as Gospa News reported in prevoius items. This heavy claims accuse the soldiers of islamic dictator Recep Tayyip Erdogan of many war crimes. The Kurdish Red Crescent, further, has opened an investigations about «6 patients suffering suspicious burn wounds».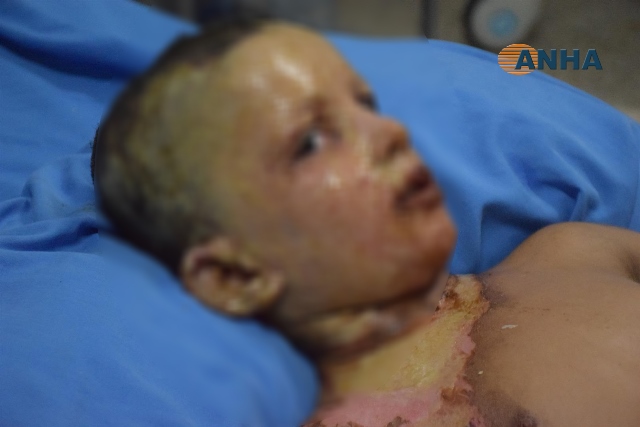 It «cannot confirm use of chemical weapons at this time, working on this with international partners (some pictured in report)» anyway the account of many injuried to Anha network in the Hasaka hospital and their photos demonstrate the alleged use of very dangerous white phosphorus during the Turkish invasion of Royava's Kurdish area for the creation of a vaste safe-zone, large more than Lebanon with an extension of 13.800 kmq (32 km on depth from Turkish border).
read more THE ERDOGAN'S FALSE TRUCE FOR JIHADISTS ATTACKS
Meanwhile the spokesman of the Syrian Democratic Forces, Kino Gabriel, has just issued a public opinion statement on the declared ceasefire and violations by the Turkish occupation army and its jihadist mercenaries of Ahrar al Sharqiya (TFSA) qaedist group. As we have forecast in the previous item.
THE CEASE-FIRE BROKEN BY TURKS
«On the basis of Thursday's ceasefire resolution, all the battlefields of our forces have entered into legitimate defense since October 17 at 10 pm. Only in response, our units have not conducted any military operation in the occupied or other war zones. However, attacks by Turkish occupation army with artillery and reconnaissance planes, as well as attacks by mercenary groups, did not stop at Serekaniye/ Ras Al Ain front. Since then, 13 fighters have martyred as well as 5 civilians» refered Gabriel.
read more THE ALLIANCE BETWEEN ASSAD'S ARMY, RUSSIAN AND KURDISH SDF
«We call on all parties, in particular the parties to the ceasefire resolution, to act in accordance with the resolution, and affirm the right of our forces to respond to attacks within the framework of the legitimate right of defense» added the SDF spokesman.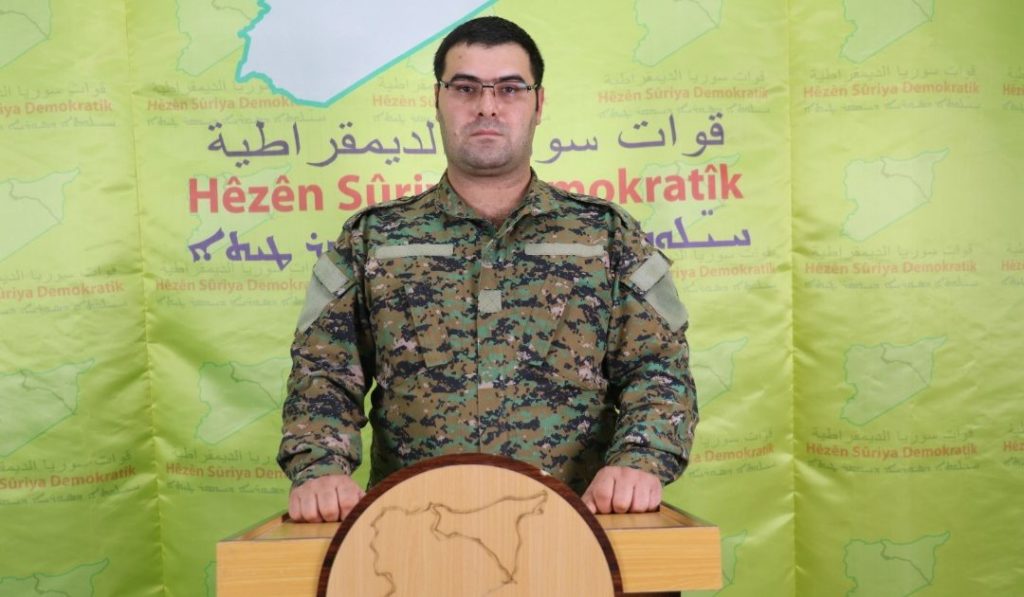 The Syrian Democratic Council too denounce the truce breaking and insists on the principle of preserving the lives of their people and their abilities and stop the state of displacement.
«At the request and approval of the SDF, and with the mediation of the United States, an immediate ceasefire agreement was reached last night between the SDF and the Turkish state along the span between Serekaniye/ Ras al-Ain and Girê Spi/ Tal Abyad. The Syrian Democratic Forces have been committed to it since yesterday night at 22.00 local time to the moment, while the Turkish state forces and their accomplice militias did not abide by this resolution. This morning; however, it targeted the village of Umm al-Khair, southeast of Ras al-Ain, killing five martyrs from SDF as well as a number of civilians. The shelling continues, hindering access to the wounded and relief to civilians»
read more SYRIAN WAR – DAILY MILITARY REPORTS
The Syrian Democratic Council turn to the world public opinion «for stopping the catastrophic displacement estimated at hundreds of thousands since the beginning of the Turkish invasion of northern Syria. Based on the principle of the unity of Syria and the integrity of its territory, we agreed to a ceasefire; but Ankara and its occupation army and thousands of its mercenaries disregarded this agreement and did not abide by it and continued their aggression as if it did not happen at all».
read more CIA SECRET FILE: THE REGIME-CHANGE PLANNED SINCE 1983
«We therefore call on the United Nations, the UN Security Council, the Arab League, and in particular the United States of America, as the mediator of this agreement and its sponsor, to start from its responsibilities and move immediately to send international observers in order to maintain the temporary ceasefire agreement and make it always conducive to the complete withdrawal of the Turkish occupation army and its armed groups are committing genocide, as Amnesty International has confirmed in its report» SDC has written in a statement yesterday.
CHILDREN SUFFERED BURNS. THE WITNESS: «PHOSPHORUS WEAPONS»
Under investigations by Kurdish Red Crescent, according to Rojava Information Center, there are above all the aleged use of prohibited chemical weapons for wich some civilians are currently receiving treatment at the People's Hospital in the city of Hassakeh canton related to Jazeera region in the north and east of Syria.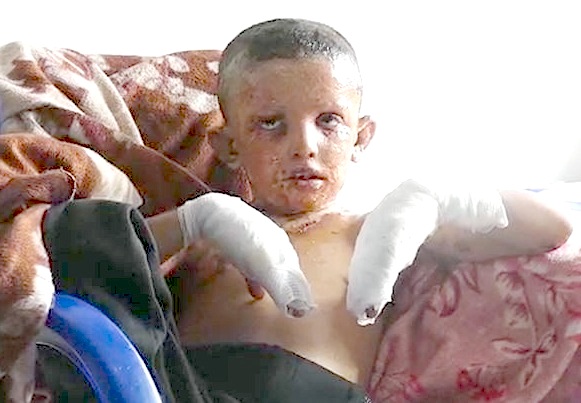 «One civilian suffered burns due to the Turkish occupation army targeting a convoy of civilians that was heading to support the resistance of Serekaniye several days ago» read on ANHA website.
"The type of weapon was phosphorus," Sipan said in an interview on Friday. "Although there are civilians hundreds of feet away from me, they also suffered burns," said Sipan, whose body was almost completely burned.
Another burn victim said they were shelled when they were heading to Aliya village in the western countryside of Tall Tamr.
«After the failure of the Turkish occupation to occupy the cities of northern Syria, especially the city of Serekaniye, as a result of the heroic resistance shown SDF fighters showed in the resistance of dignity, the occupation and its mercenaries resorted to the use of internationally prohibited weapons» adds ANHA.
«Every day we receive dozens of people injured in the attack. The Turkish occupation state uses all kinds of heavy weapons, because many cases are serious» said doctor Fares Hammu.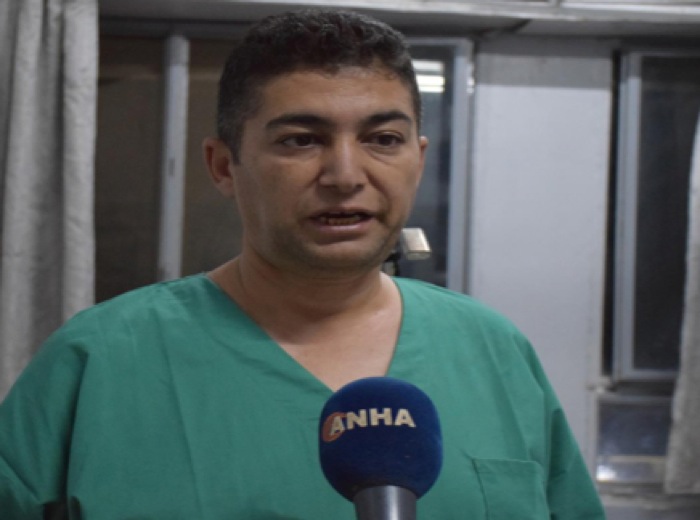 «The type of casualties in civilian casualties is burn fragments, but today there are some Western burns so far. We do not know the cause and how the burning took place. We expect the Turkish state to use internationally prohibited weapons such as chemical weapons» he said.
As we explain in a previous item the Erdogan's truce in Rojava is only a way to calm the international community. The islamic dictator's war crimes go on.
read more JOUNG KURDISH POLITICIAN KILLED BY JIHADISTS
ASSAD: «SYRIA WILL RESPOND TO THE TURKISH ASSAULT»
Syrian President Bashar al-Assad has demanded a complete halt to Turkey's operation against Kurdish forces in northeastern Syria, and a full withdrawal of foreign forces illegally present in Syrian territories.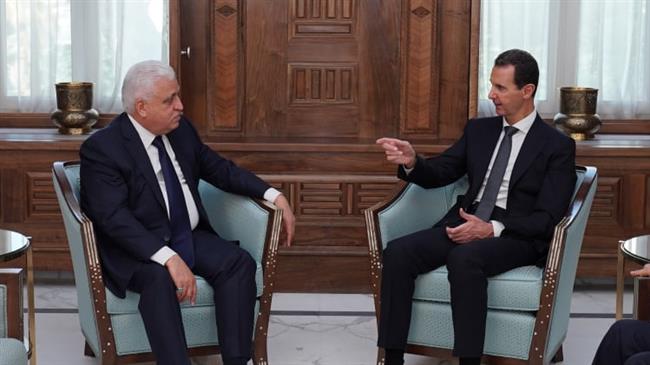 During a meeting with a Russian delegation headed by the Kremlin's special envoy on Syria, Alexander Lavrentiev, in Damascus on Friday, Assad said efforts must be directed at ending Operation Peace Spring and the pullout of all illegal forces, including the Turkish and American soldiers, from Syrian territories since they are considered occupying forces under international conventions.
read more THE ALLIANCE BETWEEN ASSAD'S ARMY, RUSSIAN AND KURDISH SDF
«No matter what false slogans could be made up for the Turkish offensive, it is a flagrant invasion and aggression. Syria has frequently hit (Turkish-backed) proxies and terrorists in more than one place. Syria will respond to the assault and confront it anywhere within the Syrian territory through all legitimate means available» Assad told the visiting Iraqi National Security Adviser Falih al-Fayyadh in Damascus.
And the russian warplanes and troops, that patrol the Syrian border in the area leaved by Us army, are ready to support Syria.
Fabio Giuseppe Carlo Carisio
© COPYRIGHT GOSPA NEWS
no reproduction withour authorization
MAIN SOURCE
SYRIA, ALL REPORTS BY GOSPA NEWS
Fabio is Director and Editor of Gospa News; a Christian Information Journal.
Fabio Giuseppe Carlo Carisio, born on 24/2/1967 in Borgosesia, started working as a reporter when he was only 19 years old in the alpine area of Valsesia, Piedmont, his birth region in Italy. After studying literature and history at the Catholic University of the Sacred Heart in Milan, he became deputy director of a local newspaper and specialized in judicial reporting.
For about 15 years he is a correspondent from Northern Italy for the Italian newspapers Libero and Il Giornale, also writing important revelations on the Ustica massacre, a report on Freemasonry and organized crime.
With independent investigations, he collaborates with Carabinieri and Guardia di Finanza in important investigations that conclude with the arrest of Camorra entrepreneurs or corrupt politicians.
In July 2018 he found the counter-information web media Gospa News focused on geopolitics, terrorism, Middle East, and military intelligence. He is a correspondent from Italy for the French news site Reseau International.
He worked for many years for the magazine Art & Wine as an art critic and curator.
ATTENTION READERS
Due to the nature of independent content, VT cannot guarantee content validity.
We ask you to
Read Our Content Policy
so a clear comprehension of VT's independent non-censored media is understood and given its proper place in the world of news, opinion and media.
All content is owned by author exclusively. Expressed opinions are NOT necessarily the views of VT, other authors, affiliates, advertisers, sponsors, partners or technicians. Some content may be satirical in nature. All images within are full responsibility of author and NOT VT.
About VT
-
Read Full Policy Notice
-
Comment Policy