Russian Aerospace Forces will receive a "Super-Defender." Already this year, serial production of an updated version of the Su-34 bomber will begin (NATO designation Fullback – "Defender"), Eurasia Dary reports citing BulgarianMiltary.com.
The machine is assigned the HBO index – "new features". The aircraft will be equipped with modern ammunition, improved electronic warfare equipment, and unique reconnaissance containers. Modernization is based on the experience gained during the hostilities in Syria.
Deliveries of the Su-34 NVO will begin this year – this follows from the protocol of the joint decision of the Ministry of Defense, Novosibirsk Aircraft Plant and Sukhoi Design Bureau (the document is at the disposal of Izvestia).
https://www.youtube.com/watch?v=gHGOcPb-KkA
"The bomber has excellent characteristics," the honored test pilot, Hero of Russia Igor Malikov told Izvestia. – The potential of this machine is far from exhausted. Equipping it with reconnaissance equipment will significantly increase the capabilities of our troops in the tactical zone.
"There are no analogues of the Su-34 in the world," the expert believes. – At one time, the Americans in the same class had the F-11, but in the late 1990s, they abandoned it. The Russian aircraft is optimal for combat use. Modern stealth bombers can carry much fewer weapons. And the Su-34 is able to take up to eight tons on an external sling.
Su-34 bombers have been deployed in Syria since the first days of the Russian operation in 2015. Initially, one unit of four aircraft was transferred there. In the most intense periods of the defeat of the IS (terrorist organization, banned in the Russian Federation) at the end of 2017, up to 14 Su-34s were simultaneously visible on satellite images of Khmeimim.
Aircraft were actively used for the use of precision-guided weapons. Including corrected air bombs KAB-500S. Specialized striking machines hit well-defended targets, including small ones: terrorist mountain bunkers, oil production facilities seized by them, and even small armed pickups.
In addition to the updated avionics, weapons, and electronic warfare equipment, Universal Reconnaissance Containers (UKR), created as part of the Sych development work, will appear on the Defenders. They will radically increase the aircraft's ability to detect ground and air targets.
---
Russia's Ka-52 attack helicopter gets broadband communications system – VIDEO
Russia's Kamov Ka-52 attack helicopter is the world's sole gunship that has received a broadband communications suite, which provides for high-speed data transmission, CEO of RTI Group Pavel Laptayev told, Eurasia Diary reports citing Tass News.
"We are developing a broadband communications system for helicopters. It is mounted on the Ka-52 helicopter as a communications suite. The Ka-52 is the world's sole helicopter, which is equipped with the high-speed data transmission system," the chief executive said.
This communications system is also of interest to foreign customers and is already installed on helicopters in their export configuration, Laptayev said.
The Ka-52 'Alligator' reconnaissance/attack helicopter is designated to destroy tanks, armored and non-armored vehicles, manpower, rotorcraft, and other enemy aircraft on the frontline and in the tactical depth, in any weather conditions and at any time.
The 'Alligator' is furnished with modern avionics while its coaxial rotor system and enhanced longitudinal control enable it to effectively maneuver and perform complex aerobatic operations.
Besides, the Ka-52 features the radio-electronic protection system and low signature devices that reduce, dissipate and distort the engines' thermal trace. It also has active countermeasures capabilities.
---
Russia to create submillimeter radars to detect small drones
The technology will be converted into a product within five years, according to the producer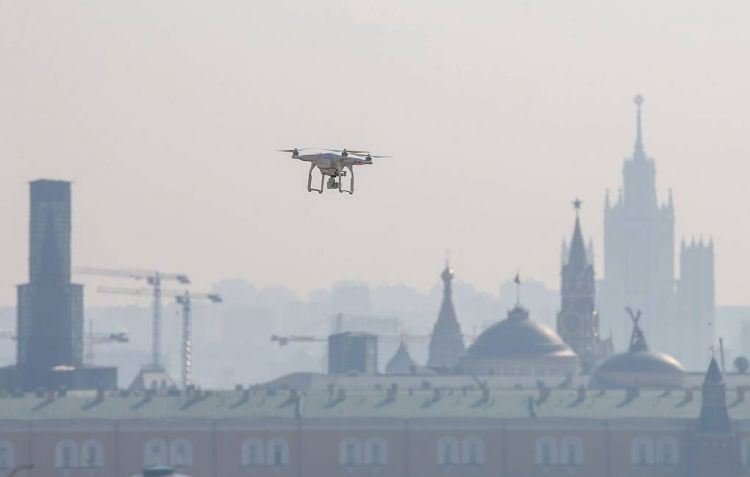 The RTI Joint Stock Company, a developer and producer of high-tech products, will create new radars that operate in the terahertz frequency range and are capable of pinpointing the smallest drone, RTI CEO Pavel Laptayev told, Eurasia Diary reports citing Tass.
"The terahertz technology [featuring radio wavelength below one millimeter] will be converted into a product within five years. These radars can detect small drones, and function in space," Laptayev explained.
According to the CEO, the submillimeter radar enables a beam to be aimed on a relatively small object with extraordinary precision, impossible for other ranges, and identify its shape, material, speed, and trajectory.
Laptayev admitted that RTI managed to achieve significant success in the terahertz range only in 2019, with the company mastering the components for such stations, and learning to identify objects and materials. According to the CEO, the RTI specialists now work on radar software that would swiftly and effectively classify a target and relay this information to the operator.
"This task will take more time than creating a prototype because it requires accumulating data and implementing machine learning methods," the CEO specified.
Small drones are considered a serious threat because they can go unnoticed by conventional radars, especially when flying at low altitudes and low speed. For instance, drones rigged with explosives attacked Saudi Aramco's two largest refineries on September 14, 2019. The blasts and fires caused by the strike sent the world's biggest oil exporter's daily extraction plunging from 9.8 million BPD to 4.1 million BPD.
---
Source EdNews.net:
VT Editors is a General Posting account managed by Jim W. Dean and Gordon Duff. All content herein is owned and copyrighted by Jim W. Dean and Gordon Duff
ATTENTION READERS
Due to the nature of independent content, VT cannot guarantee content validity.
We ask you to
Read Our Content Policy
so a clear comprehension of VT's independent non-censored media is understood and given its proper place in the world of news, opinion and media.
All content is owned by author exclusively. Expressed opinions are NOT necessarily the views of VT, other authors, affiliates, advertisers, sponsors, partners or technicians. Some content may be satirical in nature. All images within are full responsibility of author and NOT VT.
About VT
-
Read Full Policy Notice
-
Comment Policy