US urged to release health info of military athletes who came to Wuhan in October 2019
https://www.globaltimes.cn/content/1183658.shtml
[ Editor's Note: China's Global Times (below) today released the name of Staff Sgt Maatje Benassi, a professional cyclist (woman/Dutch heritage) who participated in the Wuhan games and has, according to the Global Times, tested positive for COVID 19.
Watch an American appear to purposefully spread COVID in Wuhan.
In October, the US military went to Wuhan for the World Military Games. 😡👇 pic.twitter.com/uO6y30V8W1

— Rosemary (@RosemaryLxiao) March 20, 2020
She is also described as an "armed diplomatic driver" with a history of ties to intelligence operations involving key RussiaGate figures.
Benassi was driver for General James Jones, of ShadowNet, (George Webb) and worked for US Army intelligence.  ShadowNet and Psy-Group along with Cambridge Analytica were part of the Mueller investigation, seeking information on their relationships with Paul Manafort (imprisoned) and Donald Trump Jr. (not yet imprisoned).
Other claims, from Russia, say that 67 in the US military have died as of a week ago, but this is from a medical/diplomatic source in Moscow and is without confirmation.
China is asking the US to release information on how many US military who left Wuhan (369 were there) have tested positive.  Note that many could have been infected on the plane returning from China… Jim W. Dean ]
Jim's Editor's Notes are solely crowdfunded via PayPal
Jim's work includes research, field trips, Heritage TV Legacy archiving & more. Thanks for helping. Click to donate >>
– First published … March 25, 2020 – 
Chinese netizens and experts urge the US authority to release health and infection information of the US military delegation which came to Wuhan for the Military World Games in October to end the conjecture about US military personnel bringing COVID-19 to China.
An American journalist claimed one US military athlete in the delegation could be patient zero of the deadly new disease.
George Webb, an investigative journalist in Washington, DC claimed in recent videos and tweets that he believes Maatje Benassi, an armed diplomatic driver and cyclist who was in Wuhan in October for the cycling competition in the Military World Games, could be patient zero of COVID-19 in Wuhan.
[According to] a report by the US Department of Defense official website on October 25, Maatje Benassi has participated 50-mile cycling road race in Wuhan.
Webb also quoted a military lab, the Fort Detrick laboratory that handles high-level disease-causing organisms such as Ebola, in Fredrick, Maryland, which was shut down and moved in July due to unqualified facilities and management system.
Patient Zero from Wuhan, Maatje Benassi, is a Dutch American woman cyclist. Her husband is also a cyclist in the US Atmed Forces (SPAWAR) and believe you be in Wahan in October of 2019. Benny Benassi is Patrient Zero in Holland, and has already made a rap video about Coronavirus pic.twitter.com/u1Z5VuYCaG

— TruthLeaks – Investigative Journalist George Webb (@GeorgWebb) March 22, 2020
His conclusions, although without strong evidence, triggered questions on Chinese social media as it came only days after a petition was submitted to the White House website on March 10 listing some coincidences in time between the Fort Detrick lab's closure and the COVID-19 outbreak.
March 23rd, 2020. Origins of CoronaVirus – Metadata Says Ft. Detrick https://t.co/BfXeloKxFw via @YouTube

— TruthLeaks – Investigative Journalist George Webb (@GeorgWebb) March 24, 2020
Many Chinese netizens have urged the US to test Benassi for COVID-19 and release information on the US delegation.
Li Haidong, a professor of US studies at the China Foreign Affairs University in Beijing, told the Global Times on Tuesday that the US government needs to respond to the controversy and publish the relevant information regarding their health status and infection record to clear public doubts and help with the scientific study on the virus' origin.
Interesting her relative in Holland also has CoronaVirus. https://t.co/Z1C3iTn2Nr

— TruthLeaks – Investigative Journalist George Webb (@GeorgWebb) March 20, 2020
US politicians have been contending the novel coronavirus is "Made in China," while global scientists, including those in the US, have not found strong evidence to prove the virus' origin. Given this situation, it is important to trace any suspicious points, the US delegation to the Wuhan games in this scenario, and find out what really happened, Li said.
COVID-19, a deadly disease caused by the novel coronavirus, has infected more than 330,000 people around the world and killed more than 14,000.
Identifying the origin will help develop effective therapy on the disease. The US should provide information of the delegation members to support related research, Li said.
Earlier in March, Zhao Lijian, an outspoken Chinese diplomat, raised a suspicion on his personal Twitter account that it might have been the US army representatives to the Military World Games who brought the novel coronavirus to Wuhan in October 2019, after a top US health official admitted detecting coronavirus infections on some deceased flu patients.
Zhao urged the US to disclose further information, exercise transparency on coronavirus cases and provide an explanation to the public.
US women finish 8th despite crash in 50-mile cycling road race
By Gary Sheftick, Army News ServiceOctober 24, 2019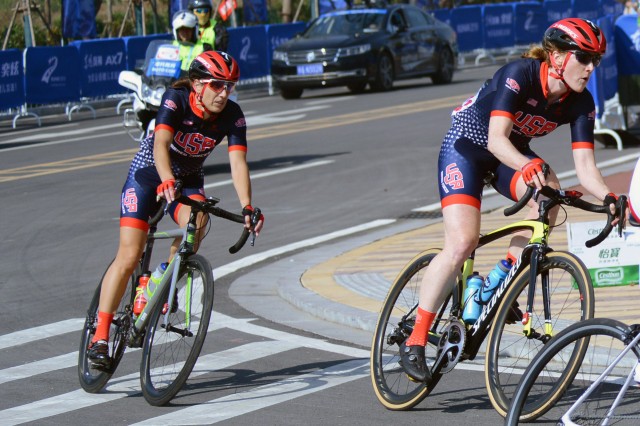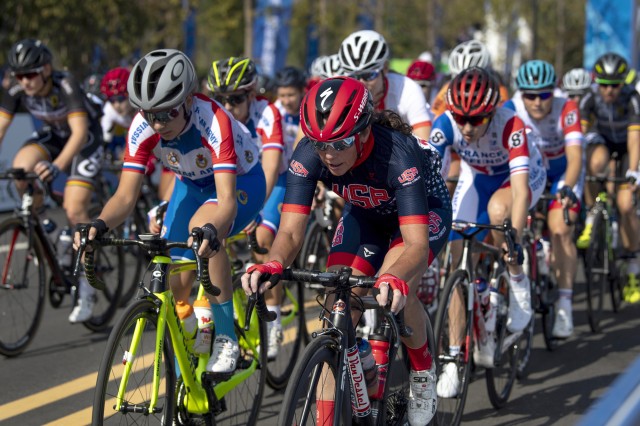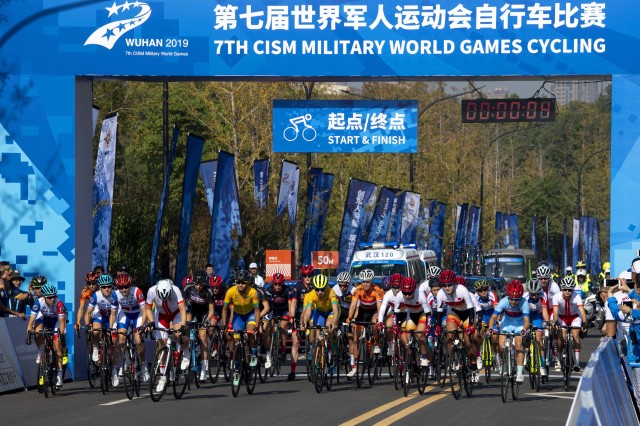 WUHAN, China — A hit from behind on the final lap may have dashed the U.S. Armed Forces' hopes for gold in women's cycling, but bruised ribs and a cracked helmet didn't stop Sgt. 1st Class Maatje Benassi from crossing the finish line.
Benassi led the pack for much of the third and fourth laps in the 50-mile, five-lap road race Sunday during the second day of cycling competition in the CISM Military World Games. She had dropped back to draft a while and was just beginning her final push when the crash happened.
"My plan was to move up on the left," Benassi said. Two more wide right turns were approaching before the finish "and so if you move on the left, you don't have to hit your brakes; you can carry all that momentum — that speed — going into the turn."
CISM, or the International Military Sports Council, holds the games every four years, with more than 100 nations participating in 32 sports. The council is referred to by its French acronym, CISM, because French is its founding language.
As the pack approached the 2-kilometer mark from the finish, "there was a lot of movement going on," she said. "It got really sketchy."
When she went full speed into the right turn, she spotted a white jersey come up from behind. That competitor's front tire hit her back wheel, taking her down.
Her head hit the ground and she heard a click "and I knew I broke the helmet at that point," she said. "My first reaction was, 'I couldn't breathe.'" The impact literally knocked the wind out of her. "I just had to catch my breath, but it wouldn't come."
https://www.army.mil/article/228879/us_women_finish_8th_despite_crash_in_50_mile_cycling_road_race
---
MAATJE BENASSI // CYCLING
Motto: "Just be better"
Sergeant First Class Maatje Benassi, an Army Reserves Motor Transport Operator, was one of the founding members of the U.S. Military Cycling Team (U.S. Military Cycling Team later became USMES). Maatje began riding 22 years ago, competing in legendary races like Redlands and the HP Women's Challenge, which led to a pro career racing on the Veritas Professional Women's Team. In 2008 Maatje enlisted in the Army and put bike racing on hold. "I joined USMES just prior to a deployment and learned how caring the team and the sponsors were while I was downrange in Iraq — I learned what it was like to be part of a cycling family," said Maatje. After leaving active duty Maatje began training again in 2018. Older and wiser but not slower, Maatje completed her first full "comeback" season in 2019 as a Category 1 on the road, track and cyclocross, returning to represent the U.S. Armed Forces for the third time at the CISM Military World Games. In 2020 Maatje will be competing in races on the regional MABRA (Mid-Atlantic Bicycle Racing Association) calendar, and hopes to nab more national and world titles at the U.S. Masters Nationals Road Cycling Championships, U.S. Masters Nationals Track Cycling Championships, and the Masters Worlds Track Cycling Championships.
After 40+ wins as a Pro/1/2 and four masters national championship titles, Maatje shares her favorite racing moment: "I always remember a small hill climb in Golden Colorado that I won three years back-to-back. Short and steep with a mass start, it suited my strengths. I always liked ramping up the pace and seeing my competitors drop away one by one until I crossed the line solo."
We look forward to seeing that climbing magic at the 2020 USMES Tucson Camp, where Maatje will be sharing her tactical and training knowledge with her up-and-coming teammates. When she isn't racing, Maatje has organized the Colorado Springs USMES bicycle giveaway to needy children at Fort Carson. She's also worked with her husband to promote cycling events in California and Colorado including several USMES National Events, stage races, road races, a track series, a local MTB series and two UCI MTB races.
ATTENTION READERS
Due to the nature of independent content, VT cannot guarantee content validity.
We ask you to
Read Our Content Policy
so a clear comprehension of VT's independent non-censored media is understood and given its proper place in the world of news, opinion and media.
All content is owned by author exclusively. Expressed opinions are NOT necessarily the views of VT, other authors, affiliates, advertisers, sponsors, partners or technicians. Some content may be satirical in nature. All images within are full responsibility of author and NOT VT.
About VT
-
Read Full Policy Notice
-
Comment Policy