President Trump cut off his news briefing after a Chinese-American reporter pressed him on why he suggested she "ask China" to respond to her question on coronavirus death rates.
Clearly, when Trump isn't able to deal with women by 'grabbing them by the pussy' he feels so threatened and uncomfotable, he runs away like a spoilt little brat, if those women are not as white as he is, his anger is palpable at their gall in daring to ask him a simple question.
When even the US MSM starts to realise something is badly wrong with Trump, then you realise how obvious it is that this is a deeply disturbed individual who appears to be sufferign a rapid decline into senile dementia.
Trump walks out of press conference after altercation with female reporters
President makes questionable testing claims as experts call for 900,000 Covid-19 tests a day in US
Donald Trump abruptly ended a press conference on coronavirus testing after a testy exchange with a female reporter of Asian descent who questioned why he advised her to ask China about the global death rate. He then sparred with a female CNN reporter before leaving the Rose Garden.
The fireworks ended an otherwise surprisingly subdued presidential news conference in the White House Rose Garden and began when CBS News reporter Weijia Jiang pressed Mr Trump on why he seems, at times, to view the Covid-19 pandemic as a "global race" on matters like countries' death tolls and tests distributed. After not answering the question directly, he advised her to "go ask China" the same question. When he attempted to call on another reporter, Ms Jiang lowered her protective facemask and asked if there was a reason he was asking her – Ms Jiang is of Asian descent. The president did not address the premise of that question, either, other than to say he was instructing all reporters to press China on the virus originating there.
Moments later, CNN's Kaitlin Collins, whom the president had called on, approached one of the microphone stands designated to ask questions, but Mr Trump shot her down several times.
In recent weeks, it has been apparent that both female reporters get under the president's skin. Both often ask tough questions that are critical of the administration's response to the virus.
Mr Trump was unable on Monday to tell Americans when they will have the same access to coronavirus tests as his own White House staff, suggesting the country has "prevailed" on testing despite experts arguing the contrary.
Rather than answer a question on that topic directly, the president, who is media-conscious, opted to criticise the reporter who asked it. "See, we can't win," he said, contending the media would slam him no matter if he did or did not order White House testing after two aides tested positive. "I understand you very well. Better than you understand yourself," he told the reporter.
He also rejected the notions that the White House is awash in Covid-19 and that its coronavirus system did not do its job, saying: "I don't think the system broke down at all. It can happen. It's the hidden enemy. Things happen."
'We have prevailed'
The president also was given a chance by another reporter to clarify this line from his prepared opening remarks, which he repeatedly veered from with ad-libbed remarks: "We have met the moment and we have prevailed." He later said he was referring to the amount of tests that have been administered.
"You never prevail when you have 90,000 people, 100,000 people, when you have 80,000 people [dead] as of today. That's not prevailing," he said as a cool spring breeze blew six American flags positioned behind his lectern in the Rose Garden.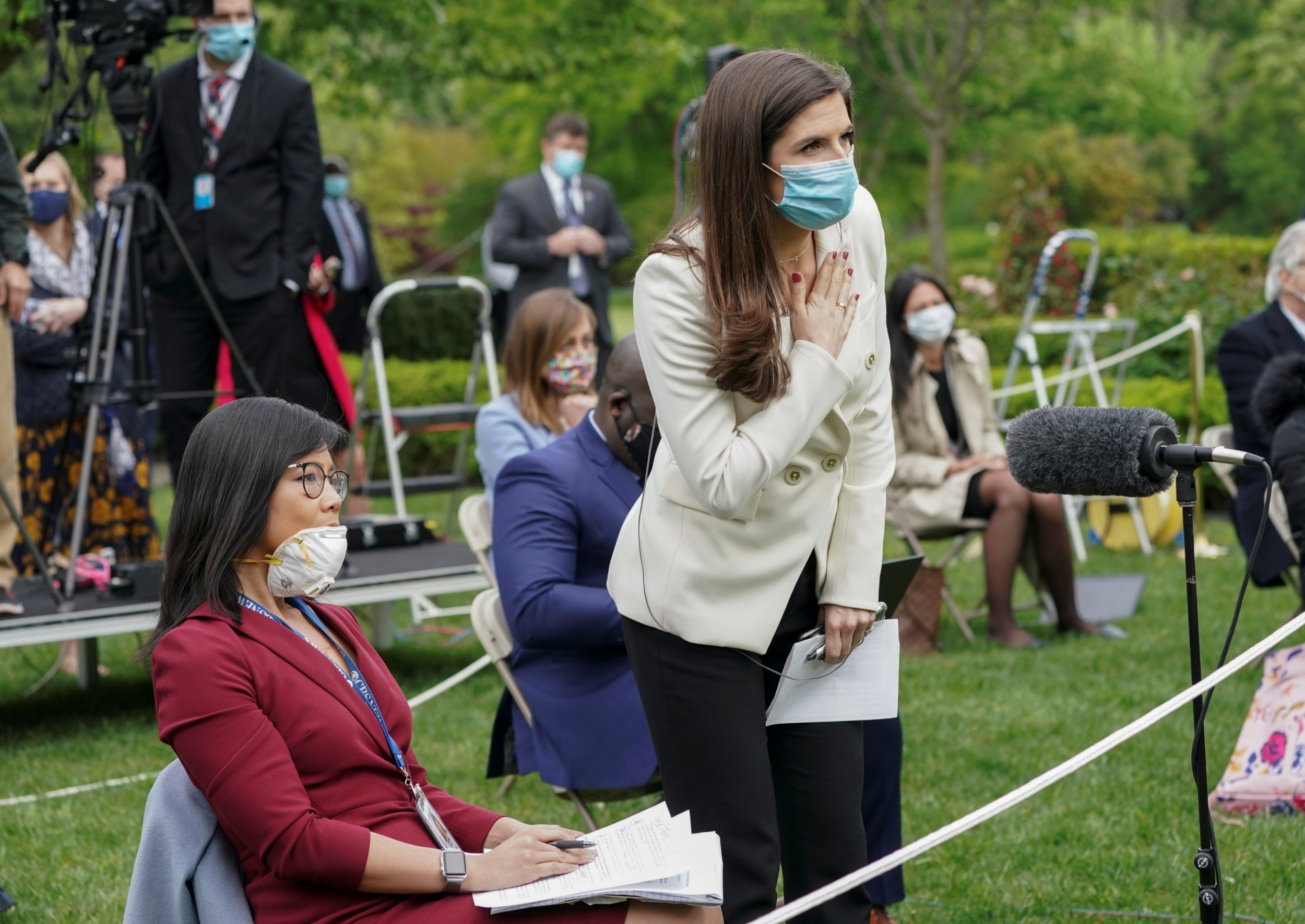 'Unmatched and unrivaled'
He called the federal government's testing effort "unmatched and unrivaled anywhere in the world – and it's not even close".
But when measured in tests per 1,000 people, Spain, Portugal, Belgium, Italy, Switzerland, Germany and Canada have tested at a higher rate, according to Statista, an independent research group.
Mr Trump and Navy Admiral Brett Giroir contended the United States has tested more people than South Korea or the United Kingdom. But the admiral did not include such a slide in his brief presentation; he did include one for total tests, with lines showing the US has administered many more tests than the closest countries.
Both the president and Admiral Giroir claimed that any American who wants to get tested can get a test, but some governors have said that is not the case. And Mr Trump again said that not everyone in the US should get tested; the admiral said he does not get tested each day because he has no symptoms.
The US has been testing around 250,000 people a day, according to the Covid Tracking Project, a nonprofit organisation.
But many public health experts and Democratic officials say that rate is much too low to reopen the entire US economy. For instance, Harvard University's Global Health Institute has called for the US to conduct 900,000 tests daily.
Experts and Democrats say the Trump administration was too slow to help states ramp up testing and laboratory capacities, and they are still calling for the White House to craft a national testing plan.
But the president has said testing is not a magic bullet, saying repeatedly that that "some people" say testing is not necessary. At other times, he has called the United States the "king" of testing, contending it has tested more people than any other country.
VT Editors is a General Posting account managed by Jim W. Dean and Gordon Duff. All content herein is owned and copyrighted by Jim W. Dean and Gordon Duff
ATTENTION READERS
Due to the nature of independent content, VT cannot guarantee content validity.
We ask you to
Read Our Content Policy
so a clear comprehension of VT's independent non-censored media is understood and given its proper place in the world of news, opinion and media.
All content is owned by author exclusively. Expressed opinions are NOT necessarily the views of VT, other authors, affiliates, advertisers, sponsors, partners or technicians. Some content may be satirical in nature. All images within are full responsibility of author and NOT VT.
About VT
-
Read Full Policy Notice
-
Comment Policy