Note: VT investigated Bill Gates.  He is a philanthropist, he gives away billions of his own money.  Trump, on the other hand, and we investigated him, is a thief and steals from poor people just like his dad.  He cheated hourly workers, he cheats the people who work on his golf courses, he doesn't pay his taxes, he dodged the draft.  He has now murdered 100,000 Americans and will kill many, many more.
Bill Gates Becomes a Right-Wing Target
The Microsoft co-founder turned philanthropist has been attacked with falsehoods that he created the coronavirus and wants to profit from it.
In a 2015 speech, Bill Gates warned that the greatest risk to humanity was not nuclear war but an infectious virus that could threaten the lives of millions of people.
That speech has resurfaced in recent weeks with 25 million new views on YouTube — but not in the way that Mr. Gates probably intended. Anti-vaccinators, members of the conspiracy group QAnon and right-wing pundits have instead seized on the video as evidence that one of the world's richest men planned to use a pandemic to wrest control of the global health system.
Mr. Gates, 64, the Microsoft co-founder turned philanthropist, has now become the star of an explosion of conspiracy theories about the coronavirus outbreak. In posts on YouTube, Facebook and Twitter, he is being falsely portrayed as the creator of Covid-19, as a profiteer from a virus vaccine, and as part of a dastardly plot to use the illness to cull or surveil the global population.
The wild claims have gained traction with conservative pundits like Laura Ingraham and anti-vaccinators such as Robert F. Kennedy Jr. as Mr. Gates has emerged as a vocal counterweight to President Trump on the coronavirus. For weeks, Mr. Gates has appeared on TV, on op-ed pages and in Reddit forums calling for stay-at-home policies, expanded testing and vaccine development. And without naming Mr. Trump, he has criticized the president's policies, including this week's move to cut funding to the World Health Organization.
Halting funding for the World Health Organization during a world health crisis is as dangerous as it sounds. Their work is slowing the spread of COVID-19 and if that work is stopped no other organization can replace them. The world needs @WHO now more than ever.

— Bill Gates (@BillGates) April 15, 2020
Misinformation about Mr. Gates is now the most widespread of all coronavirus falsehoods tracked by Zignal Labs, a media analysis company. The misinformation includes more than 16,000 posts on Facebook this year about Mr. Gates and the virus that were liked and commented on nearly 900,000 times, according to a New York Times analysis. On YouTube, the 10 most popular videos spreading lies about Mr. Gates posted in March and April were viewed almost five million times.
Mr. Gates, who is worth more than $100 billion, has effectively assumed the role occupied by George Soros, the billionaire financier and Democratic donor who has been a villain for the right. That makes Mr. Gates the latest individual — along with Dr. Anthony Fauci, the leading U.S. infectious disease expert — to be ensnared in the flow of right-wing punditry that has denigrated those who appear at odds with Mr. Trump on the virus.
"Bill Gates is easily transformed into a health-related meme and figure because he's so well known," said Whitney Phillips, an assistant professor at Syracuse University who teaches digital ethics. "He's able to function as kind of an abstract boogeyman."
Especially since Mr. Gates has sharpened his comments about the White House's handling of the coronavirus in recent weeks.
Bill Gates as scapegoat
Most conspiracy theories, like the viruses they resemble, constantly mutate and have several variants circulating at any one time. Many of these plots and subplots seem to involve Bill Gates, who became a new target of disinformation after gently criticizing the defunding of the World Health Organization. According to the New York Times, anti-vaxxers, members of QAnon and right-wing pundits have seized on a video of a 2015 Ted talk given by Gates — where he discussed the Ebola outbreak and warned of a new pandemic — to bolster their claims he had foreknowledge of the COVID pandemic or even purposely caused it.
A recent variant of this conspiracy theory, particularly beloved by anti-vaccination activists, is the idea that COVID is part of a dastardly Gates-led plot to vaccinate the world's population. There is some truth in this, of course: vaccinating much of the world's population may well be the only way to avoid an eventual death toll in the tens of millions. But anti-vaxxers don't believe vaccines work. Instead some have spread the myth that Gates wants to use a vaccination program to implant digital microchips that will somehow track and control people. The spread of misinformation has meant that ID2020, a small non-profit that focuses on establishing digital IDs for poorer people around the world, has had to call in the FBI. (The Cornell Alliance for Science is partly funded by the Bill & Melinda Gates Foundation.)
QAnon conspiracy theories about the coronavirus pandemic are a public health threat
First there was the pandemic, then came the "infodemic" — a term the head of the World Health Organization defines as the spread of false information about COVID-19.
The most dangerous conspiracy theories about the coronavirus are now part of the QAnon phenomenon. For months now, actors in QAnon have downplayed the severity of the crisis, amplified medical disinformation and have been originators of hoaxes.
The QAnon movement started in 2017 after someone using an anonymous account known only as Q posted wild conspiracy theories about U.S. President Donald Trump on the internet forum 4chan.
QAnon conspiracy theorists believe a deep state cabal of global elites is responsible for all the evil in the world. They also believe those same elites are seeking to bring down Trump, whom they see as the world's only hope to defeat the deep state. QAnon has now brought the same conspiracy mentality to the coronavirus crisis.
As a researcher of online movements like QAnon, I use a combination of data science and digital ethnography to research how extremist movements use technology to create propaganda, recruit members to ideological causes, inspire acts of violence or impact democratic institutions.
Bottom-up approach
The QAnon conspiracies have created an environment of complacency among its followers who aren't taking the risks posed by the virus seriously.
Florida pastor Rodney Howard-Browne, who has given credence to QAnon in the past and has preached that the coronavirus was planned by the Bill and Melinda Gates Foundation, was arrested after holding Sunday services and disregarding federal, state and county orders to limit gatherings to less than 10 people. His conspiratorial beliefs led to his negligent actions, which put hundreds of people from his congregation at risk.
A central component of QAnon is the crowdsourcing of narratives. This bottom-up approach provides a fluid and ever changing ideology. My analysis of Twitter shows from January to March, there was a 21 per cent increase (a total of 7,683,414 posts) in hashtags used by the QAnon community. This means the misinformation they spread has the capacity to reach a wider audience.
For instance, QAnon community influencers on Twitter promoted Miracle Mineral Supplement as a way of preventing COVID-19. The toxic product was sold by the Texas-based Genesis II Church of Health and Healing for US$45. The U.S. Food and Drug Administration had previously issued a warning about the dangerous and potentially life threatening side effects of the supplement.
In January, QAnon was amplifying narratives on 8kun (the internet forum formally known as 8chan), Facebook and Telegram (an encrypted instant messaging plaform) about a false theory that Asians were more susceptible to the coronavirus and that white people were immune to COVID-19. Not only are there racist undertones associated with this disinformation, it minimizes the threat posed by the virus.
Many of the social media accounts driving that baseless story and the #FilmYourHospital campaign belong to followers of "QAnon," a far-right, apocalyptic conspiracy theory that believes Trump is waging a secret campaign against "deep state" enemies and Satan-worshiping Democrats who prey on children. The Twitter user who posted the March 29 video of Mount Sinai Queens has a profile that includes the QAnon slogan "WWG1WGA," which stands for "Where we go one, we go all."
Downplayed threat
From February until the second week of March, QAnon followed the lead of Trump in downplaying the threat of the virus and calling it a hoax. They believed the virus was a deep state plot to damage the president's chance at re-election. The QAnon community said those warning about the pandemic threat were trying to detract from U.S. domestic politics, stop Trump rallies and remove all the economic gains they contended had occurred during the Trump presidency.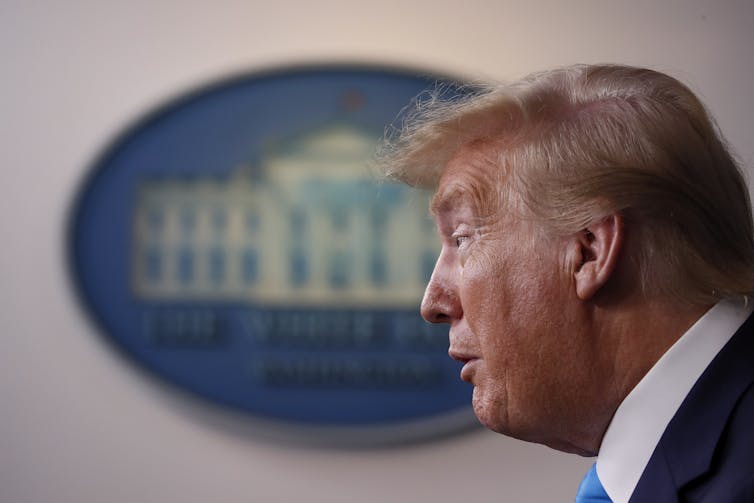 After the WHO upgraded COVID-19 to pandemic status and the U.S. announced it was closing its borders to most people from Europe for 30 days, QAnon changed the narrative again. Suddenly, QAnon thought the pandemic was something to celebrate because it was a cover for the Trump administration's secret plan to arrest deep state agents.
Evangelicals within the the QAnon movement viewed the pandemic as the promised coming of the Kingdom of God on Earth. David Hayes, who is better known as the Praying Medic and an influencer in the QAnon community with 300,000 YouTube subscribers, said in a March 14 livestream that there was no reason to be concerned about COVID-19. Hayes reassured his viewers that they may not be affected by the disease because this was "spiritual warfare" — only those who have not been chosen by God will be affected by the disease.
The person known as Q, who spawned the QAnon movement, didn't post anything online about COVID-19 until March 23. Up until then, all of the medical disinformation, hoaxes and downplaying of the pandemic had been sourced from QAnon influencers and community.
Alex Friedfeld, an investigative researcher for the Anti-Defamation League's Center on Extremism, said quarantine conditions are ripe for conspiracy theories to mutate and quickly spread. The purveyors are scared and cooped up inside their homes with abundant free time to spend on the internet.
"We are in a time of crisis, so people are frightened," he said. "They are looking for explanations. Conspiracy theories can be comforting because they basically place order on chaos. A lot of them give you somebody to blame, and that can be comforting to people at an uncertain time."
Friedfeld said the virus has become fodder for old tropes like "Agenda 21," a conspiracy theory that a network of global elites are using a United Nations resolution adopted in 1992 to control citizens and depopulate the earth.
Other new conspiracy theories being fueled by the virus include one that claims maps show a link between 5G networks and coronavirus outbreaks. Another holds that Microsoft co-founder Bill Gates intends to use a COVID-19 vaccine to track and control the world's population. Fox News host Laura Ingraham amplified the narrative with an April 7 tweet that said, "Digitally tracking Americans' every move has been a dream of the globalists for years."
Author Details
Ian Greenhalgh is a photographer and historian with a particular interest in military history and the real causes of conflicts.

His studies in history and background in the media industry have given him a keen insight into the use of mass media as a creator of conflict in the modern world.

His favored areas of study include state-sponsored terrorism, media manufactured reality and the role of intelligence services in manipulation of populations and the perception of events.
ATTENTION READERS
Due to the nature of independent content, VT cannot guarantee content validity.
We ask you to
Read Our Content Policy
so a clear comprehension of VT's independent non-censored media is understood and given its proper place in the world of news, opinion and media.
All content is owned by author exclusively. Expressed opinions are NOT necessarily the views of VT, other authors, affiliates, advertisers, sponsors, partners or technicians. Some content may be satirical in nature. All images within are full responsibility of author and NOT VT.
About VT
-
Read Full Policy Notice
-
Comment Policy