The Senior Editor
In fifteen hours of recordings, which could and should be an entire encyclopedia, we learn what we knew, Donald is a very poor reader and really didn't go to college.  Oh, we heard that a "Joe Shapiro" did Donald's SAT.
Oh, fifteen hours and we learn he was a bad kid.
What do we really know?  We know much more is there, pedophilia, bisexuality, endless payoffs starting as a young teen, from minor things to bizarre assaults and abuses.
We also learned that Michael Cohen is holding back his best which didn't go into the book.
We are told a full hour covers a new history of our first lady that could quite possibly challenge how we think of her among other things.  Why did the Post withhold that?  Do remember that Khashoggi was a Post reported when he was cut to pieces after Kushner brought up his name to that infamous trollish Saudi prince.
What has really been done here is to open a new page in the Trump blackmail scheme.  We found only a short time ago in the Senate report, in the redacted section, that Trump had been videoed.  From the Guardian:
"…the Senate report offers the most compelling account yet of what went on inside the hotel. It alleges that a suspected Russian intelligence officer is stationed permanently in the building and presides over a "network" of security cameras, some of them hidden inside guest rooms. The officer's agency is redacted, but is likely to be the FSB, the spy agency Vladimir Putin headed, in charge of counter-intelligence.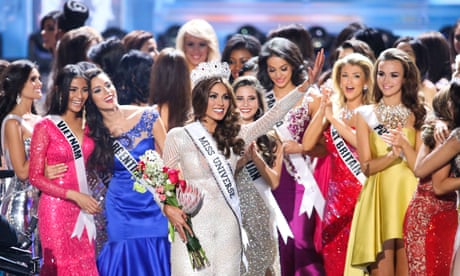 Trump in Moscow: what happened at Miss Universe in 2013
The report says: "The committee found that the Ritz Carlton in Moscow is a high counterintelligence risk environment. The committee assesses that the hotel likely has at least one permanent Russian intelligence officer on staff, government surveillance of guests' rooms, and the regular presence of a large number of prostitutes, likely with at least the tacit approval of Russian authorities.
It adds: 'According to two former employees of the Ritz Carlton in Moscow, in 2013 there was at least one [redacted] officer permanently stationed at the hotel. This non-uniformed officer was believed to be a [redacted] and had access to the hotel's property management system, guest portfolios and notations, as well as the network of 'hundreds' of security cameras at the hotel.
'The [redacted] was believed to be able to monitor the camera feeds from his office.'"
We have very very good reason to believe there are hours of Trump at the Ritz, where he was videoed with his pants down and his schlong in his tiny hands in two dozen parts of the hotel and in the presence of Miss Universe contestants who were paid hundreds of thousands and then later threatened by Michael Cohen.
Key to Trump's fetishes is keeping those around him very very hydrated.
There is no real fallout for Trump.  He is already being blackmailed by Russia and Israel.  Now we are simply adding more to the list who either have to keep him in office to protect their investment or milk as much as possible out of Trump while there is time.
Jeff Bezos has the full transcript of these recordings, yes, that Jeff, the world's richest man.
What is needed is for the public to be assured that everything recorded will be released, every single word of it.  From what we understand and have already seen, such as in Politico's crapfest reporting, that much will be withheld as long as it has value.
This, however, represents a clear and present danger to national security.
This Washington Post was also right on this story:
https://www.washingtonpost.com/politics/maryanne-trump-barry-secret-recordings/2020/08/22/30d457f4-e334-11ea-ade1-28daf1a5e919_story.html
In response to a question from The Washington Post about how she knew the president paid someone to take the SATs, Mary Trump revealed that she had surreptitiously taped 15 hours of face-to-face conversations with Barry in 2018 and 2019. She provided The Post with previously unreleased transcripts and audio excerpts, which include exchanges that are not in her book.
…Excerpts
…"All he wants to do is appeal to his base," Barry said in a conversation secretly recorded by her niece, Mary L. Trump. "He has no principles. None. None.
…At one point Barry said to her niece, "It's the phoniness of it all. It's the phoniness and this cruelty. Donald is cruel."
…Barry told how she tried to help her brother get into college. "He was a brat," Barry said, explaining that "I did his homework for him" and "I drove him around New York City to try to get him into college."
…Then Barry dropped what Mary considered a bombshell: "He went to Fordham for one year [actually two years] and then he got into University of Pennsylvania because he had somebody take the exams."
VT Editors is a General Posting account managed by Jim W. Dean and Gordon Duff. All content herein is owned and copyrighted by Jim W. Dean and Gordon Duff
ATTENTION READERS
Due to the nature of independent content, VT cannot guarantee content validity.
We ask you to
Read Our Content Policy
so a clear comprehension of VT's independent non-censored media is understood and given its proper place in the world of news, opinion and media.
All content is owned by author exclusively. Expressed opinions are NOT necessarily the views of VT, other authors, affiliates, advertisers, sponsors, partners or technicians. Some content may be satirical in nature. All images within are full responsibility of author and NOT VT.
About VT
-
Read Full Policy Notice
-
Comment Policy