By the end of this week, 70,000 COVID patients will be in hospital, half dying before Thanksgiving.  This is being censored from many news outlets.
Trump's campaign was based on COVID denialism and his lie that young don't get the disease and that old need to die to make room.  Yes, I can think of one old miserable orange faced asshole most of the world would like to be rid of but instead, we are now killing off thousands of his ignorant followers.
Too bad COVID doesn't have a moral clause, that it kills only those who have caused suffering and death for others.
Then again, there is no god.
Want to know what really terrifies Israel? Conservative Jew hating in the US is at an all time high
Behind them is another 100,000 for December.  These patients are younger, stronger, and those not dying are suffering longterm or even permanent disability.
This was in my local news today (below), nothing reported in the GOP controlled Grand Rapids Press whatsoever:
MUSKEGON, Mich. (WOOD) — As coronavirus cases surge, West Michigan hospitals are working to make sure they can keep enough beds open to treat everyone.
Mercy Health Muskegon is discharging patients quickly to make room for COVID-19 patients.
"The doctor just kept saying it's something that they don't want to do," Amy Chandonnet, whose mother was among those discharged, said. "They didn't plan on sending patients home… It's unprecedented. That's the word I heard when I was in the hospital."
Her 90-year-old mother Delores Peters was in the hospital for heart surgery. The procedures were a success and she was moved to the rehabilitation wing Friday.
"Saturday night, we got a call saying we really need her room for these COVID patients that are coming in, all these patients that need critical care," Chandonnet said.
Mercy Health Muskegon says it has more than 120 coronavirus patients, the highest number it has seen yet; its peak in the spring was 32 inpatients.
Due to the surge in COVID-19 cases, the hospital started deferring elective inpatient surgeries last week and will keep doing so for the next few days.
Then we get this from The Atlantic:
The Worst Day of the Pandemic Since May
The United States is experiencing an unprecedented surge of hospitalizations across the country. Today, states reported that 61,964 people were hospitalized with COVID-19, more than at any other time in the pandemic. For context, there are now 40 percent more people hospitalized with COVID-19 than there were two weeks ago.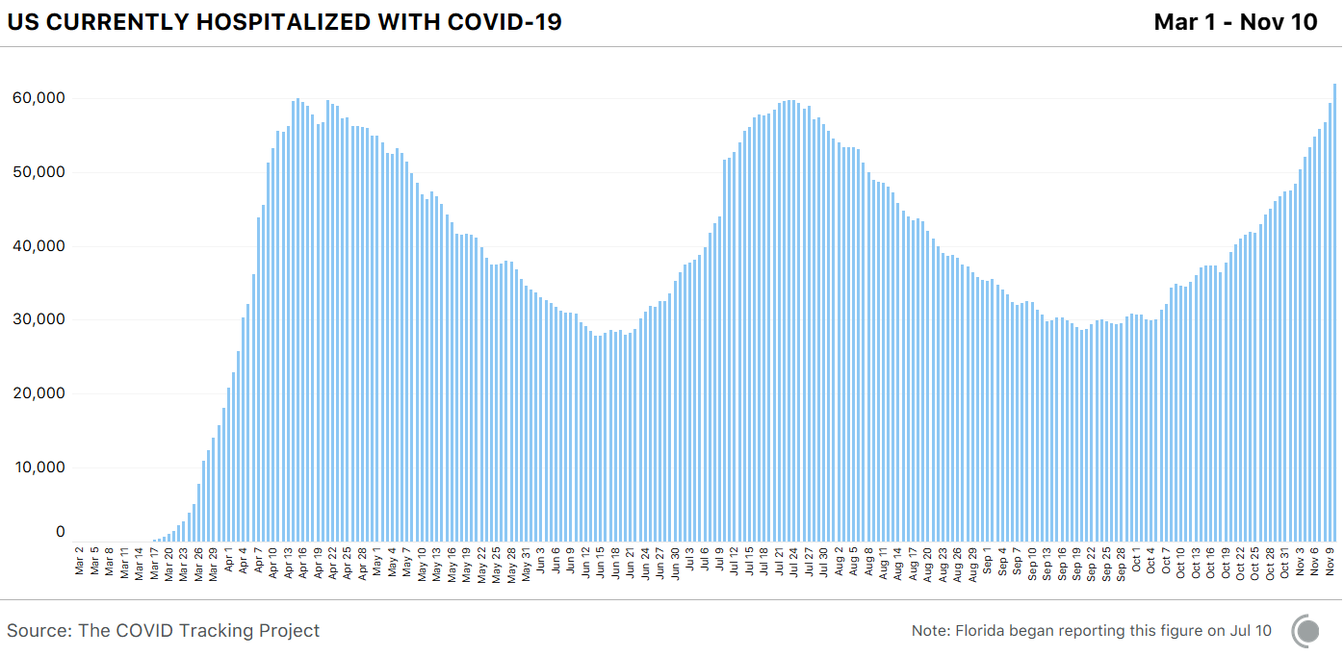 Seventeen states are at their current peaks for hospitalizations today. According to local news reports, hospitals are already on the brink of being overwhelmed in Iowa, Kansas, Minnesota, Missouri, Montana, North Dakota, Texas, Utah, and Wisconsin, and officials in many other states warn that their health-care systems will be dangerously stressed if cases continue to rise.
The new hospitalization record underscores that we've entered the worst period for the pandemic since the original outbreak in the Northeast. Although the number of detected cases was much lower back then because of test shortages, the large number of hospitalizations (and deaths) indicates that there were many more times the number of infections than our then-embryonic and broken testing system could confirm.
In the following months, some commentators, including government advisers, have played down the large case counts by saying tests were detecting people who weren't actually sick—or if they were sick, only mildly sick. These hospitalization numbers prove that the current surge of COVID-19 cases is not merely the result of increased screening of asymptomatic people. Rather, the cases we're detecting are a leading indicator that many people are seriously ill. Although case numbers are heavily influenced by the number of tests accessible in a particular area, hospitalizations are not.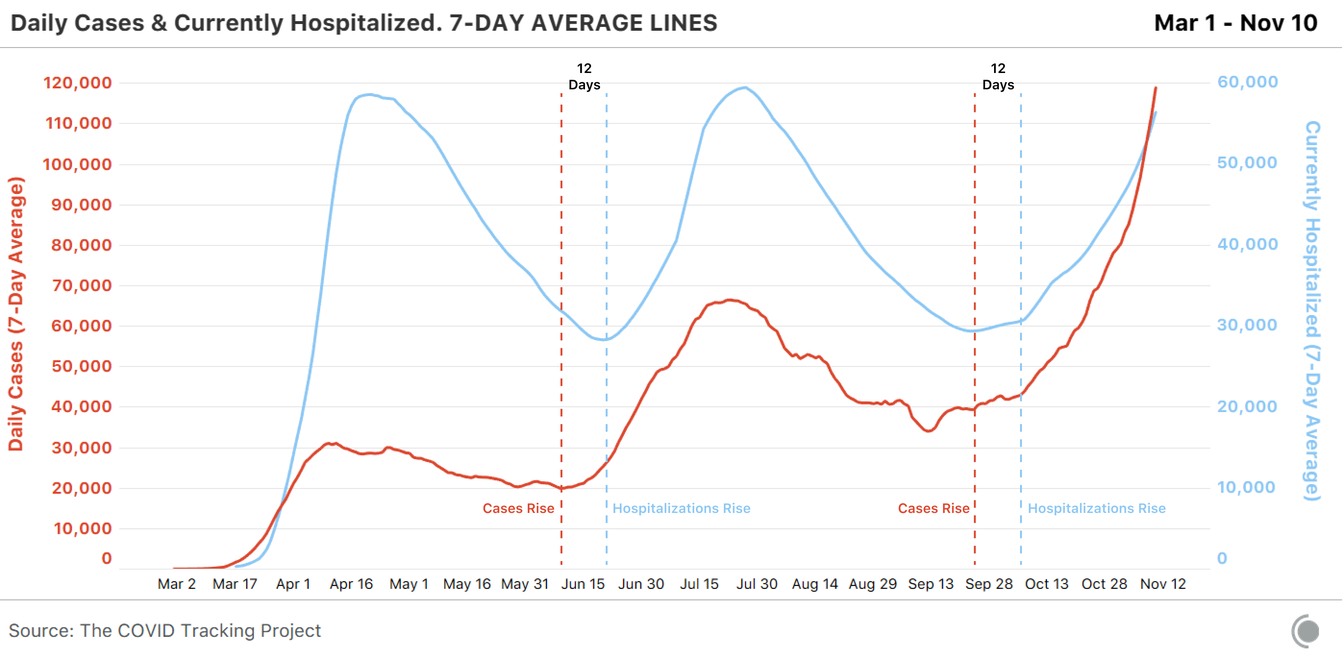 The burst of hospitalizations is primarily located in the Midwest, where cases began to rise weeks ago. We have seen no indication that there is an end in sight to the outbreaks in the region. The outbreaks in Illinois, Michigan, and Ohio began spiking more than three weeks after early outlier Wisconsin—and cases and hospitalizations in Wisconsin are still rising.
and from NPR:
COVID-19 Hospitalizations Are Surging. Where Are Hospitals Reaching Capacity?
VT Editors is a General Posting account managed by Jim W. Dean and Gordon Duff. All content herein is owned and copyrighted by Jim W. Dean and Gordon Duff
ATTENTION READERS
Due to the nature of independent content, VT cannot guarantee content validity.
We ask you to
Read Our Content Policy
so a clear comprehension of VT's independent non-censored media is understood and given its proper place in the world of news, opinion and media.
All content is owned by author exclusively. Expressed opinions are NOT necessarily the views of VT, other authors, affiliates, advertisers, sponsors, partners or technicians. Some content may be satirical in nature. All images within are full responsibility of author and NOT VT.
About VT
-
Read Full Policy Notice
-
Comment Policy