UPDATE ON DECEMBER, 11, 2020
The U.S. Supreme Court on Friday said it would not consider a lawsuit filed by Texas that sought to overturn Joe Biden's election victory in four battleground states.
US: Biden & Deep State's Masons Win! Supreme Court refused to investigate on alleged Electoral Frauds
---
by Fabio Giuseppe Carlo Carisio
Versione originale in Italiano
«The allegations in the Bill of Complaint raise important constitutional issues under the Electors Clause of Article II, § 1. They also raise serious concerns relating to election integrity and public confidence in elections. These are questions of great public importance that warrant this Court's attention. The Court should grant the Plaintiff's Motion for Leave to File Bill of Complaint».
This is what 17 attorneys general of as many US states wrote in their case filed yesterday, Wednesday 9 December, with the Supreme Court in relation to the alleged violations that would have occurred during the presidential elections on 3 November last in four "Swing-States" (Georgia, Pennsylvania, Michigan and Wisconsin) fundamental for the assignment of the Great Electors which, according to the results certified so far, have allowed the unofficial proclamation of Joseph Biden as president-elect.
«Plaintiff's Bill of Complaint alleges that non-legislative actors in the Defendant States stripped away important safeguards against fraud in voting by mail that had been enacted by the Legislature in each State» reads in the brief signed by 17 attorneys general, before that of Arizona was added in the following hours, bringing the states in question to 18.
Texas Attorney General Ken Paxton was the first to file a lawsuit on the matter before the Supreme Court. But in the following hours Eric Schmitt, Missouri's attorney, took the bull by the horns and brought together colleagues from 16 other states in the case, making it a sensational federal issue beyond its political value: all the signatories, in fact, do reference to the Republican Party that supported Donald Trump in the course of the reconfirmation of the White House. Among the exponents of the GOP (Grand Old Party) did not join the prosecutor of Georgia, who was in the crosshairs of the lawsuit.
On Tuesday evening, the Supreme Court ordered the defendant states to reply by 3 p.m. on Thursday, Dec. 10.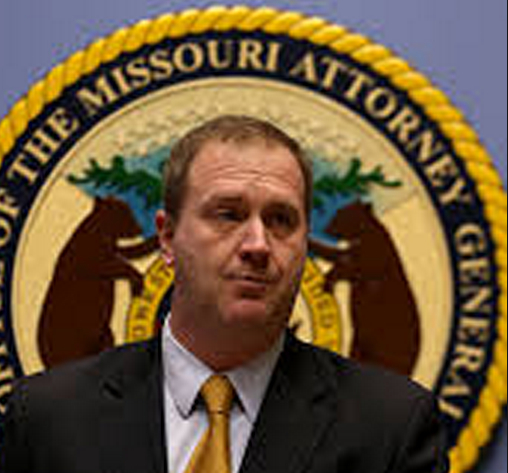 Precisely for this reason the New York Time, among the first to publish the news along with Fox News, did not give great prominence to an action that not only happens for the first time in American history but could exacerbate the political conflict, in part mitigated by Trump's decision to initiate the transition to the Biden settlement, turning it into a disruptive social conflict.
«Despite dozens of judges and courts rejecting challenges to the election, Republican attorneys general in 17 states on Wednesday backed President Trump in his increasingly desperate and audacious legal campaign to reverse the results. The show of support, in a brief filed with the Supreme Court, represented the latest attempt by Trump loyalists to use the power of public office to come to his aid as he continues to deny the reality of his loss with baseless claims of voter fraud» Jeremy W. Peters and Maggie Haberman write in their article on the NYT denoting a clearly biased imprint.
«The move is an effort to bolster a lawsuit filed on Tuesday by the pro-Trump attorney general in Texas that seeks to delay the certification of the presidential electors in four battleground states the president lost. Mr. Trump has been holding out hope that the Supreme Court will hear the case and ultimately award him a second term. Legal experts are skeptical, however, and have largely dismissed it as a publicity stunt» adds New York Times.
Instead, a Republican senator with presidential ambition, Josh Hawley of Missouri, praised the attorney general of his state on Wednesday, Eric Schmitt, after Mr. Schmitt declared on Twitter that "Missouri is in the fight" for Mr. Trump.
Beyond the purely political judgment, the fact remains that this is a full-fledged legal action on which the Supreme Court, in which 6 conservative judges (3 appointed by Trump) sit against 3 progressives, will be called to express itself shortly. This may be enough for the states that have filed the case to challenge the formal proclamation process of the president-elect that the Electoral Committee of the 538 Electors will have to do next December 14th.
The contesting of the vote in Georgia, Pennsylvania, Michigan and Wisconsin could question as many as 62 major voters currently attributed to Biden who was certified the winner in those states. If this request for invalidation were accepted it could drop the total number of votes in favor of the Blue candidate from 306 to 244, below the 270 necessary for the victory, putting the Red candidate back in the running, which has only 232. In Pennsylvania both the District Court that the Supreme (of the State) rejected the request for the suspension of the certification of the votes advanced by the Trump campaign, through the lawyer Rudolph Giuliani, and that of the Republican representative Mike Kelly, considering them unfounded.
Trump's Trap on "Dominion" shady ballots-counter. Appeal to Supreme Court (inside judges Barrett and Thomas pestered by Biden) on "Clinton Software", rejected by Texas
Trump then did not submit a direct action to the Supreme Court as he had previously announced, also because his lawyer Giuliani, former Mayor of New York, in the meantime tested positive for Covid-19 and was forced into isolation. But his electoral staff instead joined the action filed Monday by the Texas Attorney General. «His lawyer sidestepped the idea that fraud was rampant, writing that reporting in the media about the lack of proof "misses the point" because the larger issue is whether state officials loosened ballot safeguards "so that fraud becomes undetectable."» NYT further report.
If in words the Republican president incumbent disputes the use of the Dominion electoral system, promoted by the Clinton foundation in various states and rejected by the Secretary of State of Texas in January 2019 because considered unreliable as it is at risk of fraudulent manipulation, in fact the legal action on alleged electoral fraud focuses on changes to the voting methods adopted by states as a result of the Covid-19 emergency which, once again, borders on the political sphere.
It should not be forgotten, in fact, that according to lawyer Robert Kennedy the pandemic has been planned for decades by Bill Gates, donor of the Democrats, and Anthony Fauci, supervisor of the many bacteriological experiments financed by the Obama administration with the PREDICT-USAID project, which became suspicious in light of the revelations of those scientists who believe the SARS-Cov-2 virus was built in the laboratory in a deal between China and the US.
WUHAN-GATES – 26. SARS-2 Bio-Weapon & Gold Vaccines. From CIA-WHO Tests funded by Gates to EU Summit with Pfizer, Biden's sponsor, before Pandemic!
But let's see in detail what are the alleged violations reported by attorneys general Eric S. Schmitt (Missouri) together with Steve Marshall (Alabama), Douglas J. Peterson (Nebraska), Leslie Rutlege (Arkansas), Wayne Stenehjem (North Dakota), Ashley Mood (Florida), Mike Hunter (Oklahoma), Curtis T. Hill jr (Indiana), Ala Wilson (South Carolina), Derek Schmidt (Kansas), Jason R. Ravnsborg (South Dakota), Jeff Landry (Louisiana), Herbert H Slatery III (Tennessee), Lynn Fitch (Mississippi), Sean D. Reyes (Utah), Tim Fox (Montana), Patrick Morrisey (West Virginia).
«They abrogated statutory safeguards against fraud that responsible observers have long recommended for voting by mail, and (2) they did so in a way that predictably conferred partisan advantage on one candidate in the Presidential election. Such allegations are serious, and they warrant this Court's review. First, the proposed Bill of Complaint alleges that non-legislative actors in Pennsylvania, Michigan, and Georgia unilaterally abolished or weakened signature-verification requirements for mailed ballots. It alleges that Pennsylvania's Secretary of State 17 abrogated Pennsylvania's statutory signature-verification requirement for mail-in ballots in a "friendly" settlement of a lawsuit brought by activists. Bill of Complaint, ¶¶ 44-46. It alleges that Michigan's Secretary of State permitted absentee ballot applications online, with no signature at all, in violation of Michigan statutes, id. ¶¶ 85-89; and that election officials in Wayne County, Michigan simply disregarded statutory signature verification requirements, id. ¶¶ 92-95. And it alleges that Georgia's Secretary of State unilaterally abrogated Georgia's statute authorizing county registrars to engage in signature verification for absentee ballots in another lawsuit settlement» is written in the filed brief.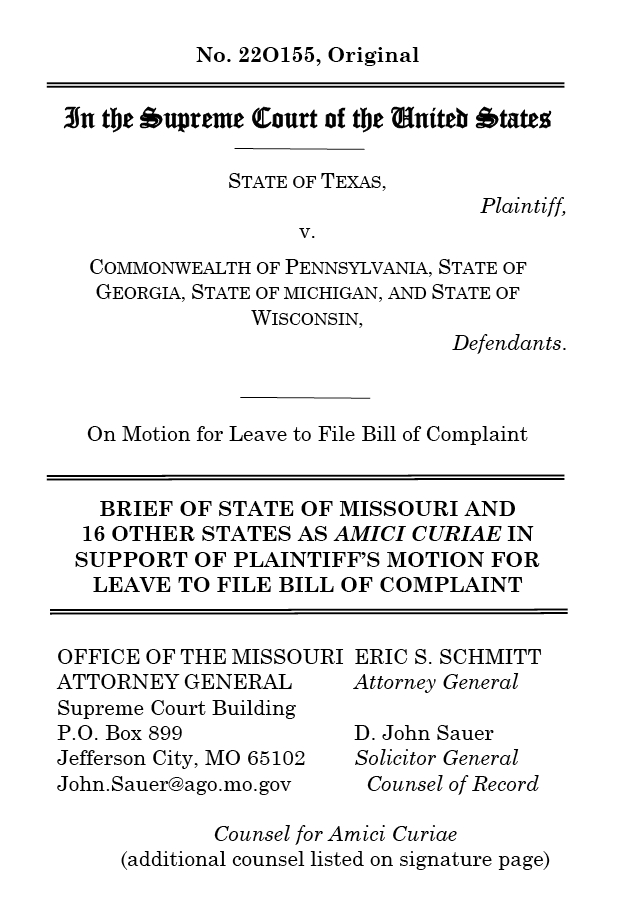 There's further the allegation of Insecure ballot handling. «The Bill of Complaint alleges that non-legislative actors changed
18 or abolished statutory rules for the secure handling of absentee and mail-in ballots in Pennsylvania, Michigan, and Wisconsin. It alleges that election officials in Democratic areas of Pennsylvania violated state statutes by opening and reviewing mail-in ballots that were required to be kept locked and secure until Election Day. Bill of Complaint, ¶¶ 50-51. It alleges that Michigan's Secretary of State, acting in violation of state law, sent 7.7 million unsolicited absentee-ballot applications to Michigan voters, thus "flooding Michigan with millions of absentee ballot applications prior to the 2020 general election." Id. ¶¶ 80-84. And it alleges that the Wisconsin Election Commission violated state law by placing hundreds of unmonitored boxes for the submission of absentee and mail-in ballots around the State, concentrated in heavily Democratic areas. Id. ¶¶ 107-114. In addition to violating the Electors Clause, these actions, as alleged, contradict commonsense ballot-security recommendations. The Department of Justice's Manual on Federal Prosecution of Election Offenses notes that vulnerability to mishandling is what makes absentee ballots "particularly susceptible to fraudulent abuse" because "they are marked and cast outside the presence of election officials and the structured environment of a polling place."».
Another alleged attempt to "election integrity", according to 17 attorneys. comes from inconsistent statewide standards. «The Bill of Complaint alleges that the Defendant States provided different standards and treatment for mail-in ballots submitted in different areas of each State, and that this differential treatment uniformly provided a partisan advantage to one side in the Presidential election. It alleges that election officials in Philadelphia and Allegheny County, Pennsylvania, applied different standards to voters in those Democratic strongholds than applied to other voters in Pennsylvania, in violation of state law. Bill of Complaint, ¶¶ 52-54. Similarly, it alleges that Milwaukee, Wisconsin violated state law by authorizing election officials to "correct" disqualifying omissions on ballot envelopes by entering information that the voter should have entered with a red pen, while no similar "correction" process was granted to other voters in that State. Id. ¶¶ 123-127. And it alleges that Wayne County, Michigan provided differential treatment of its voters, in violation of state statutes, by simply ignoring statutorily required signature-verification requirements. Id. ¶¶ 92-95».
At the end the brief higlighted another trouble: Excluding Bipartisan Observers. «The Bill of Complaint alleges that certain counties in Defendant States excluded bipartisan observers from the ballot-opening and ballot-counting processes. For example, it alleges that election officials in Philadelphia and Allegheny County, Pennsylvania, violated state law by excluding Republican observers from the opening, counting, and recording of absentee ballots in those counties. Bill of Complaint, ¶ 49. And it alleges that election officials in Wayne County, Michigan violated state statutes by systematically excluding poll watchers from the counting and recording of absentee ballots. Id. ¶¶ 90-91».
Now the issue passes to the Supreme Court which will have to decide whether to consider the legal case well founded or whether to reject it. However, it is clear that Biden's official appointment scheduled for next week is at this point in jeopardy. According to the media supporting the legitimate victory of the Democratic candidate, the action of the 17 prosecutors is just an attempt to delay the proclamation. But it will be up to the judges to have the last word.
Fabio Giuseppe Carlo Carisio
© COPYRIGHT GOSPA NEWS for VETERANS TODAY only
no reproduction without authorization – Versione originale in Italiano
---
MAIN SOURCES
GOSPA NEWS – WUHAN-GATES & CORONAVIRUS
GOSPA NEWS – OSINT INVESTIGATIONS
NEW YORK TIMES – 17 Republican Attorneys General Back Trump in Far-Fetched Election Lawsuit 
Fabio is Director and Editor of Gospa News; a Christian Information Journal.
Fabio Giuseppe Carlo Carisio, born on 24/2/1967 in Borgosesia, started working as a reporter when he was only 19 years old in the alpine area of Valsesia, Piedmont, his birth region in Italy. After studying literature and history at the Catholic University of the Sacred Heart in Milan, he became deputy director of a local newspaper and specialized in judicial reporting.
For about 15 years he is a correspondent from Northern Italy for the Italian newspapers Libero and Il Giornale, also writing important revelations on the Ustica massacre, a report on Freemasonry and organized crime.
With independent investigations, he collaborates with Carabinieri and Guardia di Finanza in important investigations that conclude with the arrest of Camorra entrepreneurs or corrupt politicians.
In July 2018 he found the counter-information web media Gospa News focused on geopolitics, terrorism, Middle East, and military intelligence. He is a correspondent from Italy for the French news site Reseau International.
He worked for many years for the magazine Art & Wine as an art critic and curator.
ATTENTION READERS
Due to the nature of independent content, VT cannot guarantee content validity.
We ask you to
Read Our Content Policy
so a clear comprehension of VT's independent non-censored media is understood and given its proper place in the world of news, opinion and media.
All content is owned by author exclusively. Expressed opinions are NOT necessarily the views of VT, other authors, affiliates, advertisers, sponsors, partners or technicians. Some content may be satirical in nature. All images within are full responsibility of author and NOT VT.
About VT
-
Read Full Policy Notice
-
Comment Policy