by Fabio Giuseppe Carlo Carisio for VT Mediterranean
The Syrian army air defenses intercepted on Sunday an Israeli missile aggression in the surroundings of Damascus and shot down most of the missiles, according to Syrian Arab News Agency.
A Military source announced that at 10:16 p.m. on Sunday, the Israeli enemy launched an air aggression from the direction of the Occupied Syrian Golan and targeted some posts in the vicinity of Damascus, adding that the Syrian Air defenses intercepted the hostile missiles and shot down most of them.
https://www.youtube.com/watch?v=ekhjW4KfAvQ&feature=youtu.be
This is the second attacks in a few days. It happens after the big tensions in Middle East for rockets launched in Baghdad and Erbil and the following retaliation ordered by Us president Joseph Biden against Iran militia on Syria-Iraq border which caused at least 22 deaths.
For this reason Iran will not be holding an informal meeting with the signatories to the Iranian nuclear deal to discuss ways of its revival, Foreign Ministry spokesman Saeed Khatibzadeh said as cited by Iranian media.
Other 10 Rockets on Iraq (Al Asad US Airbase). Waiting Pope's Holy Masses… High Risk for Francesco's Trip in Baghdad (update)
"Considering the recent actions and statements by the United States and three European powers, Iran does not consider this the time to hold an informal meeting with these countries, which was proposed by the EU foreign policy chief", Khatibzadeh said. This raw escalation is another worry in the fothcoming trip of Pope Franciscus in Iraq, planned for this week-end.
But Israeli threat in ME is ongoing as show the last report of Fars News Agency about a new secret nuclear facility.
---
SECRETIVE NUCLEAR ARMS FACTORY IN ISRAEL
New satellite photos showed a clearer view of a secretive nuclear arms factory of the Israeli regime, which is the only possessor of atomic bombs in the Middle East, revealing that the site is undergoing what appears to be the biggest construction project in decades.
According to the AP, a dig about the size of a soccer field now sits only meters from the aging reactor at the Shimon Peres Negev nuclear factory, whose purpose is believed to be the production of nuclear materials for Israel's nuclear bomb program. The nuclear facility is located near the city of Dimona.
BIDEN's WAR STARTS IN SYRIA. US Air strikes against Iran-backed militia: 22 Killed
What Tel Aviv "is doing at this secret nuclear weapons plant is something for the Israeli regime to come clean about", the AP quoted Daryl G. Kimball, executive director of the Washington-based Arms Control Association, as saying.
Kimball indicated that Israel may want to produce more tritium, a relatively faster-decaying radioactive byproduct used to boost the explosive yield of some nuclear warheads.
It also could want fresh plutonium "to replace or extend the life of warheads already in the Israeli nuclear arsenal", he added.
Last week, the International Panel on Fissile Materials (IPFM), a group of independent nuclear experts from 17 countries, noted it had seen "significant new construction" at the nuclear site through satellite photos.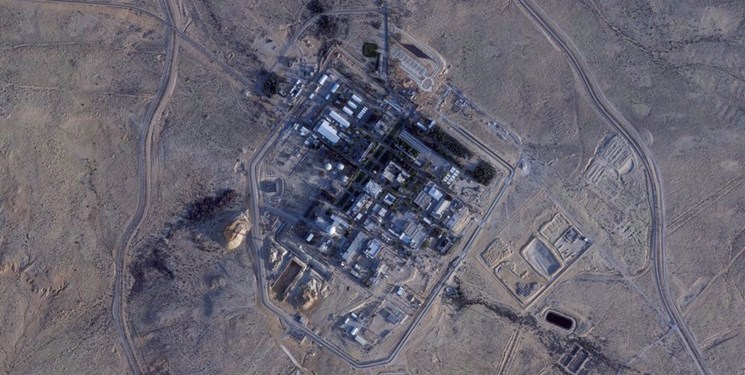 The construction had "expanded and appears to be actively underway with multiple construction vehicles present", the IPFM reported, adding, however, that the purpose of the construction was not known.
New satellite images attained by the AP through Planet Labs Inc. provide a clearer view of the site, which shows that in the Southwest of the reactor, workers have dug a hole about 150 meters long and 60 meters wide. Some 2 kilometers West of the reactor, boxes are stacked in two rectangular holes that appear to have concrete bases.
Under its policy of nuclear ambiguity, the Israeli regime neither confirms nor denies having nuclear weapons. However, the regime is widely believed to be one of only nine nuclear-armed countries in the world.
Israel is among the four regimes that have never joined the Non-Proliferation Treaty (NPT), which aims to stop the spread of nuclear arms.
Israeli Missiles on Damascus after Iranian warning. Dangerous provocation
At the same time, Tel Aviv has repeatedly called for international action against Iran's nuclear program, which has been consistently verified by the International Atomic Energy Agency (IAEA) to be of peaceful nature, unlike that of Israel which is not under the IAEA's inspection.
Jeffrey Lewis, a professor teaching nonproliferation issues at the Middlebury Institute of International Studies at Monterey, hinted that Israel could be trying to divert attention from its nuclear activity at Dimona by raising the alarm over Iran's nuclear program.
"If you're Israel and you are going to have to undertake a major construction project at Dimona that will draw attention, that's probably the time that you would scream the most about the Iranians," Lewis said.
Fabio is Director and Editor of Gospa News; a Christian Information Journal.
Fabio Giuseppe Carlo Carisio, born on 24/2/1967 in Borgosesia, started working as a reporter when he was only 19 years old in the alpine area of Valsesia, Piedmont, his birth region in Italy. After studying literature and history at the Catholic University of the Sacred Heart in Milan, he became deputy director of a local newspaper and specialized in judicial reporting.
For about 15 years he is a correspondent from Northern Italy for the Italian newspapers Libero and Il Giornale, also writing important revelations on the Ustica massacre, a report on Freemasonry and organized crime.
With independent investigations, he collaborates with Carabinieri and Guardia di Finanza in important investigations that conclude with the arrest of Camorra entrepreneurs or corrupt politicians.
In July 2018 he found the counter-information web media Gospa News focused on geopolitics, terrorism, Middle East, and military intelligence. He is a correspondent from Italy for the French news site Reseau International.
He worked for many years for the magazine Art & Wine as an art critic and curator.
ATTENTION READERS
Due to the nature of independent content, VT cannot guarantee content validity.
We ask you to
Read Our Content Policy
so a clear comprehension of VT's independent non-censored media is understood and given its proper place in the world of news, opinion and media.
All content is owned by author exclusively. Expressed opinions are NOT necessarily the views of VT, other authors, affiliates, advertisers, sponsors, partners or technicians. Some content may be satirical in nature. All images within are full responsibility of author and NOT VT.
About VT
-
Read Full Policy Notice
-
Comment Policy