VT believes Russia became both threatened and angry that their control of the House Intelligence Committee, their base of operations in Congress, was dissolving around them when the Democrats took the House.
VT:  The article below is one of a pattern, Russian state owned media jumping to defend Barr and Trump from criminal charges related directly to acts now clearly protecting Russia's stranglehold on the GOP.
Back in the 1980s, when Murdoch cut his deal with Gingrich, to bring in his massive News Corporation/Fox media monstrosity, all that had to be done was to turn America's laws upside down and give a major FCC licensed broadcast network to the probable inheritor of the Maxwell Russian spy network.
We learned this from Jonathan Pollard, now living "high on the hog" in Israel, that the Cold War exposed, for those insiders, the close relationship between the Soviet Union and Israel.  Where both shared common Bolshevik roots at the outset, with Israel established as a state in 1947 by Russian and Eastern European Khazarian Bolsheviks, as the Soviet Union fell, everything danced a grand pirouette.
The fascists of world globalism landed on Russia with everything they had, opening the prisons and building a society controlled by Khazarian criminal elites we now know of as the Rothschild Khazarian Mafia or RKM.
Their arm in Israel became the Likudist Party, with affiliations in the US by the neocons, the Christian Zionist and world Freemasonry.
With Israel's Likudist/Freemason government came partnership with Turkey's Freemason ruler Erdogan, the Freemason Saudi Royal Family, the Freemason Muslim Brotherhood and its offshoots, ISIS and al Qaeda.
This is the simple truth of it.
Their control of the US has been manifested in a full takeover of the GOP.
Their muscle?  The Department of Justice and the FBI, turned inside out.  From Russia Today, a "smoking gun."
After spy-happy Democrats complain of being spied on, DOJ promises full internal investigation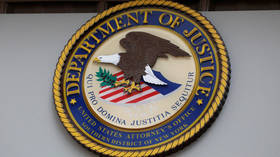 DOJ IG Michael Horowitz announced on Friday that he was "initiating a review of DOJ's use of subpoenas and other legal authorities to obtain communication records of members of Congress and affiliated persons, and the news media," during the investigation into leaks of classified information to reporters by government officials.
The review will check if the DOJ complied with its policies and procedures and whether the subpoenas or the investigations themselves were "based upon improper considerations," Horowitz added.
His announcement was spurred by a New York Times report that the DOJ issued subpoenas to Apple in 2017 and 2018, seeking communications records for Representatives Adam Schiff and Eric Swalwell, California Democrats and members of the House Intelligence Committee at the time.
The Trump administration reportedly sought the records as part of the investigation to see whether Schiff and Swalwell leaked classified information to reporters as part of the Democrats' probe into alleged ties between President Donald Trump and Russia – the infamous 'Russiagate' scandal that eventually came to nothing.
Trump DOJ Obtained Data on Schiff and Swalwell, Two Long-Time Champions of Domestic Spyinghttps://t.co/enOjiTFSwD

— Glenn Greenwald (@ggreenwald) June 11, 2021
"This baseless investigation, while now closed, is yet another example of Trump's corrupt weaponization of justice," Schiff tweeted on Thursday. Swalwell accused Trump of showing "an utter disdain for our democracy and the rule of law" and compared him to "the world's most despicable dictators."
As journalist Glenn Greenwald pointed out, however, Schiff and Swalwell have long been advocates of warrantless government spying on Americans, helping to deliver just enough Democrat votes to block a bipartisan proposal for surveillance reform in 2018.
Later, during his push to impeach the president over aid to Ukraine, Schiff had subpoenaed the phone logs of Trump attorneys Rudy Giuliani and Jaw Sekulow, ranking member of the Intelligence Committee Devin Nunes (R-California) and journalist John Solomon, among others – and then made them public in his December 2019 report.
Reports that the DOJ had looked into Schiff and Swalwell came after weeks-long outrage by corporate media about the Trump administration seeking records from CNN, the New York Times, and the Washington Post. In response, the Biden administration announced it was ending the "longstanding practice" because seizing reporters' records is "not consistent with the president's policy."
This is not the first Horowitz probe into problematic practices at the DOJ. In March 2018, he embarked on an investigation of the FBI's probe of Trump-Russia allegations and potential abuse of FISA warrants to spy on the president's campaign and administration. Leading Democrats objected, with Judiciary Committee ranking member Jerry Nadler (D-New York) calling the FISA abuse "a conspiracy theory as fact-free, openly political, and thoroughly debunked."
A subsequent review of FISA procedures looked at a sample of 29 applications from a dataset 700. They found an average of 20 errors in each one.
In December 2019, Horowitz delivered a report that found "basic, fundamental, and serious errors" made in the FBI's initial Trump-Russia probe that amounted to a "failure" by the "entire chain of command." They also confirmed the Republican claim that the FISA warrants to spy on Trump – via campaign aide Carter Page – were based on the unsubstantiated Steele Dossier.
Almost no one was punished for this misconduct, however. FBI lawyer Kevin Clinesmith, who confessed to altering evidence in order to obtain the warrant, was sentenced in January to a year of probation, a $100 fine and 400 hours of community service.
ATTENTION READERS
We See The World From All Sides and Want YOU To Be Fully Informed
In fact, intentional disinformation is a disgraceful scourge in media today. So to assuage any possible errant incorrect information posted herein, we strongly encourage you to seek corroboration from other non-VT sources before forming an educated opinion.
About VT
-
Policies & Disclosures
-
Comment Policy
Due to the nature of uncensored content posted by VT's fully independent international writers, VT cannot guarantee absolute validity. All content is owned by the author exclusively. Expressed opinions are NOT necessarily the views of VT, other authors, affiliates, advertisers, sponsors, partners, or technicians. Some content may be satirical in nature. All images are the full responsibility of the article author and NOT VT.