VT loves Russia, Wikipedia says do, so does the ADL and organized crime. (one in the same).  What we note today, and have been reporting all along, while Russia has been hand in hand with Trump, Fox and the Klan-Nazi militia's pushing against lockdowns, against masks and pushing "COVID hoax" through hundreds of Kosher Nostra assets and their fake news/medical/porn websites.
Now Russia is not only locked down but mandates vaccines, you can't get a meal or drink without a vaccine passport…
They have curfews…all those things that Russia and Fox News fought against for the US are employed in Putin's Russia to save themselves from vaccine shortages and a domestic anti-vaxx movement that is killing Russians faster than any other nation during the last throes of COVID 19.
From Russia Today…the proof:
With infectious Delta strain on rise, Moscow to require proof of Covid-19 vaccination or negative test to visit bars & restaurants
Moscow's bars and restaurants buzzed as much of the rest of Europe languished under lockdowns. Now though, new restrictions are being imposed in the city for those who have yet to receive a Covid-19 vaccine or have had the virus.
The measures, announced by Moscow Mayor Sergey Sobyanin on Tuesday, will require residents to scan a QR code before entering hospitality venues including eateries, food courts, pubs and other public spaces.
Only those who have proof of vaccination, evidence that they have had coronavirus within the past six months, or a negative PCR test within the previous three days will be given the digital certificate. Those who have only had one shot of the vaccine will reportedly also be eligible under the scheme.
The situation with the spread of Covid remains very difficult," Sobyanin said. "There are more than 14,000 seriously ill people in hospitals. The healthcare system is fully mobilized."
From June 28, the system will become "mandatory for all restaurants and cafes that want to continue operating as usual." Takeaway meals and delivery will be the only option available to those without a QR code. Two million people in Europe's largest city have reportedly already received their first dose.
The city has already effectively banned nightlife, with a two-week ban on bars and clubs serving patrons past 11pm.
At the same time, a previous rule banning mass events has been tightened, barring venues from having more than 500 customers on-site at any time.
Last week, Moscow became the first city in the world to make vaccination mandatory for those in public-facing roles. Businesses in industries like hospitality, transport and entertainment will have to prove that 60% of their workforce has received a jab or else face hefty fines. Officials have confirmed that companies can suspend staff without pay to meet their quotas. Similar rules have been imposed in St. Petersburg and other Russian regions.
Earlier on Tuesday, the country's human rights ombudsman Tatiana Moskalkova called the move "a dishonest game." She said that "the mechanisms by which it is being implemented are giving rise to mass psychosis and making people fear coercion."
However, the Kremlin has defended Sobyanin's decision, with presidential spokesman Dmitry Peskov saying it supported the new measures in response to a uniquely difficult epidemiological situation.
Moscow orders 'mandatory' vaccination against Covid-19 for some workers serving the public as cases soar in Europe's largest city
Moscow has become the first city in the world to make vaccination against coronavirus compulsory not just for healthcare workers, but for employees in a range of public-facing industries, including catering, transport and museums.
Officials in the Russian capital published the order on Wednesday, citing concerns over the worsening local epidemiological situation. Describing the spread of Covid-19 as "unfavorable," the city's top sanitary doctor, Elena Andreeva, warned that "there is an increase in the number of people who actively visit public places while sick," attending venues and using mass transit systems.
As a result, 60% of workers in selected businesses and organizations will be required to be immunized. Sectors singled out include transport, food and beverage businesses, banks, as well as those working in beauty salons, theaters, museums, fitness clubs, spas, and massage parlors.
In a statement issued at the same time, the mayor of Moscow, Sergey Sobyanin, said that officials had seen a "dramatic" worsening in the situation. "Ultimately, it's up to everyone to get vaccinated or not," he said. "You can protect yourself or hope that everything will work out… This is a personal matter… as long as you sit at home or in the country."
"But when you go out into public places and come into contact with other people, willingly or unwillingly, you become an accomplice of the epidemiological process. This is the chain link for the spread of a dangerous virus," the mayor said.
"Moreover, if you work in an organization that serves a large circle of people, then in a pandemic it is definitely not only your own business, no matter what personal protective equipment you use," Sobyanin added.
ALSO ON RT.COMMoscow mayor orders week of paid leave for workers & imposes curfew on nightlife in bid to control sharp rise in Covid-19 casesAround 1 in 10 Muscovites are estimated to have had both shots of the vaccine so far, statistics say. However, skepticism and distrust are thought to have limited the number of people booking appointments, despite the widespread availability of vaccines.
Speaking last week, President Vladimir Putin sought to reassure Russians, saying "not a single serious case of complications" has occurred during the nationwide roll-out of the vaccine. "There is nothing to be afraid of here."
However, the Kremlin sought to downplay suggestions that the move amounts to a policy of forced vaccination, with Putin's spokesman, Dmitry Peskov, saying that compulsory immunization isn't even a question to be considered. Instead, it appears that the rule change simply regulates how many unvaccinated employees can work in selected industries.
The move will raise questions over whether staff will be pressured into receiving a shot, and what can be considered mandatory vaccination. On Wednesday, the UK introduced compulsory vaccines for care home workers caring for old and vulnerable people. International Trade Secretary Liz Truss told reporters that "we need to make sure we get the balance right but I'm sure people appreciate that protecting lives is the absolute priority."
Sobyanin introduced a curfew on Moscow's nightlife this week and four days of paid holiday for workers in a bid to slow the spread of the virus. Cases have spiked across Russia, with the number of positive tests rising from a consistent plateau of around 8,000 each day to over 14,000 on Tuesday.
Russia records highest official Covid-19 death toll since start of pandemic, as nation fights sharp rise in cases of Delta variant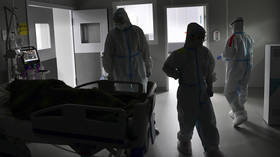 At least 652 people infected with coronavirus have died in Russia within the latest 24-hour recording period, government officials announced Tuesday morning. It marks the country's single most deadly day since the pandemic began.
The Covid-19 operational headquarters reported the grim milestone amid a steep rise in the number of positive tests for the infection over the past fortnight. More than 134,500 people are confirmed to have died with the virus overall since last March.
The largest number of daily deaths were recorded in Moscow, which accounted for 121 of the fatalities. The capital has consistently been the focal point for outbreaks, leading in both the current number of infections and the total number of deaths. However, Russia's second city, St Petersburg, also registered 119 fatalities, suggesting the situation there is worsening.
Moscow releases 2020 mortality stats: Excess death figures show Russia suffered more from Covid-19 than comparable Western nations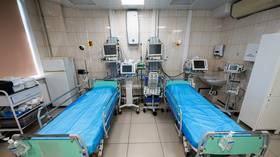 New figures released by Russia have revealed that, in 2020, the year the Covid-19 pandemic began, mortality in the country increased by 19%, painting a bleaker picture than previously published in official coronavirus statistics.
On Tuesday, Russia's government statistics agency Rosstat released the final confirmed demographic figures for 2020. According to the official numbers, deaths in the country were 340,300 people compared to the previous year, growing to 2,138,586.
Of those additional fatalities, just 144,700 deaths (42.5%) were put down to Covid-19. This new figure is considerably worse than the figures presented by Russia's official coronavirus headquarters, which reported on January 1 that just 57,555 people had died of the coronavirus, meaning the country's real pandemic death count is almost three times greater than the previously cited figures.
The latest published numbers also clash with comments from Russian Deputy Prime Minister Tatiana Golikova, who claimed that over 81% of the rise in mortality in 2020 can be blamed on Covid-19.
ALSO ON RT.COMMoscow mayor orders week of paid leave for workers & imposes curfew on nightlife in bid to control sharp rise in Covid-19 cases
According to the official data, significant growth was seen in deaths caused by "diseases of the circulatory system" (+90k, up 11%), pneumonia (+34k, up 143%), and "diseases of the nervous system" (+21k, up 21%). Many of these illnesses are also observed in people who have died of Covid-19 and could have been brought on by the virus.
Deaths from 'old age' also increased significantly (+17k, up 20%).
Unlike most Western countries, Russia's official count only includes deaths 'from coronavirus' rather than 'with coronavirus,' meaning that many of those who lost their life due to other diseases caused by Covid-19 may have been classed as coronavirus deaths in other nations.
Russia's tallying method doesn't correspond to the official guidelines published by the World Health Organization, which specifically notes that all deaths could be counted as caused by the virus "unless there is a clear alternative cause of death that cannot be related to COVID-19 disease."
Russia also saw a growth in deaths due to increased alcohol consumption (+3,008, up 6.3%) and mental health disorders (+4,719, 24%), potentially caused by indirect, "non-clinical" effects of the pandemic.
If the official Covid-19 figure is accepted as genuine, 144,700 deaths in 2020 put Russia at around 990 deaths per million population. That would put Russia ahead of the likes of the UK (1,157 per million) and the US (1,151 per million).
ALSO ON RT.COMMoscow to open extra hospital capacity & heighten measures to control Covid-19 as cases rise in Europe's largest city
However, due to the inconsistency of international stats and varied counting methods, most experts have chosen to avoid officially published figures and instead use excess mortality as a better barometer and a more accurate way of measuring the impact of Covid-19. This is often calculated by comparing the year-to-year changes and is sometimes done by comparing to the average from a longer range of time, such as the previous five or ten years.
When looking at excess deaths compared to 2019, the numbers paint a considerably bleaker picture than that presented by official stats. With 340,300 more deaths in 2020 than 2019, Russia lost an extra 2,328 people per million population, a considerable jump. While the UK (1,275 per million) and US (1,535 per million) also see a rise when counting all excess deaths, the percentage growth is much smaller than when comparing Russian figures.
However, the long-term consequences of a lengthy lockdown are still yet to be fully known. With Russia's measures not being as severe, the effects of pausing of economic activity, including mental health toll, may be dampened. Also, with many countries shutting down lots of health services, and reducing the number of hospital visits for those seeking elective surgeries, and many people potentially not being diagnosed with early-stage diseases, there could be other yet-unrealized downsides. In Russia, where most medical health care has continued as normal, this side effect of Covid-19 will not be as profound.
ATTENTION READERS
We See The World From All Sides and Want YOU To Be Fully Informed
In fact, intentional disinformation is a disgraceful scourge in media today. So to assuage any possible errant incorrect information posted herein, we strongly encourage you to seek corroboration from other non-VT sources before forming an educated opinion.
About VT
-
Policies & Disclosures
-
Comment Policy
Due to the nature of uncensored content posted by VT's fully independent international writers, VT cannot guarantee absolute validity. All content is owned by the author exclusively. Expressed opinions are NOT necessarily the views of VT, other authors, affiliates, advertisers, sponsors, partners, or technicians. Some content may be satirical in nature. All images are the full responsibility of the article author and NOT VT.