cuba no necesita depender d eeuu, lo q necesita es q eeuu PARÉ los bloqueos. Cuba tiene ciencia, tecnologia, gente trabajora, y potencial pa' ser una potencia

cuba podría terminar tan mal como haití ó irak si confia en eeuu
eeuu dañó a🇮🇶&🇭🇹
🇭🇹🇮🇶detestan🇺🇸https://t.co/aJaEcLU7VS

— EmpatiaHumana (@HumanaEmpatia) July 13, 2021
Several of the people suspected of involvement in the assassination of Haiti's President Jovenel Moise worked as US government informants, according to a new report.
REVEALED: Several suspects in Haiti presidential assassination were FBI and DEA informants – as friend of 'hit squad member' claims plot was BACKED by Washington https://t.co/zXMj9ZVrVr

— Jack Posobiec 🇺🇸 (@JackPosobiec) July 13, 2021
Press TV: Citing people briefed on an investigation into the killing, CNN reported that US investigators were grappling with an increasing number of Florida links to the hit squad that killed President Moise at his private residence in the capital, Port-au-Prince, on Wednesday.
U.S. is sending FBI and Homeland Security officials to Haiti following assassination https://t.co/8HRpjci3aW pic.twitter.com/77t3q2LEbH

— Rolling Stone (@RollingStone) July 10, 2021
Haitian authorities say the operation involved at least 28 people, many of them Colombian mercenaries, who were hired through a Florida-based security company.
#Haiti: Not informant but undercover FBI agent listed as UC-1 in indictment https://t.co/XlJH3NLDbR

— HaitiInfoProj (@HaitiInfoProj) September 1, 2017
The US Drug Enforcement Administration (DEA) admitted in a statement that at least one of the suspects "was a confidential source to the DEA."
Dr. Christian Sanon was active in RNC circles related to #Haiti & the Caribbean in Florida. He is reported to have also had relationships with employees of 2 US government agencies spanning Trump to Biden. https://t.co/NsyeHORqBB pic.twitter.com/5uOtaaC9z2

— Kevin Pina (@AcrossMediums) July 12, 2021
"Following the assassination of President Moise, the suspect reached out to his contacts at the DEA," it said, claiming that the organization had then urged the suspect to surrender to Haitian authorities. The DEA also claimed that none of the attackers operated on behalf of the agency.
Other suspects also had US ties, including as informants for the FBI, according to the sources.
Former FBI informants among suspects in assassination of Haiti presidenthttps://t.co/Uk6OUxDbhJ

— Press TV (@PressTV) July 13, 2021
The FBI merely said it uses "lawful sources to collect intelligence."
On Sunday, the White House sent a delegation of law enforcement and national security officials to Haiti, where they met with government and police officials. They also met with political leaders, including interim Prime Minister Claude Joseph, who has now taken control of the country, and Senate President Joseph Lambert.
White House Press Secretary Jen Psaki said that the team had warned about the country's instability in the wake of Moise's murder. "What was clear from their trip is that there is a lack of clarity about the future political leadership," Psaki said.
The US said Joseph had requested the deployment of troops to help secure key infrastructure in the country. Haitian Elections Minister Mathias Pierre also confirmed that the request had been raised in a conversation between Joseph and US Secretary of State Antony Blinken on Wednesday.
Currently, three US citizens are under arrest for their involvement in the assassination, according to Haitian authorities. US law enforcement and intelligence agencies are investigating why the Haitian-American men took part in the killing operation.
The United States said on Monday that it was helping investigate Moise's murder.
"An initial assessment has been conducted in Haiti by senior US officials," said US Justice Department spokesman Anthony Coley. "The department will also investigate whether there were any violations of US criminal law in connection with this matter."
President Joe Biden also said earlier, "Political leaders need to come together," and that Washington "stands ready to continue to provide assistance."
US reviewing troop deployment to Haiti
Psaki said the White House was still reviewing the Haitian request and that a troop deployment had not been ruled out.
Meanwhile, people in Port-au-Prince were planning protests this week against the interim prime minster.
Joseph's right to lead the nation has already been challenged by two other senior politicians, Prime Minister-Designate Ariel Henry and the Senate president.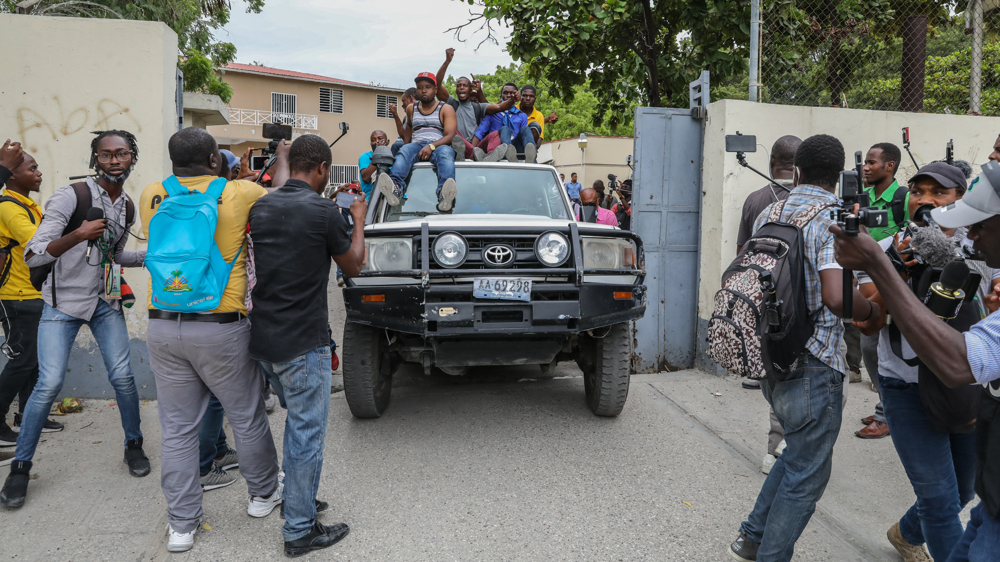 The Wall Street Journal reported on Monday that Henry and Joseph were close to reaching an agreement on holding fresh elections.
Henry was appointed Haiti's prime minister a little more than a day before Moise's assassination.
The two are in talks to cut a deal "in the coming hours," Henry told the Journal.
"There will be an agreement," Henry said. "We are putting the Haitians first; it is a solution that I think will please the Haitian people." He did not provide details about the possible agreement but said the it "will enable the country to leave this area of instability."
The claims to power by the two politicians, however, have complicated the political uncertainty in Haiti in the wake of Moise's assassination and pushed the Caribbean nation into deeper turmoil.
VT Editors is a General Posting account managed by Jim W. Dean and Gordon Duff. All content herein is owned and copyrighted by Jim W. Dean and Gordon Duff
ATTENTION READERS
Due to the nature of independent content, VT cannot guarantee content validity.
We ask you to
Read Our Content Policy
so a clear comprehension of VT's independent non-censored media is understood and given its proper place in the world of news, opinion and media.
All content is owned by author exclusively. Expressed opinions are NOT necessarily the views of VT, other authors, affiliates, advertisers, sponsors, partners or technicians. Some content may be satirical in nature. All images within are full responsibility of author and NOT VT.
About VT
-
Read Full Policy Notice
-
Comment Policy