by Fabio Giuseppe Carlo Carisio for VT Italy
In November 2020 Gospa News was the first and only counter-information media to detail, through the WuhanGates 23 investigation, the macroscopic conflicts of interest between vaccine Big Pharma and medical diagnosis laboratories specialized in the various tests to detect Covid- 19.
https://www.gospanews.net/en/2020/11/14/wuhan-gates-23-from-cambridge-big-pharmas-cartel-controls-swabs-vaccines-and-clinical-trials-disturbing-conflicts-of-interest-from-italy-to-the-uk/
In it we highlighted the anomaly of an international agreement, signed on February 27, 2020 and therefore even before the official declaration of the SARS-Cov-2 pandemic, with which the European giant of biological health diagnostics CerbaHealthCare of Paris entered the Cambridge NGO One Nucleus of which AstraZeneca is the main sponsor. AstraZeneca is the producer of the Vaxzevria serum developed thanks to the Jenner Institute of Oxford University and the adenoviral vector of chimpanzees of the Advent srl of the Park Science of Pomezia (Rome).
For a few weeks this same French multinational has started the process to complete the "raid" of laboratories in Italy, which began about three years ago, becoming the most powerful Big Pharma in the country for monitoring new Covid cases thanks to the purchase of the LifeBrain network (see full press release below). The acquisition will be completed in a few months if of course the AntiTrust does not veto.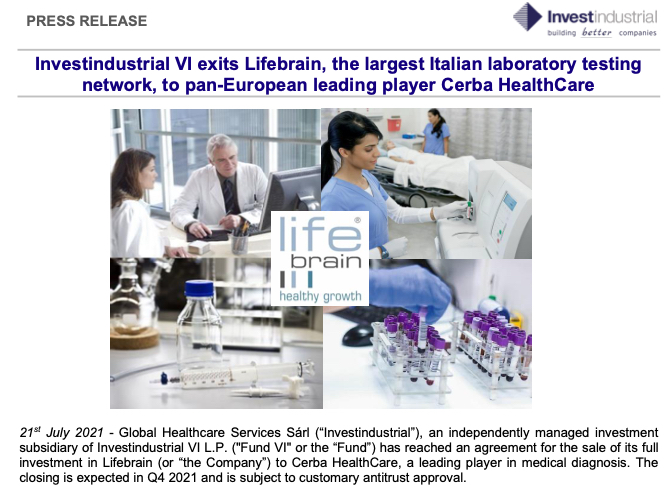 Precisely in autumn 2020, also thanks to an interview with the internationally renowned virologist Giorgio Palù, we began to highlight the unreliability of PCR swabs, the first and most important tool for monitoring the spread of the SARS-Cov-2 virus, now believed by many science and intelligence experts to be created in the laboratory.
As Professor Palù pointed out, before being called by the Italian Government in the role of President of the Italian Medicines Agency and becoming more cautious in his comments, the reliability of the swabs was directly related to the number of amplification cycles in the laboratory which, if higher at 25-30, they could have confirmed a positivity of the sample, detected with the rhino-pharyngeal molecular swab, to any bacterium.
"TAMPONI COVID-19 INAFFIDABILI AL 97 %". Studi Scientifici di Oxford Academic e The Lancet nascosti dal Mainstream ma citati in una Sentenza
This theory was later confirmed by three scientific studies that highlighted the very poor reliability of PCR swabs and became a fundamental element for the Lisbon Court of Appeal to reject an appeal by the Spanish health authorities in relation to the violation of a quarantine by some German tourists. on vacation in the Azores Islands.
But above all, as revealed again only by Gospa News, this unreliability of the tests has been "certified" by the American CDC, the Centers of Disease Control of Prevention, which on 21 July 2020 made a sensational announcement: the withdrawal of the authorization to emergency use of the Food & Drug Administration for Real-Time PCR swabs because they are deemed unreliable and unable to distinguish Covid-19 from influenza viruses.
Breaking! US CDC Retires PCR Test due to It may not be able to Distinguish Covid from Influenza Viruses. Distorted Pandemic History!
In Italy and Europe this enormous news has been almost completely ignored both by the mainstream media and by the scientific community, but has instead attracted the attention of politicized fact-checkers (close to the Soros Open Society and the Italian 5 Star Movement which governs with the PD since since the beginning of the pandemic) who have tried to discredit it in part without obviously succeeding.
In the light of these facts, it is evident that the future of social and health measures in the countries of the European Union is strictly linked to the alarm on the spread of the SARS-Cov-19 virus and its feared variants that biology and virology experts believe triggered from mass vaccination.
Covid-19, Epsilon Californian Mutation Resists to Vaccines. Delta's Massacre in Russia! As Sars-2 Bio-Weapons…
In the coming months, by the results of Covid tests in various forms (molecular PCR swabs, serological tests based on antibodies, etc.) will depend on the lesser or greater pressure of governments on EU nations both in the application of the much contested Green Pass and in the extension of the obligation of anti-Covid vaccines to various segments of the population, after the imposition of health workers in Italy.
COVID: Alert on Emergence of Resistant Strains among Vaccinated. European Research asks Lockdown
This is why the fact that CerbaHealthCare of Paris, entered into partnership with the Big Pharma of vaccines thanks to the "cartel" of the NGO One Nucleus of Cambridge, sponsored by AstraZeneca but also by Johnson & Johnson(distributor of the adenoviral antiCovid Janssen serum produced by the homonymous company in Belgium), has taken over one of the most important networks of laboratories for medical diagnostics in Italy, the LifeBrain circuit, controlled by an investment fund, which has multiplied its turnover thanks to Covid tests.
It is a pleasant curiosity that the official announcement was made by the companies signing the sale agreement on July 21, 2021, which is the day the American CDC communicated the abandonment of PCR swabs.
Pandemic: Fake-News Fight promoted by EY. But Ernst&Young (MSFT Gates partner) overlooked billionaire Wirecard's Crack in Germany
It is not surprising, however, that the transaction was managed by financial giants such as Goldman Sachs and JP Morgan (speculators already in the Corporations of the Weapons Lobby), Bank of America, Ernest & Young (sponsors of a fight against fake news on the pandemic in Italy) and the Boston Consulting Group, a management firm such as McKinsey which has been largely financed in recent years by Bill Gates.
Gates, in fact, from 30 September entered into an agreement for a "cartel" between the Big Pharma specialized in the production of vaccines and anti-Covid drugs, in relation to its role in the COVAX global immunization plan, launched by the World Health Organization , managed by the NGO Gavi, founded by the same tycoon as Microsoft, and administered by a former GSK manager.
WUHAN-GATES – 32. Bill III, Vaccines' Global Emperor. Crowned by Big Pharma's Cartel within Gates Foundation's Deal
It is clear that the interests among pandemic prophet Bill Gates, who funded experiments on HIV-infected and gain-of-function chimeric Sars supervisrus at the Wuhan Institute of Virology and the University of North Carolina, those of Big Pharma and large investment funds are intertwined right around the French giant of laboratories that for months has been managing tests to monitor the infected by SARS-Cov-2 in Lombardy on behalf of the Territorial Health Authority of Milan.
The Great Reset advocated by the World Economic Forum by Klaus Schwab advances with its shady plot that those who investigate find it hard to completely decipher despite having outlined the aims of an international geopolitical revolution to be imposed through a health, then economic and finally political-military dictatorship.
WUHAN-GATES – 40. Fauci & Sorceres Apprentices. Virus SARS Manmade in BioLab since 2000. Us-China Big Affair
Let's not forget that the WEF was also a financier with the Bill & Melinda Gates Foundation of the prophetic Event 201 exercise on a coronavirus pandemic held in New York which featured the lawyer Avril Haines, former deputy director of the Central Intelligence Agency and expert in bio- arms during the Barack Obama administration, recently promoted by current US President Joseph Biden to National Intelligence Director for the entire United States of America.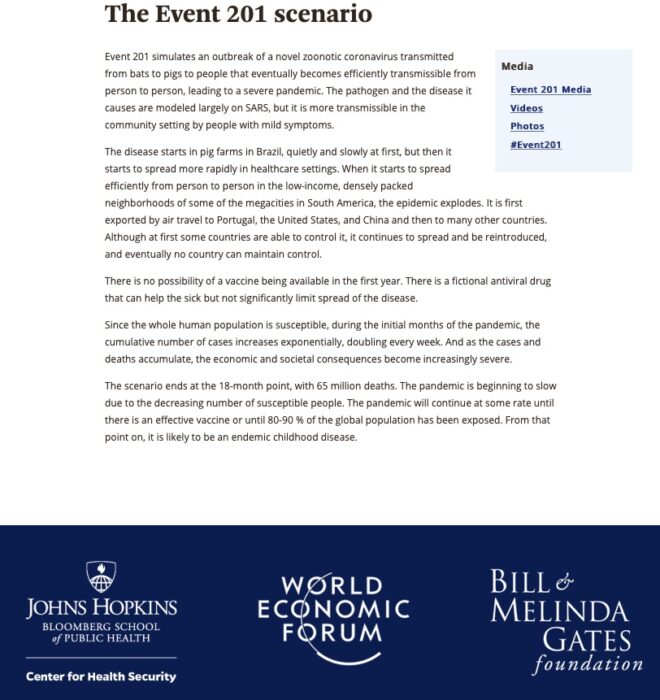 It was just Haines who prophesied a coronavirus pandemic in 2018, highlighting the creation of a new "World Order" as the only response. Below is the official press release on the acquisition of LifeBrain by CerbaHealthCare in English, the only language in which it appears to have been published. Inside the links to various inquiries related to the topics just treated.
read more… on Pentagon's underskin microchip for Covid
Fabio Giuseppe Carlo Carisio
© COPYRIGHT GOSPA NEWS
no reproduction without authorization
---
MAIN SOURCES
---
Investindustrial VI exits Lifebrain,
the largest Italian laboratory testing network,
to pan-European leading player Cerba HealthCare
21st July 2021 – Global Healthcare Services Sárl ("Investindustrial"), an independently managed investment subsidiary of Investindustrial VI L.P. ("Fund VI" or the "Fund") has reached an agreement for the sale of its full investment in Lifebrain (or "the Company") to Cerba HealthCare, a leading player in medical diagnosis. The closing is expected in Q4 2021 and is subject to customary antitrust approval.
Investindustrial has leveraged its strong experience in Italy, healthcare and M&A buildups to successfully assist the Company on its transformational journey to become a leading Italian laboratory diagnostics operator, actively consolidating the laboratory diagnostics industry. Since Investindustrial's entry, Lifebrain has completed 70 value accretive acquisitions, including the diversification into the fast-growing environmental and food testing sector.
CoronaVirus BioWeapon – 6. Prophecy on Pandemic and NWO by Obama-Biden CIA's Queen
Founded in 2013 by Prof. Michael Havel and Bernhard Auer, the Company has now grown to become the largest Italian clinical laboratory testing player by number of locations serving both the private and the public sectors, and catering to B2C customers (individual patients) and B2B clients (hospitals or other). Its strong focus on laboratory diagnostics (vs. other services such as occupational health) has allowed it to maximise operational efficiency and synergies generated by integrating add-on acquisitions. With over €200 million sales, Lifebrain currently operates across approximately 360 laboratories and blood collection points in Italy, performing 27 million tests annually, and has over 2,000 employees, more than doubled (+1,100 employees) since Investindustrial invested in the Company in 2018.
EU GREEN PASS, UNDER SKIN MICROCHIP AND GATES' 666 MARK OF THE BEAST. Transhumanist Plot by Klaus Schwab (Great Reset) & NWO against Christianity
The Company proved to be able to respond rapidly to the COVID-19 pandemic, providing COVID-19 testing services to the Italian population. In 2020, the Company opened the third largest western European COVID-19 testing facility in Austria, successfully establishing its presence in a new market with further growth opportunities and proving its ability to pursue an international expansion strategy.
Andrea C. Bonomi, President of the Industrial Advisory Board of Investindustrial, commented: "Lifebrain has thrived with us as a result of a strong and calculated investment strategy and value creation rationale. The management team, led by Michael, together with the dedication and passion of its workforce, have been a key element throughout this growth story. Thanks to its network of laboratories, the excellence of professional skills and the latest generation technologies, today Lifebrain represents the fastest growing group of laboratories in Europe. We are confident that the Company remains well set to continue to build on its growth and successes under Cerba HealthCare's ownership."
Zionist Lobby – 1. Singer (Elliott) & Fink (BlackRock) within Gates-Soros in Covid Big Pharma's Business(GSK & Gilead)
Michael Havel, CEO of Lifebrain, said: "Investindustrial has been an ideal partner for Lifebrain: its experience in the healthcare sector and in executing build-up strategies has been crucial to consolidate our presence in the Italian market in addition to expanding our business model internationally through a programme of acquisitions while continuining to improve the quality of services offered to our customers".
Cerba Healthcare, headquartered in France and firmly established in Africa and Europe through its historical routine and specialty biology expertise, also operates globally through its clinical trials business unit for the validation of new compounds and vaccines. It stands as a unique group in the diagnosis market, covering the needs for diagnostic tools and expertise for patients, physicians, hospitals and the pharmaceutical industry.
Advising Investindustrial were Goldman Sachs and JP Morgan (M&A advisors), Chiomenti and Wolf Theiss (legal), PWC (accounting), Boston Consulting Group (business / commercial), Deloitte (tax), Accenture (IT) and Golder Associates (environmental). Advising Cerba HealthCare were Bank of America, EY, ATK and Accenture, Orrick, Schoenherr and Latham.
NWO's Plot vs Italy (X-file 2). New IT Minister among Bilderberg, McKinsey, Gates & CIA for Artificial Intelligence in Vaccines too
About Investindustrial
Investindustrial is a leading European group of independently managed investment, holding and advisory companies with €11 billion of raised fund capital. With ESG principles deeply embedded into the Firm's core approach, Investindustrial has a 30-year history of providing mid-market companies capital, industrial expertise, operational focus and global platforms to accelerate sustainable value creation and international expansion. Certain companies of the Investindustrial group are authorized by, and subject to regulatory supervision of the FCA in the United Kingdom and the CSSF in Luxembourg. Investindustrial's investment companies actindependently from each other and each Investindustrial fund.
Additional information is available at www.investindustrial.com.
About lifebrain
With more than €200 million sales, Lifebrain is a leader in the routine and specialty laboratory testing business. The company operates approximately 360 laboratories in Italy, performing more than 27 million tests annually and serving more than 200 health care facilities. The product portfolio of lifebrain includes seven main product segments in the field of laboratory diagnostics services: clinical chemistry, haematology, immunochemistry, microbiology, molecular biology, cytology and pathology. The company has more than 2,000 employees. Additional information is available at www.lifebrain.it
https://www.gospanews.net/en/2020/11/14/wuhan-gates-23-from-cambridge-big-pharmas-cartel-controls-swabs-vaccines-and-clinical-trials-disturbing-conflicts-of-interest-from-italy-to-the-uk/
About Cerba HealthCare
Cerba HealthCare, a leading player in medical diagnosis, aims to support the evolution of health systems towards more prevention. It draws on more than 50 years of expertise in clinical pathology to better assess the risk of diseases development, detect and diagnose diseases earlier, and optimize the effectiveness of personalized medicine.
Every day, on 5 continents, the Group's 9,600 employees sustain the transformation of medicine, driven by one deep conviction : to advance diagnosis is to advance health.
Cerba HealthCare, enlightening health.
Additional information is available at www.cerbahealthcare.com
ATTENTION READERS
Due to the nature of independent content, VT cannot guarantee content validity.
We ask you to
Read Our Content Policy
so a clear comprehension of VT's independent non-censored media is understood and given its proper place in the world of news, opinion and media.
All content is owned by author exclusively. Expressed opinions are NOT necessarily the views of VT, other authors, affiliates, advertisers, sponsors, partners or technicians. Some content may be satirical in nature. All images within are full responsibility of author and NOT VT.
About VT
-
Read Full Policy Notice
-
Comment Policy